Decadent Vegan Cheesecake With Strawberry-Basil Sauce
October 2, 2014 — 9:10 AM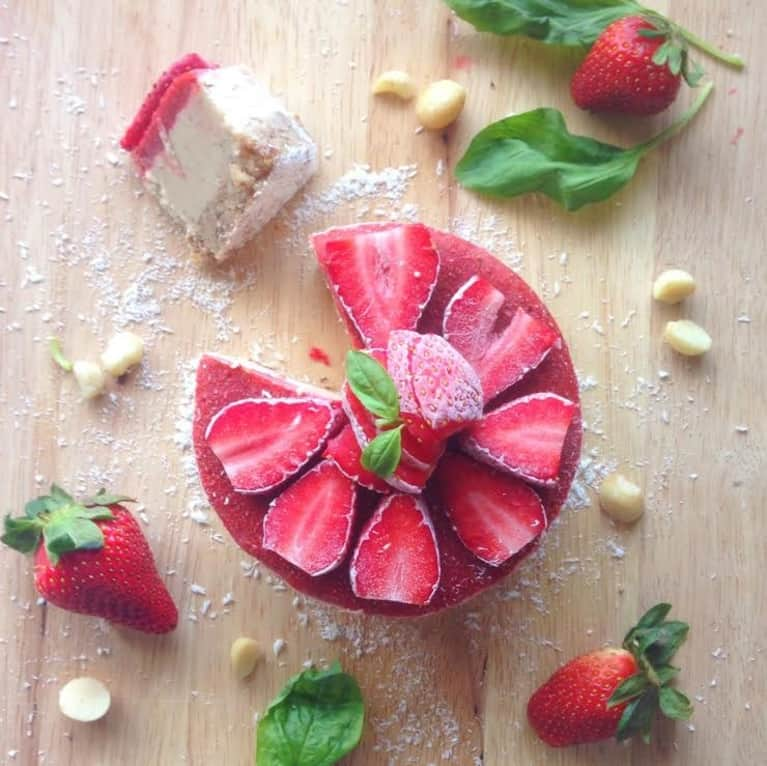 Strawberry and basil are two ingredients that I had only ever experienced together in a cocktail but the two pair quite nicely in cake. The tart sweetness of the strawberry balances the spicy, clove like flavor of the basil and is an absolute delight in this raw, vegan cheesecake. Adding herbs to desserts is a great way to enhance the flavor without adding sugar or fat making them more healthy and well rounded.
This recipe, in addition to being flavorful and healthy is really vibrant in color, making it a beautiful addition to the dessert table at the next gathering with your friends. After all, we do eat with our eyes first! Enjoy!
Decadent Vegan Cheesecake With Strawberry-Basil Sauce
Yield: one 9-inch cake, three 4-inch cakes, or 12-14 cupcakes
Ingredients for crust
1/2 cup raw almonds, soaked at least 4 hours
1 cup macadamia nuts, soaked at least 4 hours
¾ cup Medjool dates, pitted
pinch of pink salt
¼ cup dried, unsweetened coconut
Ingredients for cheesecake
3 cups cashews, soaked at least 4 hours
½ cup Medjool dates
2 whole lemons, peeled, seeded and sectioned
Zest of 1 lemon
¼ cup maple syrup
½ cup coconut oil
1 Tbsp. vanilla
Ingredients for strawberry-basil sauce
1 cup fresh strawberries
1 lemon, seeded and sectioned
¼ cup packed fresh basil leaves
½ cup maple syrup
Directions
Place the strawberries and lemon for the sauce in the freezer.
To make the crust: place the almonds in the processor and blend until a fine meal forms. Add the remaining ingredients and process until a sticky dough forms. Press into the bottom of a spring form pan(s) that is sprinkled with shredded unsweetened coconut. Place in fridge.
To make the cheese cake put everything in the food processor and blend until thick and creamy. Taste it, adjust if necessary. Press into the bottom of your spring form pan(s) and put in the freezer
Take the fruit out of the freezer and put everything in the food processor for the strawberry basil sauce. Blend until well combined and then pour over your cheesecake. Place back in the freezer overnight or at least 3 hours.
Decorate the cake to your liking. I used sliced strawberries and basil leaves.
Thaw before serving and store in an airtight container in the fridge.
Chefs tip: You can make these as cupcakes, mini cakes or one large cake. If making cupcakes, follow the directions but repeat the steps for each cupcake. I find that using silicon cups is easiest and they are reusable for there is less waste involved.