Easy Raw Vegan Walnut Chocolate Brownies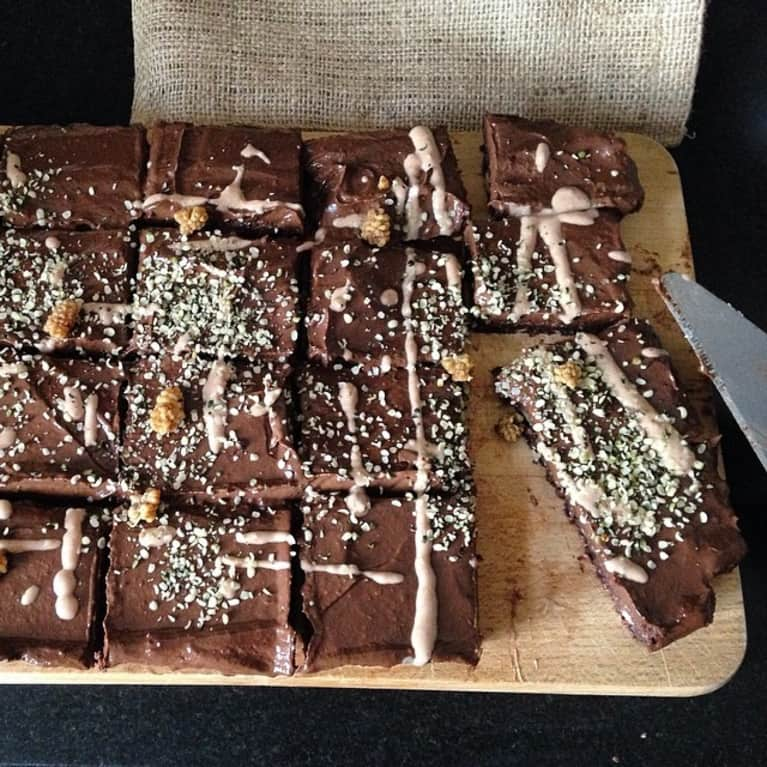 Who doesn't love chocolate? And who said awesome chocolate treats couldn't be part of a balanced and healthy lifestyle?
This brownie is a real treat, but is the healthy, vegan gluten-free and refined sugar-free version of the traditional brownie we all know.
This version is easy to prepare if you've got a good high-speed blander at home, and it's a great option when you've got guests. I've made this recipe several times for my loved ones and in my cooking workshops, and it's always a success!
Easy Raw Vegan Walnut Chocolate Brownie
Serves 6
Ingredients for the brownie
1/2 cup raw pecans
1/2 cup raw walnuts
1/3 cup raw cacao powder
2 Tbsp. coconut oil
1/4 cup desiccated coconut
1 cup dates (pitted)
1 pinch salt
3 Tbsp. chia seeds (optional)
Ingredients for the frosting
1 ripe small avocado
1/4 cup raw cacao powder
2 Tbsp. coconut oil
1 tsp. of your favorite liquid sweetener (I used agave nectar but you could also use maple syrup or raw honey)
1 pinch cinnamon
1 pinch of salt
Directions for the brownie
Process everything in your food processor until well combined.
Spread and press the mixture evenly in a square or rectangle dish, then place in the fridge to set while you prepare the frosting.
Directions for the frosting
Blend all ingredients in your high speed blender (or food processor) until well combine. You should obtain a nice creamy chocolate paste.
Spread the mixture on top of your base and put everything back in the fridge for about a couple of hours.
Serve as it is or sprinkle a few extra nuts or dried berries on top for decoration.
Want more recipes like this? You can download your free copy of my Healthy & Happy People recipe book here.