Summer Treat: Chocolate-Cherry Popsicles!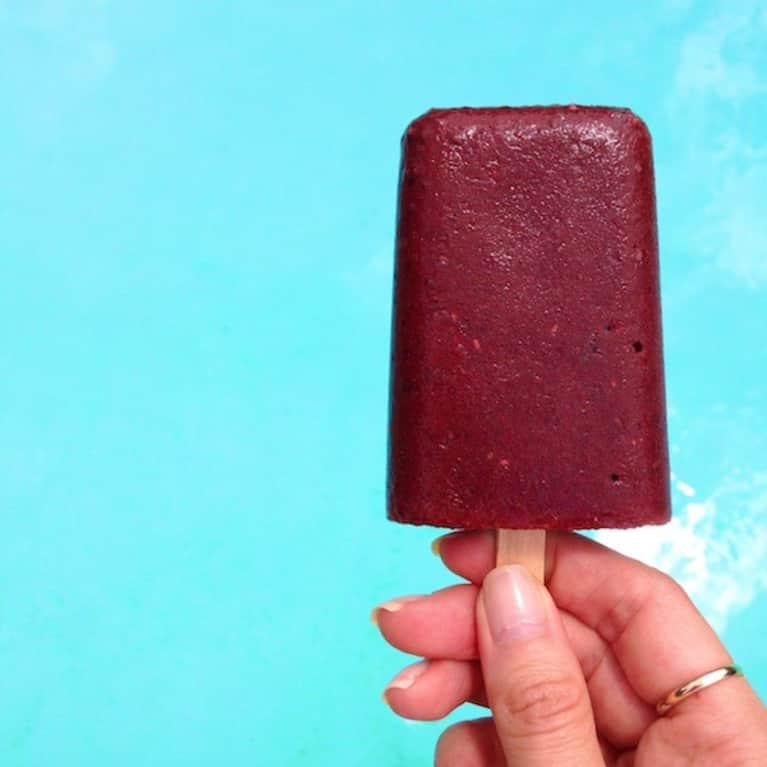 With the hot summer temperature, there's nothing like a frozen treat! Often we reach for some ice cream, some fro-yo or some store-bought popsicles all which are tasty, yes, but are loaded with sugar and dairy. This treat is sweet enough with no added sugar and is a delicious vegan treat. Plus, it's only four ingredients!
Cherries are rich in antioxidants, vitamins and minerals. They're a great source of melatonin which helps to improve our sleep. And during the summer, our sleep can get thrown off because of the long days of sunlight. Cherries are also great for anti-aging and beautiful skin.
Coconut water is so delicious and hydrating. It provides more potassium than a banana and is a good source of electrolytes.
Cacao powder is a superfood staple in my kitchen. This raw chocolate is a fantastic source of magnesium as well as other important minerals. It's high in antioxidants, can increase our energy, is healthy for our hearts, and let's not forget … delicious.
Chia seeds are an easy and great source of omega-3 fats, antioxidants, protein and fiber. They also help to improve digestion and provide us with much-needed energy.
And in fact, I had a popsicle for breakfast. Which at first felt so wrong, but then I thought about it and ... why not?!
So here's a summer recipe for you, simple and healthy, and perfect for either a sweet treat or even breakfast when you want to get a little wild!
Summer Treat: Chocolate-Cherry Popsicles!
Makes 4 popsicles
Ingredients
1 heaping cup frozen and pitted dark sweet cherries

½ cup coconut water

½ Tbsp. raw cacao powder

½-to-1 Tbsp. chia seeds
Directions
1. Mix all ingredients together in a high-powered blender.
2. Try not to drink this delicious mixture before making the popsicles, as it will be tempting.
3. Pour the cherry-chocolate mix into popsicle molds.
4. Place in the freezer and freeze overnight.
5. Fill a bowl with warm water and set the molds in the bowl for 20-30 seconds. The water should not cover the entire molds.
6. Gently slide the pops out of the molds.
7. Enjoy! (And share, if you're feeling generous!)