Vegan Chickpea "Egg Salad" Served Over Kale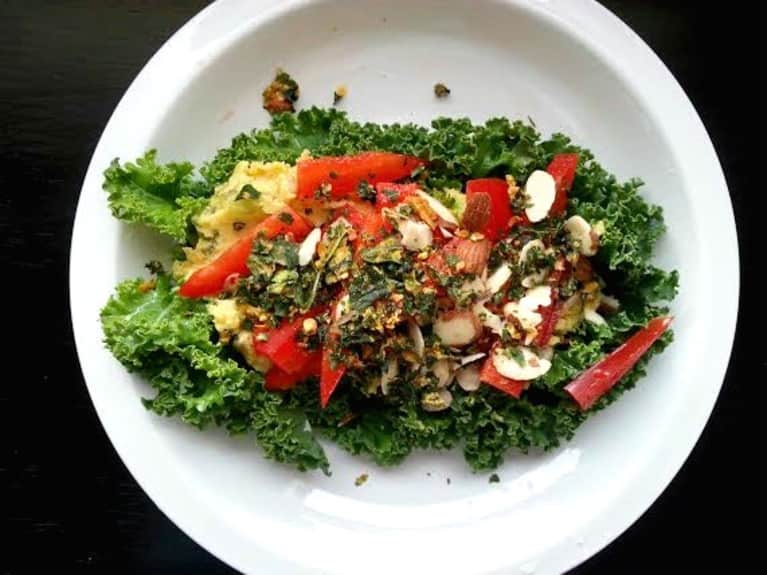 Sometimes you need inspiration for healthy meals to throw in the mix. I'm here to give you bursts of inspiration and kale. Don't worry, I got you (because we don't all eat like cute little bunnies all of the time!)
Chickpea Eggless Egg Salad in Kale Leaves
Ingredients
3 cups cooked chickpeas (540g)
2 tsp. yellow mustard (16g)
2 Tbsp. olive oil (30ml)
5 Tbsp. nutritional yeast (25g)
1/2 tsp. dried dill
1 tsp. sea salt (6g)
1/4 cup water (59ml)
1/3 cup red onion, diced (45g)
1 cup celery, diced (120g)
1 kale leaf, destemmed, for each serving
Directions
Place the chickpeas, mustard, olive oil, nutritional yeast, dill, sea salt and water in your food processor. Process until the beans are mashed up but not completely smooth.
Transfer to a mixing bowl and add the onions and celery and stir until everything is combined.
De-stem a large kale leaf and place a portion of the salad in the kale leaf, spreading it lengthwise (kind of like a burrito).
Top with red bell pepper, avocado, chopped almonds, crumbled kale chips and a squeeze of lemon juice.
To find out more about Molly and what she's doing, check out her website at www.boldvegan.com.