Raw, Vegan Banana Bread With Cashew Cream Icing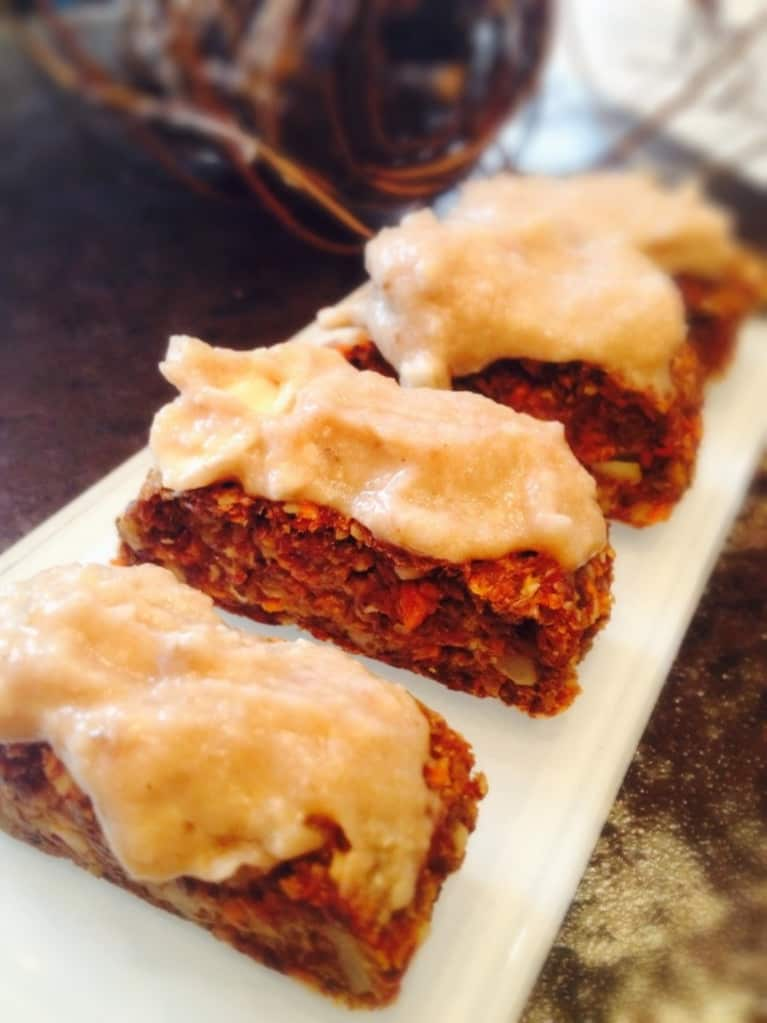 I've owned my dehydrator for more than a year, and this week I finally started to use it. Something about how long it takes to dehydrate food was turning me off. This week, something shifted and I've used it three times already. I'm loving it. Yes, it does take a really long time to dehydrate, but you just make your recipe and basically forget about it. Some periodic checking is required, but that's fun to see how your recipe is coming along.
This week I experimented with raw vegan banana bread, and I love how it turned out. I hope you do, too!
Ingredients:
1 cup raw almonds
2 carrots, pureed
2 apples, cored and pureed
1/2 cup flax meal
2 bananas, mashed well
Directions:
First, grind almonds in a food processor using the S blade, and set aside in a medium size bowl.
Next, puree the carrots and add to the same bowl. Puree the apples, add to the bowl.
Last, add the flax meal and bananas. Mix all ingredients well.
Scoop out a generous portion of the mix and by hand press into small banana bread shaped loafs. (about the size of your palm). You can also make small balls. If you find the mix isn't sticking together to form a loaf or ball, add more flax meal. Place the small loafs or balls on your dehydrator's teflex sheet or parchment paper.
Dehydrate at 118 degrees Fahrenheit for about 15 hours. You'll want to check to make sure they don't over dehydrate. You want the outside firm to touch.
Cashew Cream Icing
Ingredients:
1/2 cup dates, soaked for minimum 1 hour
1/2 cup cashes, soaked for minimum 1 hour
1/4 cup water
Directions:
Add all ingredients to a blender and mix until you get a creamy consistency. Add more water if the mix is too thick.
These will keep in the refrigerator for several days.