3 Underrated Ways To Keep A Dewy Glow In The Fall & Winter*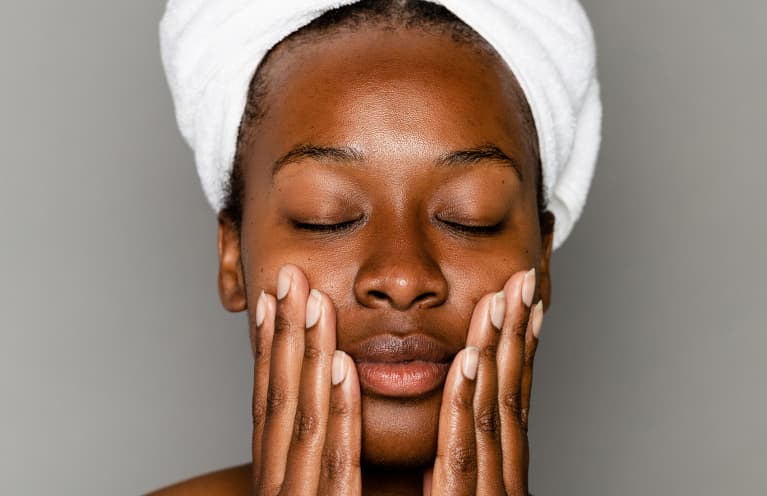 Our editors have independently chosen the products listed on this page. If you purchase something mentioned in this article, we may
earn a small commission
.
Has your summer glow waned by now? Mine certainly has, so I'm currently in the midst of reintroducing myself to all my favorite shine-inducing hacks and routines so I can continue to look dewy in the fall and winter. And if you're looking for advice on how to enhance your skin's vibrancy year-round, you've come to the right place.
Here are my three favorite secrets for plump, supple, happy skin—even on the gloomiest weather days:*
Take a cue from your wardrobe and start layering your comfiest products—skin care products, that is. Sandwiching hydrating formulas means you're able to target the different layers of the skin, as well as trap all that moisture with a barrier on top. For example, I love to first apply a light humectant serum on damp skin to help hold and retain water. Grown Alchemist's Instant Smoothing Serum contains three different weights of hyaluronic acid, so it's able to penetrate multiple epidermal layers. I top that with a whip-thick face cream (Burt's Bees Truly Glowing Gel Cream has been hitting the spot lately), and then top it with Kora's Noni Glow Face Oil to create an oil-slick shield that keeps all the water in and irritants out.
An important note (and word of caution!) the products you're layering should only be of the hydrating kind. Potent actives like retinol, BHAs, AHAs, vitamin C, and even gentler options like niacinamide don't always play well together. Not only can they be truly irritating on the skin when used together, but they can even deactivate each other—rendering each formula less effective or even useless.
So when I talk about layering skin care, I'm only talking about the hydrating and fortifying kind. Keep the rest simple.
2.
Take a skin supplement.
OK, technically this is a year-round tip—but certainly worth bringing up now, as keeping skin hydrated and dewy is an inside-out job, too.* I highly recommend you supplement with barrier-enhancing lipids to help support your hydration levels internally.*
For example, phytoceramides (a plant-derived ceramide, a lipid found naturally in the skin), have been shown to improve skin's hydration when taken orally.* In one clinical study, participants with clinically dry skin who took a phytoceramide-rich wheat extract oil for three months saw up to a 35% improvement in skin hydration.* In another, participants saw improved skin hydration after just 15 days.*
Whether you're looking to combat already dehydrated skin or be proactive against dryness, consider adding phytoceramides to your skin care arsenal.*
3.
Opt for a cream- or oil-based highlighter.
While I prefer when my glow is au naturel, it doesn't hurt to amp up the complexion with a playful makeup find or two. And in the drier months, there is no makeup product more swoon-worthy than a silky highlighter. Powders, by nature, absorb oil and moisture—which is very unwelcome when I'm trying to keep my face looking as supple as possible.
But an oil- or cream-based highlighter imparts a lush sheen while also adding another cushion of hydration. (Who doesn't love a product that plays double-duty?) Tata Harper's newest cream pot of shimmery goodness is called Flashy—and it has been making this lackluster skin look just that, in the best way possible.