A Guide To Wellness Travel In Copenhagen: Hotels, Sightseeing & Hot Spots
mbg Beauty Director
By Alexandra Engler
mbg Beauty Director
Alexandra Engler is the beauty director at mindbodygreen and host of the beauty podcast Clean Beauty School. Previously, she's held beauty roles at Harper's Bazaar, Marie Claire, SELF, and Cosmopolitan; her byline has appeared in Esquire, Sports Illustrated, and Allure.com.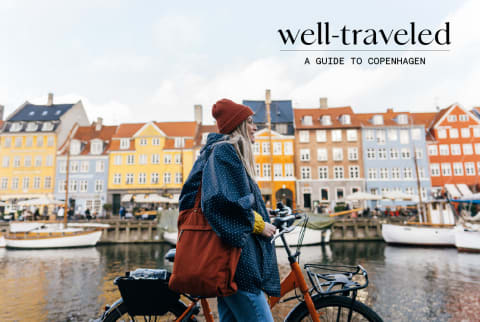 April 12, 2023
Our editors have independently chosen the products listed on this page. If you purchase something mentioned in this article, we may
earn a small commission
.
Travel can restore your well-being. We're here to help you on that journey with
Well-Traveled
, a go-to destination for travel recommendations and tips.
Welcome to the happiest place on earth. International surveys and reports often rank the capital city of Denmark as one of the most joyful cities to live in. There are a few reasons for this—strong social networks; access to free, quality education; and a robust public health care system just to name a few. But it doesn't take a sociology degree to get a sense of the city's good attitude: Just take a stroll through the city's historic streets, take advantage of the bustling bike lanes, explore the thriving sub-community that is Christiania, and get out on the calm waterways.
And while Scandinavia isn't necessarily known as a well-being destination or hot spot, it should be. Most cities have many of the wellness staples baked into their infrastructure: easily walkable or bikeable; access to fresh, whole foods; and an emphasis on living a balanced life.
Here, the best things Copenhagen has to offer. Happy travels, my friends.
The city offers a good mix of historic landmark hotels and modern, eco-friendly home-away-from-homes.
Hotel d'Angleterre
The most famous place to stay while in Copenhagen has to be this treasure. One of the best hotels in the world, Hotel d'Angleterre is for those who have a taste for luxury and historic landmarks. Established in 1755, the décor matches its century-old status: The hotel is stunning and is worth peeking even if you chose not to stay here.
Price point: $$$$
Amenities: Spa, fitness center
Axel Guldsmeden Hotels
Located in the hip neighborhood of Vesterbro, this so-cool hotel is ideal for a young traveler ready to take on the city. The cozy hotel embodies the Danish art of Hygge: Not only are the rooms comfortable, but the lobby lounge is a welcoming place to meet friends or take a break between adventures.
Price point: $$
Amenities: Spa, garden, fitness center, fresh food
Sanders
This lauded hotel has earned accolades from several travel brands, and now us too. What we find the most charming about this hot spot hotel is the emphasis on community and comfort. The hotel has many areas where you can relax with other guests and locals alike, such as the roof terrace, Tata cocktail bar, courtyard, the living room, and kitchen. Each area has its own unique aesthetic and a focus on using fresh, organic ingredients for whatever they're serving up.
Price point: $$$
Amenities: fresh, organic food, several communal places to hang
You'll find plenty to do just by walking (or biking!) around the city, but be sure that these are on the to-do list:

The second oldest amusement park in the world, Tivoli Gardens isn't just for those who like rides and games. The grounds are brimming with charm, storybook tales, gardens, music, foods, shopping, and history. It's simply magical for folks young and old. They also regularly host events and concerts, so be sure to check out what the park is offering during your trip—in case there's something that piques your fancy. Oh, and fun fact: Tivoli Gardens were the real-life inspiration for Disney World.
2.
Explore Freetown Christiania
A micronation within the city, Christiana began in the early '70s when squatters overtook an abandoned military base. Eventually, it became its own autonomous district that operates outside of traditional governmental control. In the neighborhood, there are approximately 900 residents—and many more tourists who stroll through on a daily basis. Inside, there are shops, music venues, skate parks, places to buy drinks, and actual homes.
And here, anything goes: So vendor booths and homes are constructed wherever there's open space for it—making for a dizzying landscape (so, be warned that it's easy to get lost). It's also commonly referred to as the "green light district," as it openly sells cannabis. This is all to say: It's worth seeing but is perhaps not as family-friendly as other parts of Copenhagen.
3.
Check out TorvehallerneKBH fresh food market
This open-air yet covered marketplace has dozens of stalls for fresh produce, desserts, snacks, drinks, and trinkets. It's a great way to explore and taste local (and global) cuisine in one go! Plus you can pick up artisanal keepsakes to take home as souvenirs.
4.
Tour the Rosenborg Castle
There are a lot of stunning historic buildings to sightsee while in Copenhagen—so much so that it's hard to narrow down the list. And while I do recommend also seeing Christiansborg Palace, Nyhavn, and Amalienborg, Rosenborg Castle is truly not to be missed. Built in the 1600s, it's one of the best-preserved Renaissance castles existing today. Not only is the inside a feast of treasures to behold, but the surrounding gardens and lands are also spectacular—especially if you find yourself there on a sunny day.

Home to some of the best restaurants in the world, there's lots of modern fare to try here:
Cafe Atelier September 
A cafe, bakery, and spot for lunches or light bites, this option is a perfect place to fuel up on lattes, fresh snacks and fruits, and delicious pastries. The airy, stylish environment welcomes you in and allows you to linger.
Esmee
With the closing of Amass, Noma, and Geist, it seemed that the city had suffered loss after loss in its fine dining culinary experiences. However, from chef Bo Bech is this masterpiece, which features one-of-a-kind dishes that combine a plethora of taste profiles.
Price point: $$$
Dietary consideration options: plant-based, pescatarian, fresh ingredients, biodynamic, organic wine
Setting: casual upscale
Menu & info: https://esmee.dk/menu/
La Banchina
An experience unique to Copenhagen, La Banchina combines organic wine and farm-to-table snacks with the Scandinavian love of saunas and cold plunges. Yes, you read that right. While bathing culture is growing in popularity stateside, it's well established in places like Denmark. And this popular hangout spot is proof. The small restaurant and cafe serves plant-based and pescatarian dishes and serves the best-of-the-best organic, biodynamic wines—and between bites, relax in the sauna or take a dip in the canal.
Price point: $
Dietary consideration options: plant-based, pescatarian, fresh ingredients, biodynamic, organic wine
Setting: Casual—bring your swimsuit
Menu & info: https://www.labanchina.dk/

The best things to bring on your journey.
OLEHENRIKSEN Banana Bright+ Vitamin CC Eye Sticks
Pros:
3 shades for a wide variety of skin tones
2 kinds of vitamin C (3-O-Ethyl Ascorbic Acid and Tetrahexyldecyl Ascorbate)
I don't know about you, but the first few days of any vacation in which I'm adjusting to new time zones, my eyes can use all the help they can get. This stick from famed Danish skin care brand OleHenriksen perks them right up. It does so with color-correcting pigments, brightening vitamin C and de-puffing caffeine. Just one quick swipe with a few taps to blend, and I'm instantly awake.
Anine Bing Levi Sunglasses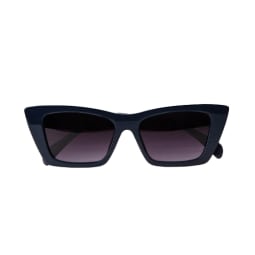 Pros
Two colorways (navy and tortoise)
Polarized with UV400 protection
The iconic Danish supermodel turned lifestyle maven, Anine Bing offers Scandinavian simplicity from head-to-toe-to-house. While on your journey to Copehnaggen, embrace the simple Danish style and sport these sleek sunnies.
Advertisement
This ad is displayed using third party content and we do not control its accessibility features.
Baum und Pferdgarten Corinne Sweater
Pros:
Made with natural fibers
Baum und Pferdgarten is a leading Danish fashion house so you'll fit right in with the locals
It's always a good idea to bring a knit on vacation—easy to toss on in the evening should the temps start to dip. This Danish brand uses high-quality fabrics for its cool, yet effortless basics.

Well-being and happiness go hand in hand, and Copenhagen is a perfect encapsulation of this. The charming Scandinavian city will inspire you to live a more joy-fueled life, thanks to its friendly locals, delicious restaurants, eco-friendly ethos, balanced lifestyle, and more.
Meet The Experts
Alexandra Engler
is the beauty director at mindbodygreen and host of the beauty podcast Clean Beauty School. Previously, she's held beauty roles at Harper's Bazaar, Marie Claire, SELF, and Cosmopolitan; her byline has appeared in Esquire, Sports Illustrated, and Allure.com.