Community-Based Beauty & Wellness Emerges As Our Key To Wholeness
mbg Beauty Director
By Alexandra Engler
mbg Beauty Director
Alexandra Engler is the beauty director at mindbodygreen and host of the beauty podcast Clean Beauty School. Previously, she's held beauty roles at Harper's Bazaar, Marie Claire, SELF, and Cosmopolitan; her byline has appeared in Esquire, Sports Illustrated, and Allure.com.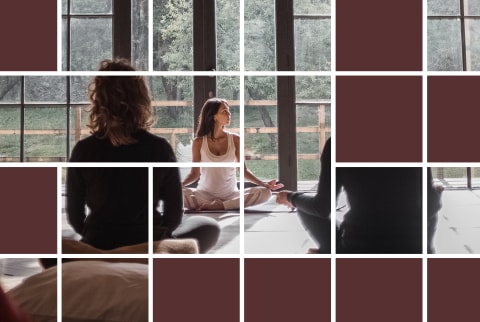 Image by milles studio / Stocksy
November 29, 2022
We carefully vet all products and services featured on mindbodygreen using our
commerce guidelines.
Our selections are never influenced by the commissions earned from our links.
There's an epidemic of loneliness. And research continues to show just how dire this reality is for many folks in America. A report from Harvard found that 36% of all Americans—including 61% of young adults—feel "serious loneliness." It gets worse: 43% of young adults said that they felt increases in loneliness due to the pandemic. And about half of those young adults who identified as lonely reported that in their recent memory, no one had "taken more than just a few minutes" to ask how they are doing in a way that made them feel like the person "genuinely cared."
The reason this is happening, especially for young folks, is multifactorial. The pandemic, and its lingering effects on our daily lives, have certainly played a role. As has social media: Despite its infinite ability to connect, social media use is linked to higher feelings of loneliness1. But so has the decline of social infrastructure: Without resources to build community, folks are left to deal with the isolating consequences.
And these are things we've known for the past few years. It's not particularly new or novel to suggest that people feel disconnected today more than ever. However, now we're starting to see something being done to help ease it: Community-based well-being spaces are emerging in places across the country to meet growing demand for connection.
As folks find themselves starved for connection, community-based well-being centers emerge.
There have always been places in which people can go to meet wellness needs. As Robert Hammond, co-founder of the Highline and president and chief strategy officer for Therme North America, describes it to me, "In the old days, people used to go to boxes." If you want to move your body, you go to the gym box. If you need to care for your skin, you go to the spa box. If you need a dose of greenery, you go to the park box. And now, these boxes all seem to be merging—creating something entirely of their own.
These new spaces that have opened up go well beyond just gyms, salons, workout studios, spas, spiritual centers, or mental health spots. They're holistic social spaces that offer multiple modalities to pique any interest.
Take for example Therme, a leader in wellness who is bringing ancient thermal bathing practices back to urban areas all across the globe, with more on the way. These modern bathhouses combine thermal bathing, nature escapes, and entertainment—with a business model designed to keep the entrance price low. For another option focusing on bathing culture, Othership in Toronto combines the healing powers of breathwork, saunas, cold therapy, and more.
Other centers expand into classes, beauty services, and high-tech treatments. The Well has three locations (New York, Connecticut, and Costa Rica) that offer treatments, classes, and access to some of the most in-demand wellness experts around. Or New York's recently opened Sage + Sound, which has lymphatic drainage massages, Tracie Martyn facials, acupuncture, a speaker series, and daily classes that range from poetry to meditation. Remedy Place is a bicoastal "self-care social club" that comes with a hefty price tag to join but boasts membership perks like unlimited cryotherapy and four breathwork ice baths a month.
And for the whole family, Lifetime describes itself as an "athletic country club" and offers fitness classes, spa services, sports leagues, and health and nutrition coaching. It has 161 locations across the U.S. Or for the spiritually minded, churches have even shaped themselves into wellness centers offering cafes and sports courts: Entrepreneur John Fio has dubbed it the "future of faith in America" and "SoHo house for those with a soul."
These create opportunities where people can convene, share stories, be heard, and learn from one another. Wellness is a group project in which the success of one member can impact the rest.
"There are so many different ways to connect. It's about creating accessibility—creating a comfortable home that lends itself to community," says Lauren Zucker, co-founder of Sage + Sound. One of the space's notable points is that it's not membership-based, so you can drop into whatever services or classes work for you and maybe even introduce yourself to something new in the process.
Someone might go to a wellness center to get a facial but leave having learned a breathwork technique for stress management. Someone looking to better their meditation practice may leave with advice on acupressure and maybe even a fresh manicure. It's about cross-pollination.
"Third spaces" and community are vital for quality of life and longevity.
It affects your immune system and brain health, too. "We see evidence that people who experience feelings of isolation, that feeling can change how their immune system functions. It can make it go haywire, make it overreact, and cause inflammation. And inflammatory events impact our brain health," says top brain researcher Marc Milstein, Ph.D., on his episode of the mindbodygreen podcast.
And it's not just the relationship that's important: Having access to real-life communal "third spaces" affects our health too. The idea behind third spaces is that humans have a natural instinct to convene in areas that are not their home (first space) or work (second space). Research shows that when folks have easy access to third spaces, they have improved quality of life4.
With the lines increasingly blurred between the first two, third spaces are more vital than ever. Common third spaces are usually bars or coffee shops. Long ago, they were town squares. Even for a short stint, malls were the de facto third place in American monoculture.
And now, what if they could be wellness destinations?
We know it works in other areas. Spa and bathing culture are already thriving concepts in places across the world. Scandinavia has a long tradition of group spa culture from Finnish saunas to Swedish thermal baths. In several parts of Central America, temazcal sweat lodges are healing epicenters. Moroccan hammams offer purifying treatments for the skin but are most beloved for the social aspect. Japanese sentos are communal bathing houses that date back to the 600s or 700s.
In the States, many have been slow to catch onto bathing culture—but by all accounts, seem interested in quickly catching up. "I think part of the problem in America was that spas were inaccessible—they're expensive, it's only private appointments, it's seen as a luxury," says Hammond, noting that in other parts of the world bathing cultures are inherently a social setting. "The experience improves because other people are there. And I think in some ways that's the secret ingredient: connecting with yourselves and others makes you well."
In an increasingly online world, in person communities create places to feel seen just as you are.
During the pandemic, we had no choice but to turn to online communities for connection. And for folks who don't live in large cities, they can be the only opportunity to have access to well-being resources. The internet—and what it has given us access to—is hugely beneficial.
But it's not without its faults. We'd be remiss to not acknowledge the ways in which social media has warped our views on well-being and beauty. When you scroll through your Instagram or TikTok, it's hard not to be flooded with the idea that everyone else is somehow performing wellness and beauty better than you.
There's a reason that social media is associated with mental health issues. A 2020 systematic review of eight studies showed a strong connection between social media envy and increased depression and anxiety in individuals5. The perfectionist-tinted veil we so often put on for social media has real consequences.
But when you are in a real-life community—surrounded by people who are experiencing similar struggles, wins, insecurities, and goals as you—all of a sudden you don't feel so alone.
"Something even as simple as showing up to a meditation class and someone saying, 'Oh, I've never done this before and not really sure what I'm doing,' that opens up space for someone else to go, 'You know what? I've been coming to mediation class and I still don't really know what I'm doing yet either and it's OK.' Instantly, your experience has been validated," says energy healing expert Valerie Oula, founder of Modern Ritual NYC and director of healing at The Well.
Recently I joined an EFT tapping session at Sage + Sound led by Ryan Haddon, who is their director of programming. In it, she asked us to repeat mantras aloud. Timidly, the group followed. At first, I was saying the phrases under my breath at just barely a whisper—afraid I was going to somehow mess up or embarrass myself. But as I heard my neighbor's voice grow louder and more steady, I found myself matching. Then it wasn't just my neighbor's voice that I could hear, it was the woman several seats away from me. With each repetition, you could feel the group grow more confident in the practice. Because the group committed, I felt comfortable doing the same. By the end, I wasn't even thinking about the volume of my voice; I was just in the moment, in the space, within the group.
"Self-development places have a projected image of what the process should look like, and it's so tired. We need to meet each other and ourselves where we're at and then grow from there," Haddon told me after the session. "Pretending to be perfect is a bypass of actual growth."
Takeaway of the trend.
The future of well-being is shockingly simple: It's found in one another. You are only as healthy and happy as your community is. "We need a wellness infrastructure," says Hammond. "It happens in collaboration: It's not that you need your neighbor to be healthy in order to be healthy—it's that you'll both be healthier together."
Alexandra Engler
mbg Beauty Director
Alexandra Engler is the beauty director at mindbodygreen and host of the beauty podcast Clean Beauty School. Previously, she's held beauty roles at Harper's Bazaar, Marie Claire, SELF, and Cosmopolitan; her byline has appeared in Esquire, Sports Illustrated, and Allure.com. In her current role, she covers all the latest trends in the clean and natural beauty space, as well as lifestyle topics, such as travel. She received her journalism degree from Marquette University, graduating first in the department. She lives in Brooklyn, New York.