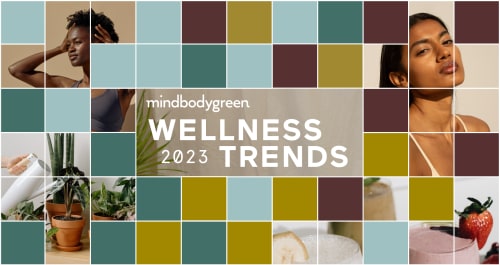 Wellness Trends 2023
As every year draws to a close, mindbodygreen editors come together to reflect on where well-being has gone—and predict where it's going next. Our annual wellness trend report is the culmination of months' worth of investigating new research, interviewing experts in their fields, and closely monitoring the cultural conversation.
Over the last decade, we've predicted the rise of psychedelics and the fall of competitive parenting; the embrace of dopamine fasting and the backlash to burnout. We called the tinned fish craze back in 2020, and have been talking about eco-anxiety since 2019. With every trend report, we hope to give our audience the most up-to-date (and in some cases, ahead-of-date) well-being wisdom, which they can then use to tailor their health routines and goals heading into resolution season.
Now, all eyes are on 2023, and here's what we see: Community-based beauty and wellness spaces will arise to fulfill our growing needs for offline connection. The way we measure our activity levels, muscle mass, and metabolic efficiency will change with some much-needed new metrics. And we'll all be hearing a lot more about the infinite opportunities of the skin microbiome, the importance of protein for healthspan, and the next iteration of microplastics.
2023 is shaping up to be a big year for well-being. Here's your first look at it.