Forget Your To-Do List. Work On A 'To-Be List' Instead
By Monica Berg
mbg Contributor
Monica Berg is the Chief Communications Officer of The Kabbalah Centre and author of Fear is Not an Option. Currently living in New York City, Berg is a fresh voice who channels her many years of Kabbalistic study along with personal life experiences.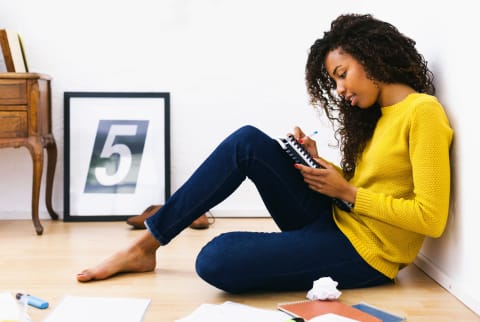 Image by BONNINSTUDIO / Stocksy
January 26, 2019
How are you doing with all of those New Year's resolutions?
Right around the end of January is about when many people begin to lose momentum. We want more than anything to stay on track with our highest goals, but change is hard. It's absolutely worth the effort, but why does it seem to be so difficult?
Let's rethink our resolutions. Yours may have started as a long list of big goals. That is a wonderful start. You may have even taken those big goals and broken them down into small, more attainable steps. And this probably felt really good, as it should—these steps show you the path getting you where you want to go.
But the problem with goals and to-do lists is they can often be built from societally taught "shoulds." I should go back to school. I should save money. I should start painting again. Shoulds can serve a helpful role in our lives at times, but when it comes to setting personal development goals, those shoulds can be a weak motivator because they're based around what people around us are doing instead of what we ourselves really care about.
When the hopes and desires of others are what is feeding all of our to-do's, it can leave you a little foggy about what you want from this life. You are not alone; this happens to so many of us. If something feels amiss as you review your resolutions, I recommend approaching them from a different angle. Ask yourself, "Is this what I truly desire?"
Desire should be the driving force behind our goals. For if you are not striving for something that will bring you fulfillment and joy, it's not worth your while.
To ensure your goals align with your true desires, I recommend spending some time rethinking the items on your to-do list—via a "to-be list."
In a continuous effort to stay laser sharp on my desires and highest purpose, I prefer making a "to-be list." It's like a to-do list, but instead of it being a list of things to do, it's a list of ways to be in order to accomplish what's on the to-do list.
Write a list of all the things you want to be—a playful partner, an engaged parent, a writer, or a singer perhaps. If you're not quite sure where to begin, consult your values and consider the things, people, activities, and experiences that bring you the most fulfillment and joy. You can also think about the various parts of your life: your ethics and service, your health, your career, your relationships, and so on. How do you want to show up in each sphere of your life?
Once you have your to-be list, take a look at your to-do list. Does your to-do list support all the things you want to be? If not, it's time to make some shifts.
With intention, we can create the right environment to foster our own success. Our choices and priorities are an important part of the equation, which is why it is vital to create a to-be list before you create a to-do list. Think about it: If you desire to be a writer, then your to-be list should say, "writer," and your to-do list could say something like, "Write for 45 minutes a day." (The specifics are up to you.) If you want to be more organized, then your to-do list might say, "Clear out the hall closet." You get the idea. One of my ever-present goals is to grow spiritually. Because this is a priority for me, my to-do list says, "Make time for quiet study and reflection."
Keep your to-be list close by. Without regular check-ins, we can lose sight of some of our most important to-be's. When a dilemma arises or a decision needs to be made, consult the to-be list so you can be sure every choice you make is aligned with the person you desire to be. If you're clear about what you need to be, who you want to become, and what you value, nothing and no one will be able to pull you anywhere you don't want to go. If you feel obligated to do something that is not aligned with your values, that's somebody else's voice, not your own. Over time, by honoring your to-be list, you'll find you will be doing more of what you love and making greater progress in reaching those big goals.
Being vs. doing.
Too often we set out on a path of change focusing only on what is lacking or what is preventing us from reaching our purpose. No matter what your goal is, ask yourself, "Is my focus on being something or doing something?" When you focus on your being, you're focusing on living a richer, more fulfilling, and purpose-driven life.
Staying on track with our big goals is hard but not impossible. When you know what your priorities are and who you want to be, you'll find it's easier to maintain the path toward your highest potential.
Monica Berg
Monica Berg is the Chief Communications Officer of The Kabbalah Centre and author of Fear is Not an Option. Currently living in New York City, Berg is a fresh voice who channels her many years of Kabbalistic study along with personal life experiences. A mother of four and a woman who triumphed over an eating disorder, Berg is direct with her trademark blend of humor, insight, and raw honesty.