You Need To Try This French Happiness Ritual ASAP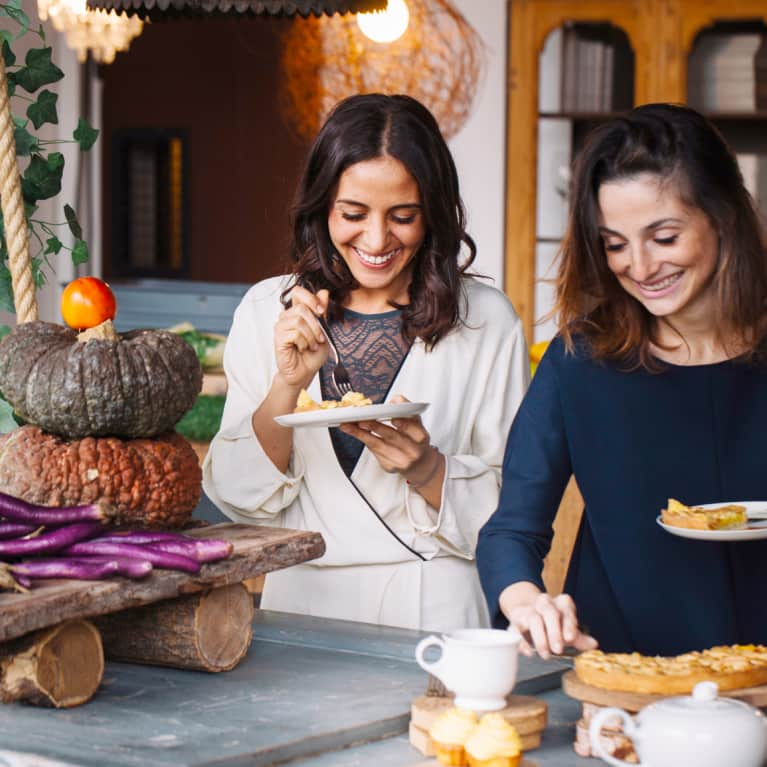 Our editors have independently chosen the products listed on this page. If you purchase something mentioned in this article, we may
earn a small commission
.
We could all use a little happiness boost in the month of January, and in doing so it only makes sense to look no further than the secrets of the world's happiest people. Here are three happiness-related rituals from around the world to get behind ASAP.
Eat slowly, and in the company of friends, like the French.
Make time to eat. Reclaim your lunchtime and sit with friends, family, and colleagues and enjoy eating your food slowly and with company. "And for dessert?" "No dessert, but I would like a coffee afterward, please. Un café américain."
After giving a lecture in Paris, I had the afternoon off and had lunch in a small restaurant close to the Musée d'Orsay, on the border between the 5th and 7th arrondissements. "No dessert, and you order American coffee in Paris. You are a brave man," the waiter replied with a smile. Food is not taken lightly in France. This is perhaps most evident in their state schools. Kids are served three-course meals that may consist of a salad for starters, a main course of veal marinated with mushrooms and broccoli, and apple tart for dessert—and cheese and bread, of course.
The cloth napkins and the genuine silverware reveal that the ritual around the meal is almost as important as the food itself. It is about sitting down and eating calmly. The French eat together. That might be one of the reasons the French are the ones who spend the most time eating each day. And, despite its population having three courses and spending all that time at the table, France still has some of the lowest obesity levels in Europe. This may be due to the fact that people eat more when they sit in front of the TV. According to a study from the University of Liverpool, published in the American Journal of Clinical Nutrition, it could be as much as 25 percent more. And while most countries have official diet recommendations about how many portions of fruit and vegetables we should eat per day, one of the official recommendations in France is that you should eat with other people. That is one thing we could all aspire to do more frequently.
Celebrate National Neighbors' Day like the Dutch.
Make the effort to speak to your neighbors. Meet them for a coffee, help them in the shared garden, or just stop to chat the next time you see them. According to a Dutch proverb, it is better to have a good neighbor than a distant friend. Since 2006, the Dutch have celebrated National Neighbors' Day on May 26. It started as an initiative to get neighbors together and has grown to become an event that is celebrated in 2,000 Dutch districts.
It was inspired by a survey that showed that three out of four Dutch people found that neighborhoods that engaged in regular activities were the most pleasant to live in and was initiated by the Dutch coffee company Douwe Egberts to get neighbors together. Later on, Douwe Egberts collaborated with the Oranjefonds, which has since 2008 provided neighborhoods with funds to celebrate the annual day. Celebrations can range from holding a street party to having a cup of coffee with neighbors you might not usually socialize with.
Practice brain brushing like the citizens of Bhutan.
In some Bhutanese schools, the students and teachers start and finish their day with a silent moment of "brain brushing," a short mindfulness exercise. Mindfulness has its roots in Buddhism, where the belief is that the human pursuit of everlasting happiness leads to suffering. We feel pain because nothing lasts. Mindfulness is about being present: right here, right now, in this moment, and being loving and kind to yourself.
Whereas our thoughts usually revolve around the future or the past, mindfulness is all about the present moment. Because the Bhutanese focus on Gross National Happiness instead of Gross National Product, the country is almost a laboratory testing out different approaches to improve well-being. One of these efforts is the GNH Curriculum, which targets 10 non-academic "life skills" in secondary-school students in a collaboration between the Bhutanese Ministry of Education and a team of researchers from the University of Pennsylvania.
One of these non-academic life skills is mindfulness. More than 8,000 students participated in the study, in which the researchers randomly assigned the schools taking part either to the treatment group, which received the GNH Curriculum over 15 months, or to the control group, which received a placebo GNH Curriculum over the same period. The researchers tested two hypotheses. First, does the GNH Curriculum raise levels of well-being? And second, does increasing well-being improve academic performance? It found that the GNH Curriculum significantly increased student well-being and improved academic performance.
Based on excerpts from The Little Book of Lykke by Meik Wiking, with the permission of Penguin Random House U.K. Copyright © 2017.
Want more tips from Meik Wiking? Here's the "cozy kit" that will make your next night magical.