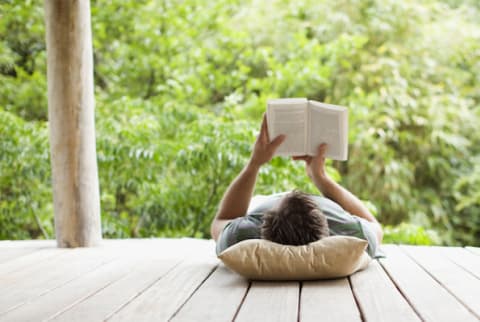 December 20, 2014
Maybe it's because I teach for a living, but I'm a book giver by nature.
I love sharing great books with people I love and each of the following books have impacted me in some way. They occupy a special place on my bookshelves, and I return to them often for reminders and inspiration. These are definitely not your typical yoga book finds, but each offers meditations, exercises, or recipes that will enhance yoga, mindfulness and meditation practices.
So in the spirit of the holidays, here is a list of my 10 favorite books for all the different types of yogis in your life:
1. For the spiritual yogi with a short attention span:
These books are full of inspiringly beautiful short meditations on various yoga wisdom texts, and how they relate to daily life. They are also available for download!
A dear friend and I pick one story each month and meditate on its meaning while exchanging letters. These books are so great to share with loved ones.
Hands down, the best cookbook I've ever bought. I love gifting this to vegetarians and non-vegetarians alike. This book makes cooking Indian food easy and delicious. The recipes are clear and the book is beautiful. There's also an introduction at the beginning that explains the relationship between food and yoga.
3. For the Christian yogi:
This is a poetic book full of meditations on what it means to believe in God. The author's humbleness and truth will deeply resonate with anyone who is struggling with faith and a spiritual life.
4. For the animal loving yogi:
This is a sweet and lighthearted book for animal loving yogis. It also includes great vegan recipes that you can cook for your pets, too.
5. For the devotional yogi:
This is the perfect abridged version of The Bhagavad Gita. It interweaves modern stories with the ancient Sanskrit text, making the lessons more accessible to anyone who is trying to deepen the devotional side of their yoga practice.
6. For the new or aspiring yoga teacher:
This book neatly offers the myths behind the asanas we practice in yoga.
Ever wonderwhere Mountain Pose (Tadasana) comes from?
This book provides a fun way to deepen your practice and enrich your classes.
7. For the struggling yogi:
A friend recommended these to me a couple of years ago and they have helped me transform my life.
8. For the wild, nature-loving yogi:
Tom Brown is a true visionary who understands our relationship to nature. His books are inspired and full of exercises you can try the next time you go hiking. This book will change the way you think about the wilderness.
9. For the traditional yogi:
There are hundreds of versions of The Sutras out there, but in my opinion this one is the best.
The translations are faithful, clear and easy to read.
This book is great for anyone who wants to incorporate more traditional yoga philosophy into their practice.
This book is an incredible resource for students and teachers alike.Yin teaches you that yoga isn't always about sweating on the mat. Sometimes the biggest challenge comes from stillness and settling into postures.
A great compliment for anyone's yoga practice, this book will get you hooked on the slower side of yoga.
Samantha Rose
Samantha Rose Hill is Vinyasa Flow Instructor and visiting Post-Doctoral scholar in Philosophy at the Goethe-Universität in Frankfurt am Main. She earned her 200-Hour RYS certification in 2012 from Buddha B Yoga in Washington DC. A life-long sufferer of anxiety, she turned to yoga in 2007 in place of traditional western medicine. When she's not teaching political theory or finishing her dissertation she's studying yoga philosophy, and sharing her love of devotional yoga on the mat.