A Winter Solstice Ritual For Reflection & Release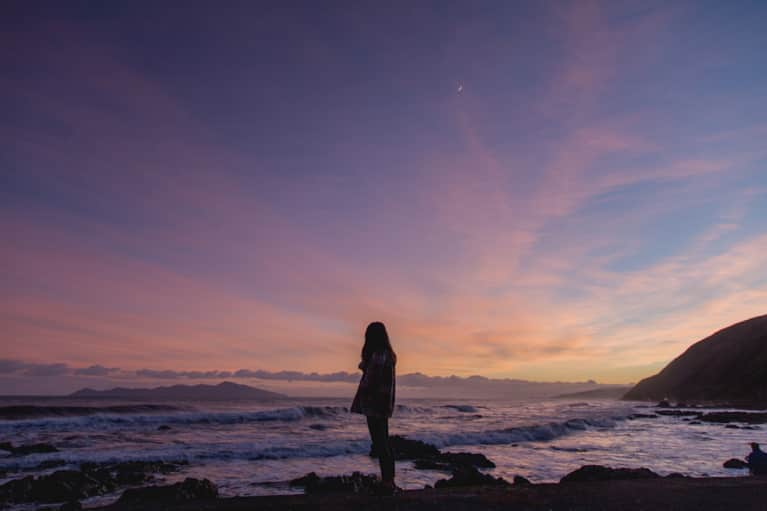 Into the throes of winter we go with today's solstice. It's the longest night of the year in the northern hemisphere, and the sun has officially reached its southernmost point as seen from Earth. Here in NYC we're expected to get around nine hours of sunlight today, but regions farther north will see as little as three or four.
The extra darkness is a chance to light a few candles and snuggle up with a good book, to be sure, but it also carries a more spiritual meaning.
Instead of letting the darkness bum them out, many cultures use it as an opportunity to slow down, reflect, and celebrate the increasing sunlight to follow. Persians refer to the occasion as Yaldā Night, and it's a time for families to gather over pomegranates and watermelons that symbolize an active, joyous winter. In China, the Dongzhi Festival embraces the darkness with one last feast of the year. And one of the most well-known winter solstice celebration is Yule, the pagan tradition of welcoming the sunrise with gratitude. Many pagans, and non-pagans too, will gather today at Stonehenge (the ancient structure is actually thought to have been built to honor the winter and summer solstices) to reflect, release, and celebrate the sun's return.
Here is a small ritual to conduct tonight to revel in the solstice's storied symbolism.
A candle gazing ritual for the winter solstice:
Find a spot where you feel comfortable sitting, light a candle, and turn off the lights.
For a few moments, simply direct your gaze at the flame. Looking at this one singular point can help quiet your mind so you can focus your attention inward. Take deep breaths as you watch the way the flame dances with time.
Then, with your eyes still on the flame, start to think about the last few weeks and months. Play through the highs and lows of 2017 in your mind, without judging or assigning meaning to any of the memories that come up. Continue until you feel like you've run through enough of the year to move on.
Slowly direct your gaze off the candle, and look in the mirror. Consider the less savory memories of the year—your regrets, mistakes, and missed opportunities—and whisper, "I forgive the dark and move into the light" to yourself, repeating the mantra to yourself a few times. Look back at the candle as a symbol of the bright new opportunities that will come your way, journaling on a few if you feel called.
Conclude the ritual by looking up the time of tomorrow's sunrise and wake with the sun if you can, using the first few moments of the day to move your body, get outside, or do anything else that makes you feel happy and hopeful.
Here are a few more spiritual rituals to incorporate into your routine through winter.