Your Meditation Practice Could Be Missing This One Crucial Step

By Michelle Zarrin
mbg Contributor
Michelle Zarrin is an inspirational speaker, meditation teacher and spiritual guide living in Orange County, California. Her meditations have received more than 1 million downloads worldwide on the Insight Timer app. Her bachelor's in social ecology and psychology from the University of California, Irvine, coupled with over 3500 meditation hours, are the cornerstones of her genuine connection to the spiritual realm, the home of each person's Higher Purpose.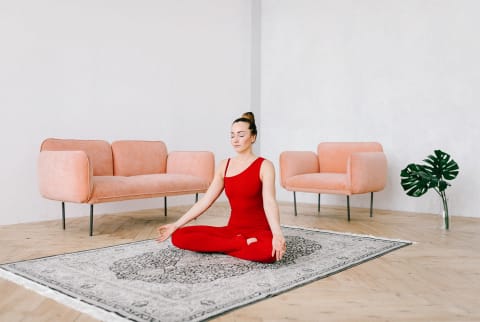 Image by Julia Volk / Stocksy
August 10, 2019
We've all heard the saying, "A lot can change in a year," and it's true—a lot does change in a year. After 365 days, you may find yourself with a new job, new friends, or a new home—and that doesn't even account for the inner shifts that can happen in that time.
We are constantly growing and evolving, and self-reflection is the tool that helps us realize that. It's a process by which you grow your understanding of who you are and make a deeper connection to your values. It allows you to analyze yourself and celebrate the possibilities of your personality and potential. This, in turn, leads to self-actualization, which leads to fulfilling your potential in all aspects of your life.
Advertisement
This ad is displayed using third party content and we do not control its accessibility features.
Simply put, self-reflection allows you to recognize how far you've come—and I'd argue that it's seriously underutilized.
One of the biggest tools at our disposal for growth and self-actualization is meditation. Meditation allows us to screen out the noise of the world and tap into the essence of who we are. While the benefits of meditation will happen on their own, taking a moment to infuse your practice with self-reflection can really up its impact.
How to make your meditation more reflective, and how doing so can help you grow as a person.
No matter how long you've been meditating, it's worthwhile to look back on how far you've come since you started. I'd recommend doing this weekly or monthly. The goal is to really identify the behaviors that have changed since you've been meditating.
If one of the main reasons you started meditating was to reduce your anxiety, you can check in on a weekly basis and reflect on the things that made you anxious or think about whether you were less overwhelmed than usual. Or have you noticed other changes? Have you been less angry? Has the quality of your sleep improved?
Take a step back and ask yourself, "Have I been more understanding with my co-workers? Have I been more patient with my mother? Do I feel better in my relationship?" These types of questions help you really reflect on how your behaviors have improved and also help you understand how meditation is helping you evolve as a person.
Personally, I like to reflect on how I'm reaching milestones in my life differently over time. I'll check in on my birthday, on New Year's, and on a few other important occasions to see how far I've come and reflect on what's changed.
The process of fine-tuning yourself.
My awareness about myself and life have become, and continue to become, fine-tuned. I recognize thoughts, emotions, and patterns within myself. If there is something about myself that I feel is not serving me, or to my highest good, I work toward releasing that. My self-reflection comes through actual life experiences. When something happens in my life, I'm always aware of my thoughts and feelings around that circumstance. I use each circumstance as a gauge—a gauge for how I reacted in that moment, to how I had reacted in the past.
Note that this is not something that happens overnight. Sometimes, I feel like I have more work, more fine-tuning I need to do. Other times, I feel like a new me has emerged rather quickly. Either way, however big or small my progress has been, I still take a moment to recognize what's changed. These small moments of pause are what fuel the growth.
As a result of being a meditator, we naturally break through our limitations. We tap into more of our courage, our life's purpose, and our potential when we connect with the formless energy that is within each of us. Meditation is a natural and powerful unfolding to true self-actualization, and it's important to take the time to reflect on how far you've come as a person.
Advertisement
This ad is displayed using third party content and we do not control its accessibility features.