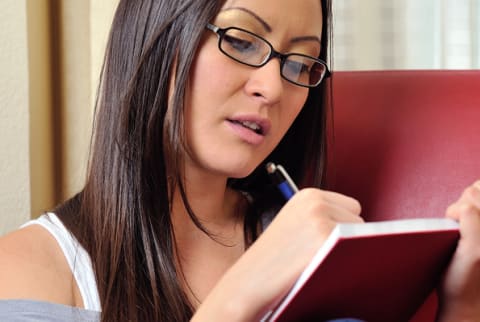 Photo by Shutterstock.com
July 3, 2013
My journey with journaling has taken a number of turns over the course of my life, and I'd like to share my experiences in hopes that it will enhance yours and better your life.
When I was a kid, my dad (a teacher who understood the importance of keeping the mind sharp) made us journal every day over the summer. We were forced to sit in our rooms for a whopping 15 minutes and write. We could write whatever we wanted, so my entries typically read something like this:
"I hate my dad. He is so mean. I want to be outside but now I have to be inside writing. I can't wait to be a grown up so I never have to listen to him again."
(I was a rather dramatic child.)
By the time I hit junior high, I was journaling by choice. I bought expensive journals and filled the pages with the names of my crushes and all of the drama that consumes a pre-teen.
I took a break from writing and tossed most of these humiliating journals. My freshman year in college, however, I decided I needed to change my life. I started by buying a composition notebook for 50 cents. When I began to journal, I created a few rules to make my journaling more beneficial than it had been the past 13 years.
Here they are. Feel free to adapt these to your journaling or let them inspire you to create rules that will work for you.
1. Only write when you want to.
This is crucial. I never want journaling to feel like a chore and I never want to feel like I "have" to journal. Sometimes this means I don't write for a month at a time. Other times I write six times a day. Journaling daily won't benefit you if you're forcing yourself to do it. I find that my entries are more honest and beneficial if I write when I feel like it.
Your journal is a safe place. It's a place to face your fears, acknowledge your weaknesses, and express your thanks. If you really want to better yourself, you have to be honest with yourself.
3. NEVER, EVER write bad things about yourself or other people.
Your journal is a place to let loose. It's not a place to talk crap. If I'm about to write about someone else, I try to imagine what would happen if they read my journal. I ask myself if I'm being fair, kind, and honest. I then try to write about the situation/issue in a non-toxic way while still working through the issue.
If I reaaaalllly feel the need to be negative, I at least write out solutions to the issue as well. (Remember: the goal is to change yourself for the better/more positive.)
4. Don't write anything you'll regret/be embarrassed about later.
For example, don't write "Me + _______ = love"
Believe me, you won't grow from that experience at all (and you'll end up throwing it out later).
Tape concert tickets, doodle, spill coffee on it, put in photos that make you happy. Write about your day, write out quotes, prayers, and ideas. Draw. Doodle. Tape. Glue. Create.
NEVER rip anything out and don't worry about spelling, grammar, or punctuation. This is just for you, after all!
My journals have become a physical extension of my soul.
I hope that by setting some boundaries for yourself and setting goals for what you'd like to get out of your journaling experience that you'll love journaling just as much as I do!
I'd love to hear about your journaling experiences! Please feel free to message me with stories and questions.
Sam Forintos
I am a 20-year-old attending Northern Michigan University to become an elementary teacher. I have battled with juvenile arthritis since the age of 4, but with the help of yoga, mindbodygreen.com, and my journal, I am finally making my life more environmentally friendly, healthy, and positive, and I encourage others to do the same.