5 Reasons Every Man Should Give Meditation A Try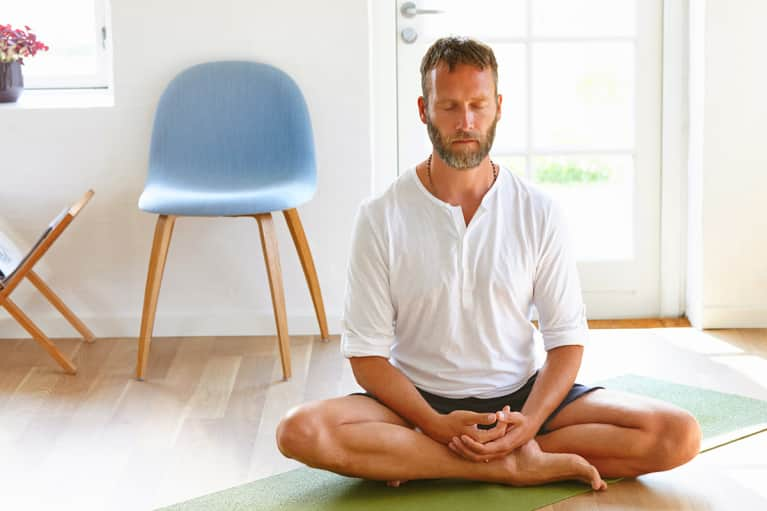 Whether you're a guy who rolls his eyes at the word "mindfulness" or you have a man in your life who does exactly that, trust me on this: Every guy should meditate, even that guy rolling his eyes. How do I know? Because that's exactly what happened to me.
As a goal-oriented achiever, I was raised to believe that happiness and success were the results of hard work, physical action, and accomplishments in the material world. However, when I discovered meditation in 2015, my entire viewpoint changed. Although I was initially skeptical of the idea that slowing down could be good for the soul, once I opened up to the possibility of giving meditation a try I started noticing benefits in my health, mindset, and everyday life.
Meditation has helped me slow down instead of racing around doing everything at 100 miles an hour. It's also helped me find comfort in simply "being" rather than "doing." Since I started meditating regularly, I'm astounded by how much more energy I have, how calm I feel, and how easily everyday stress can be alleviated.
As a man who used to believe meditation was only for hippies and monks, now that I've discovered meditation I can definitely say I would never go back.
Here are five reasons every man should practice meditation:
1. Meditation reduces stress and anxiety.
If you're stressed about your career, finances, relationships or anything else, meditation helps to reduce worry and increases optimism in our abilities. A lot of men worry about success and financial stability, myself included—and meditation helps to reduce worry and increases optimism in our ability to achieve physical and financial stability and security. It also boosts self-confidence and creates a sense of peace and well-being.
2. Meditation improves overall performance.
Meditation provides greater clarity and a sharper mind that leads to better decision-making and makes it easier to find creative solutions to problems. Increased energy and improved health also assist in improving one's overall performance.
3. Meditation keeps you in the present.
Rather than dwell on the past or worry about the future, meditation (especially when combined with mindfulness thinking) brings you into present time so you can relax, enjoy, and live in the moment.
4. Meditation enhances intuition.
Meditation helps you get out of the busy chitter-chatter of the mind and back in touch with your gut instinct and inner knowing. It promotes a sense of oneness with everything around you and boosts creative expression and creative ideas. It opens you up to receive divine guidance and inspiration from the divine.
5. Meditation improves sexual performance.
Where stress decreases sexual desire and performance, meditation assists the brain in producing bliss chemicals dopamine and serotonin, which enhance the intensity of orgasm and increase overall sex drive. Meditation has also been known to assist with erectile dysfunction.
Yep, meditation is just about the best thing you can do for yourself. Get out there and make it happen.
Want to start meditating but don't know how to get started? Check out these five game-changing meditation apps.