What It Means To Be "Soul Weary" & How To Bounce Back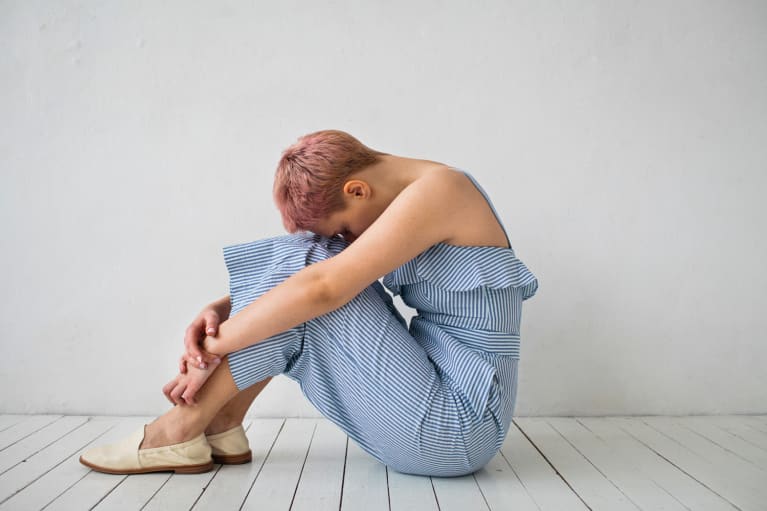 Our editors have independently chosen the products listed on this page. If you purchase something mentioned in this article, we may
earn a small commission
.
Sometimes exhaustion isn't about being physically tired or in need of an emotional pick-me-up. You might experience times when deep down you are just done for a minute. Done trying, done caring.
If you feel you are slipping into a depression, please seek help from a professional and let loved ones know you need extra support. But if feeling over it somewhere foundational is temporary, you might be soul weary.
Coping with soul weariness is a combination of recognizing it as natural and also looking for specific ways to ease these feelings and eventually shift out of them. I hope the following suggestions help:
Like the Beatles song says, just surrender to this feeling and do not fight it. Soul weariness is here, and it wants to be honored. Life is a wild ride of great times, hard times, and coasting times. It can be a lot of work, and that can make you weary at a place deep down where your heart just feels heavy or detached. Don't try to pep talk yourself, and let other well-meaning friends know that a pep talk isn't what's called for right now. In some way you need to sit with this weariness and just take a timeout.
When you're soul weary, it's not a good time to climb every mountain or push yourself on big goals. This is a wonderful moment to press pause on some of your dreams and significant projects. Spend time with people you enjoy and do low-stress activities that make you feel peaceful or happy.
3. Increase your self-care.
Has your self-care routine been off lately? Lean into it now and practice healthy discipline. Even if you don't think it will help, go through the motions—because it will help! Take your supplements, eat cleaner, do some light exercise. Connect with your body, that sacred container for your soul.
Soul weariness is an invitation to reflect. Why are you feeling this way?
Soul weariness is an invitation to reflect. Why are you feeling this way? Has it all just been too much lately? Does it feel as if you are working very hard to only tread water regarding a challenge? You could be in a tough transition time in several areas of your life. Maybe you've even had a major trauma, like losing someone you love. It might be that world energy—like hearing about suffering and tragedy on the news—has you feeling hopeless. Figuring out what led up to this soul weariness is key.
5. Temporarily take some responsibilities off your plate. 
What would make you feel better right now, and is something simple and actionable? Can you take a mental health day from work and go sit in the park? Ask someone else to watch your toddler for the afternoon and write at your favorite bookstore cafe? Put off a household chore until tomorrow while you snuggle up with your favorite book or movie?
6. Tell someone how you feel. 
Call your best friend and have a cry. Vent your frustrations to a colleague over a long lunch. Sit down with your journal and tell the universe how heavy everything seems lately. If you see a counselor, be honest with them about what's going on.
7. Connect with the idea of magic, grace, and miracles.
The worst symptom of feeling soul weary is feeling cut off from hope. Find a way to insert a little optimism. Learn about angels and how to work with them in my book Angel Intuition. Watch Brené Brown's new Netflix special The Call to Courage. Piggyback on someone else's energy of optimism and wonder.
8. Take pleasure in the small things. 
Concentrate on what consistently brings you joy or gives life meaning. Take a drive into nature while listening to an album you love. Make your favorite meal and invite a friend over to share it with you. Volunteer to walk a dog at a shelter. Watch a nice light comedy where the characters poke fun at life's journey. Start a creative project or new hobby just for fun. Do something kind for someone else—it might help to take the focus off of you and your problems for a bit.
9. Remind yourself that this too shall pass.
Often something naturally happens to shift this feeling of soul weariness. You might schedule a weekend getaway, or a great career opportunity might come to you out of the blue. You might find that the feeling passes on its own once you acknowledge it and give it some room. If the feeling doesn't pass, reach out to someone like a health care provider for help so you are not suffering unnecessarily.