I Did An Anti-Anxiety Diet For A Week. Here's What Happened

By Leigh Weingus
mbg Contributor
Leigh Weingus is a New York City based freelance journalist writing about health, wellness, feminism, entertainment, personal finance, and more. She received her bachelor's in English and Communication from the University of California, Davis.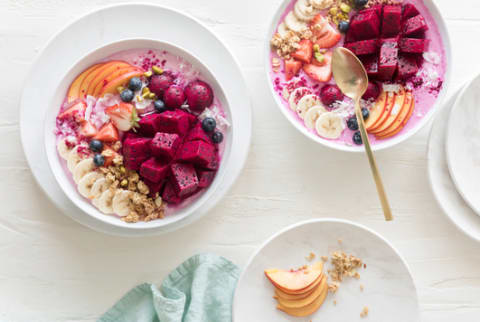 August 8, 2017
Although my anxiety has been up and down throughout my life depending on what's going on, it's always lurking somewhere in the background. A few too many sips of coffee and a stressful conversation can make my heart pound and my palms sweat, and before I know it I'm up all night, tossing and turning and trying to talk myself down from another sleepless night.
During a particularly bad sleep week recently, our food editor Liz suggested that I try an anti-anxiety diet. The diet itself, constructed by Vincent Pedre, M.D., looked pretty doable—save for a few hard-to-find ingredients like lavender buds and passion flower extract—but I was a little bit intimidated by the fact that I had to swap coffee for tea. I'm a huge coffee fan, so I knew this wouldn't be easy.
But I had some serious anxiety to bust, so I decided it was worth it. Here's what happened when I spent five days on an anti-anxiety diet.
What the diet looked like.
As someone who loves fresh vegetables and creamy smoothies, Dr. Pedre's diet looked delicious. For breakfast every day I had a "Zen smoothie," which included ingredients like coconut milk, kefir, hemp protein powder, organic blueberries, lavender buds, and valerian extract.
Lunch consisted of all the vegetables I could ever dream of. My "anti-anxiety salad" included baby spinach, raw carrots, scallions, avocado, and broccoli. I topped the salad with chicken and an olive oil, lemon, and Himalayan sea salt dressing.
I followed lunch with a handful of walnuts as a snack, and for dinner I had cooked leafy green vegetables and cauliflower rice and topped it with wild-caught salmon. And in place of coffee, I was instructed to drink herbal tea. And if I really needed caffeine, I could drink green tea.
I was full of energy and felt great.
Dr. Pedre typically prescribes this diet to his patients for just one day, so I knew five days was ambitious. Never one to turn down a challenge, I was determined to take this one to the next level. After an admittedly expensive trip to Whole Foods on a Sunday, I was happy to see my kitchen overflowing with colorful ingredients for a coconut and flower-filled Zen smoothie, herbal teas, avocados, vegetables, walnuts, and salmon. I was ready.
While the food made me feel great and lowered my anxiety almost immediately, I spent a lot of time in the kitchen—and while it was easy to stick to my anti-anxiety diet during breakfast and lunch, I was sad to have to turn down dinner and drink invitations. At least three nights I found myself eating my salmon and vegetables alone, but hey—at least I felt good.
The coffee part was hard. Really hard.
Even though I know coffee contributes to my anxiety, I love it so much. Nothing makes me happier than that first sip of coffee with a dash of almond milk, and not having that to look forward to made waking up in the morning a little bit harder, even though I was sleeping better.
Although other parts of the diet were giving me tons of energy—the lack of sugar and added healthy fats and vibrant greens worked wonders—I missed that little extra caffeine boost so much. On Saturday morning, I could not have been more excited to go to my favorite neighborhood coffee shop and order a giant almond milk latte. Because I'd spent an entire week without it, I found it didn't spike my anxiety at all. It just made me feel happy and energized.
I slept great.
Above all, I was happy that my five-day anti-anxiety diet achieved the outcome I'd hoped it would: It broke my insomnia cycle, and I slept great all week long. While I don't know what factors contributed to this week of great sleep—was it the lack of coffee? Was it the lavender buds in my smoothie? Was it (dare I say it) the placebo effect?—it's comforting to know that I have a go-to diet the next time I'm having a rough time sleeping.
Although next time, I'll probably do it for one day instead of five. That was ambitious!

Leigh Weingus
Leigh Weingus is a New York City based freelance journalist and former Senior Relationships Editor at mindbodygreen where she analyzed new research on human behavior, looked at the intersection of wellness and women's empowerment, and took deep dives into the latest sex and relationship trends. She received her bachelor's in English and Communication from the University of California, Davis. She has written for HuffPost, Glamour, and NBC News, among others, and is a certified yoga instructor.