What Happened When I Stopped Meditating After 3 Years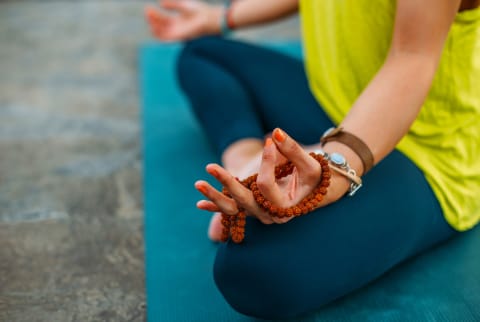 December 2, 2017
My meditation journey started about three years ago when I was going through a chaotic, intense period in life. I was getting ready to quit my marketing job in Paris to discover what I really wanted to do in life. I had no clear sense of direction as to where I was heading; all I knew was that my gut was telling me that it was time to leave my well-paid job and a city I'd called home for the past two and a half years.
It was a bit stressful, to say, the least, and I knew I needed a strong coping tool. But as I took my first trembling steps toward embracing meditation, I felt crazy. My thoughts wouldn't stop firing no matter how hard I tried—my mind just raced on and on. But slowly, I found that by meditating every morning, I was able to deal with the upcoming fears and uncertainties in a more practical, less emotional way. Don't get me wrong, I still had many moments of doubt and fear, but I was able to come back from those moments a lot more quickly.
Advertisement
This ad is displayed using third party content and we do not control its accessibility features.
Since then, I've pretty much kept with it. I've skipped my practice a few days here and there, and I've also had periods, like that month I spent in an ashram in India, where I meditated even more. Then, a few weeks ago, I just stopped. I felt stable in my mood and life, so I didn't feel like I needed meditation in the same way I once had.
At first, I didn't notice much difference. But slowly, stressful moments seemed to appear. I thought that it was a period that would soon pass, but as the days went by, I felt like I was increasingly losing control—like things were happening to me instead of for me. When I was meditating regularly, I was able to respond instead of react. Before, I had space between myself and my thoughts. Before, I could notice if a thought derived from fear or love and then choose how I wanted to perceive the situation.
Here are three things I realized when I stopped meditation.
Perspective is powerful.
This was the moment when I truly understood the power of being able to choose perspective. To do that, you need to first become aware of your thoughts and not be one with them. You need to separate yourself from your thinking.
For example, you might think, "I don't have enough time." This is where you are presented with two options. Either you are a person who currently lacks time, or you create space between yourself and your thought and realize that it's just a thought—you don't need to take it so seriously. Even though it might be true that you're swamped, you can still view the thought from some distance.
Once you become aware of your thoughts, you can stop yourself from letting them control you. Then you can even choose to think a thought that will serve you better, such as, I'm doing the best I can and I trust that that's enough. In short, how you perceive a situation determines how you're going to act on it. For example, if you see something as a crisis, you're not going to act in the same way as if you view it as a new beginning.
Your mind can easily run the show, and that's not a good thing.
Meditation allows me to separate myself from my thoughts and realize that they're just thoughts. It also helps me realize that it's my decision to decide what to do with them—to believe them, let them pass by, or to actively choose a better-serving thought.
I don't know about you, but my mind tends to drift to negative, fearful thoughts. Without proper supervision, it takes the time to turn itself into a victim and notice all the obstacles instead of opportunities. Instead of seeing this for what it was, a scared little monkey fighting for its survival (that's how I tend to look at my ego), I was running around with it. As my ego pointed out things that went wrong, I pointed out even more things. I was first in line to join its pity parties. Without utilizing the secret weapon of my awareness, I got caught up in the many fearful stories my mind tells me.
Advertisement
This ad is displayed using third party content and we do not control its accessibility features.
Unplugging and tuning out isn't a luxury; it's a necessity.
In this fast-moving, ever-changing society, we need to slow down now more than before. If not, it's very easy to get overworked, caught up in problems and to burn the candle at both ends. Meditation isn't about controlling your thoughts; it's about stopping them from controlling you. As they say: Master your mind and you'll master your world.
For more on finding your passion, check out my free worksheet to help you get a clue to your calling.
Interested in how meditation can play into your parenting? Here's Amanda Chantal-Bacon's mindful parenting routine.
Advertisement
This ad is displayed using third party content and we do not control its accessibility features.