How To Approach The Upcoming Full Moon, Based On Your Zodiac Sign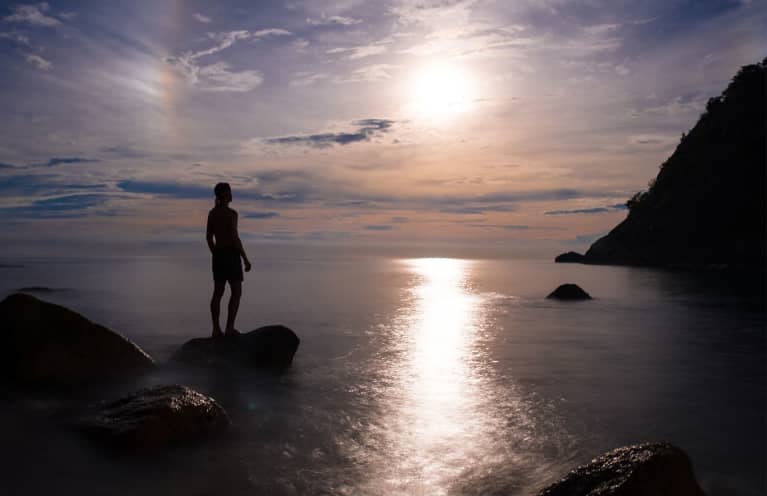 Eyes up! There's a full Pisces moon coming this Monday at 7:54 p.m. EDT. Here's what each zodiac sign should watch out for during this emotional lunation, according to the AstroTwins.
With the moon in Pisces, landing in your 12th house of endings and healing, Aries, closure is around the corner. Full moons themselves spark endings, according to the twins, so this is like a double dose of it. And since the 12th house also deals with the subconscious, divine downloads and creativity may also present themselves on Monday. You could also be particularly tired around this full moon, so they advise taking it easy and letting yourself rest.
This Pisces full moon may very well activate the team player in you, Taurus, as it lands in your 11th house of collaborations and technology. "If you've been on the fence about whether to get closer to a group or pull back," the twins note, "you could figure out the right amount of involvement for yourself." This is also a good time to clear up any misunderstandings with friends, according to the twins.
Big things are happening for you this full moon, Gemini, as it lights up your 10th house of career, leadership, and ambition. If you've been working toward a goal, the twins say, "The finish line may be close—and that means eliminating distractions." Be firm about your priorities and schedule, and keep an eye out for any professional opportunities. "This professional coup can put your name on the map, giving you recognition and 'expert status' with a commensurate title or pay bump," they add.
Feeling claustrophobic, Cancer? With the Pisces full moon in your ninth house of growth and expansion, you could be craving wider horizons. The twins suggest finding a way to spread your wings and being open and honest in your communication, as well. The ninth house also rules publishing, higher learning, and entrepreneurship, they add, "and this lunar lift could bring long-awaited news in any of these areas." Think back to the Pisces new moon on March 13 for clues of what could come full circle at this time.
With the full Pisces moon in your eighth house of intimacy and detailed work, Leo, you may find yourself feeling extra discerning next week, particularly with regard to your relationships. "If one of you is pulling more energetic weight than the other, the full moon will demand that you address that," the twins add. Under the light of this full moon, you'll either be all in or all out. The twins note an engagement, pregnancy or permanent partnership move is also possible now.
Relationships are the name of the game right now for you, Virgo, with the Pisces full moon landing in your seventh house of partnerships. Whether romantic or professional, the twins say, a budding relationship could become official—or head in the opposite direction if things aren't working out. "This could be a decisive day for a contract signing or negotiation," they note, adding to prepare your most salient points (especially with Mercury turning retrograde in a week).
Time to get back on the wellness wagon, Libra, with the Pisces full moon activating your sixth house of health, organization, and work. According to the twins, you shouldn't hesitate to delegate and outsource stuff that's overwhelming you. "Just be sure you thoroughly vet any service providers," they add. And to ensure your health is in order, they suggest booking any lingering medical appointments, getting regular exercise, and spending some restorative time in nature next week.
Feeling passionate, Scorpio? You very well should be, with the Pisces full moon in your fifth house of expression and creativity. According to the twins, whether it's throwing paint on a canvas or dancing like there's no tomorrow, you'll want to do something to release stagnant energy right now. "A budding romance that sparked up around the March 13 Pisces new moon could turn into a real-deal fall affair now," they add, so don't be afraid to lean into the intensity.
If there was ever a day for self-care or spending time with loved ones, Sag, it's this full moon, as it falls in your domestic and emotional fourth house. "You've been burning multiple candles at both ends, and it's time for a nurturing escape," the twins say. And because the fourth house also rules female relatives, events surrounding a maternal figure could be just around the corner.
You might be feeling quite social around this full moon, Capricorn, as it lights up your third house of communication and community. Maybe you seize the opportunity and host a gathering of your own—a full moon circle perhaps? "Make the rounds, catch up with your crew, and do it all in one fell swoop," the twins say, adding that this is a good opportunity to play superconnector (or Cupid) and introduce some of your favorite people to each other.
Time to map out those fall finances, Aquarius, with the Pisces full moon landing in your second house of stability and money. This moon could bring a moment of clarity, the twins say—and a chance to prioritize and make an action plan. "If you've been waiting for word on finances or work, you could finally hear concrete news about a promotion or a new gig," they add. You'll also be feeling confident at this time, so seize it and don't be afraid to call the shots and take the lead.
Falling in your sign and your first house of beginnings and identity, this full moon is your full moon, Pisces. The twins recommend celebrating something you've been working on since as far back as the Pisces new moon on March 13. Alternatively, if a project hasn't been going well, this is a good time to cut the cord and start fresh. "Whatever the case," the twins add, "the next two weeks are all about you and there's to be zero guilt about that." The stars have your back right now, so advocate for yourself!