What Each Sign Needs To Know For The Full Moon, From The AstroTwins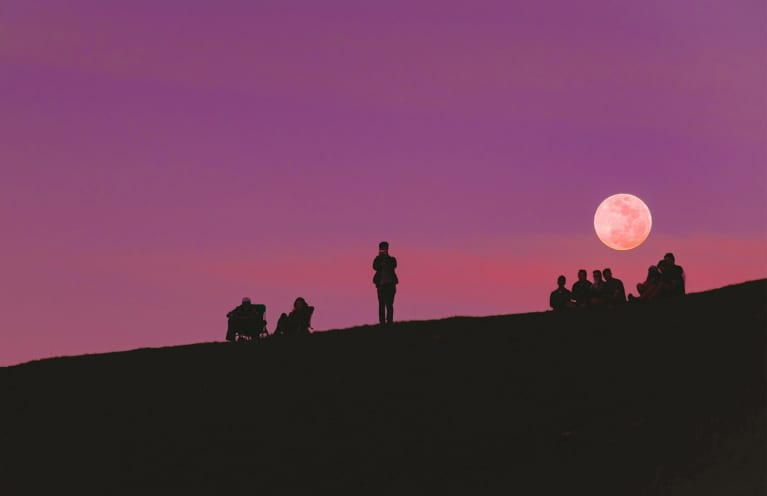 The next full moon is coming up on Thursday, June 24. It falls in Capricorn, and like any astrological event, it's going to affect each zodiac sign differently. So, to find out what each sign needs to be prepared for, we consulted the AstroTwins.
Feeling ambitious, Aries? This full moon in Capricorn falls in your 10th house of career, so you may feel inspiration on the professional front. "You take pride in your work, Ram," the twins say, "and you may finally get the recognition you deserve for your hard efforts of the past six months." Be prepared for a big milestone, or even a career shift.
Taurus, this full moon is going to light up your ninth house of exploration and travel, according to the twins, so seize the adventurous energy! "Inspired ideas are in the ether, ripe for the plucking, but you won't find them if you're afraid to dip a toe in new waters," the twins say. Whether you hear about an exciting travel opportunity or are invited to be part of something new, "You can't win if you don't play!" they add.
This could be an emotional time for you, Gemini, as the full moon in Capricorn hits your eighth house of wealth and intimacy. "An intense day is in store as you peel back the layers and learn more about a romantic or business partner," the twins explain, adding, "No more leaving major decisions to others. You're large and in charge—and ready to make some smart money moves."
Relationships could feel intense right now, Cancer, with this full moon falling in your seventh house of partnership. Questions in the romance department may become clear, the twins say, or a business alliance could even turn serious. "Make sure you know what you want out of the deal," they add. And for couples, "Have a future-oriented chat to see if your long-term goals are in sync," they suggest.
Leo, this full moon powers up your sixth house of health. If you've been slacking on the well-being front, the twins say now is the time to get some movement in and eat more whole, unprocessed foods. Try a healthy new recipe, do your favorite exercise of choice, and your body and mind will surely thank you.
Feeling fab, Virgo? As you should, with this full moon hitting your amorous and glamorous fifth house. "There's no point in playing small or dimming your glow," the twins say, adding, "The stars are rolling out the red carpet just for you." Whether you're coupled up or single and ready to mingle, you're a magnetic force right now, and there's nothing wrong with flaunting it!
There's nothing wrong with a little alone time, Libra, and with this full moon in your fourth house of domesticity, you may actually be craving it. "You won't have any trouble saying 'no thanks' to invitations that require you to be away from home for more than an hour at a time," the twins note. Embrace the coziness, spend time with loved ones, and spruce up your space to maximize its positive energy.
Scorpio, you may be feeling more extroverted than usual with this full moon falling in your social third house. Your usual urge to stay in could feel stifling, making it the perfect time to get out and about and even meet some new people. "If you've been considering joining forces with a friend or colleague on a professional project," the twins add, "you'll know if it's a keeper in the next two weeks."
With the full moon in Capricorn powering up your second house of stability and money, you could be in for some financial blessings, Sag. "If you've been ignoring overspending (or debt), enact a personal economic stimulus plan," the twins suggest. And if you've already been hustling, they add, a project you began in early 2021 could reach new heights.
This full moon is in your sign, Capricorn, falling in your first house. It may very well bring you good news, or a big milestone in something you've been working toward since the new moon in Capricorn on January 13. "Throw yourself a party, or post something on social media to acknowledge this," the twins say, adding that sharing your success could lead to a future collaboration.
Is there a problem you've been neglecting, Aquarius? With this full moon in your 12th house of completion, it's time to close it out. "If you've been waiting for a sign—or an external event—to bring resolution," the twins say, "this is your wake-up call." Trust your gut, and let go with love, they add, "knowing that when one door closes, another always opens."
Time to make some connections, Pisces, with this full moon in Capricorn falling in your 11th house of social networking. According to the twins, this isn't the time to shy away. "If you have something worth sharing on social media, post away," they suggest, adding that letting people in is the only way to bring true intimacy and connection into your life.
There's something in store for all of us as the full moon lights up the night sky this Thursday, and it never hurts to be prepared. While it will affect us all a bit differently, seize the opportunity to work with this lunar energy rather than against it—you'll be glad you did.