Close Banner
Advertisement
This ad is displayed using third party content and we do not control its accessibility features.
What Childhood Bullying Does To Your Body Image Later In Life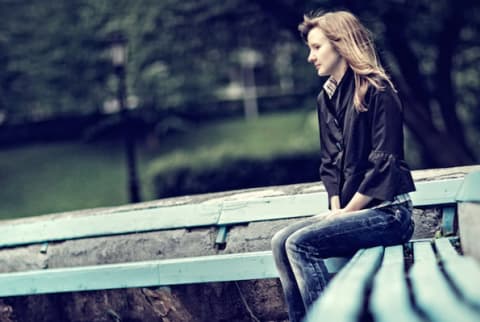 If you ask most adults if they were bullied as a child and their answer is yes, they can usually tell you their earliest bullying memory in great detail. They can pinpoint the exact day, time, location and who was there.
Why? Because it was a traumatic experience.
For many people, these earliest experiences with bullying typically occur around the 5th grade. Socially, this is the time when boys and girl start to form cliques, become competitive and begin showing interest in the opposite sex. However, this is also the time when many physical changes occur.
Kids get braces, glasses, acne, start developing faster or slower than everyone else in class ... anyone can be a prime target for bullying for any reason.
Unfortunately, the effects of bullying can carry over to adulthood. We hold on to labels, to the names we were called. We can play the bullying scenarios over and over in our heads, so much so that we may start believing them again. By adulthood, perfectly proportioned women think they're too big, too tall, too skinny. This is where body dysmorphia can begin.
Body dysmorphia and memories of teasing and/or bullying can go hand-in-hand. If the bullying experience was traumatic and you were never able to process it and let it go, the effects can linger for years. For example, if you were teased as a child for being "chubby," those ugly nicknames have a tendency to stick around even though you know you're not overweight today.
Someone with body dysmorphia may look in the mirror and still see their overweight self from a painful time. The trauma of bullying doesn't just go away because you're not longer around your tormentors. The anxiety and depression you once felt to achieve ridiculous standards of "beauty" may still remain.
So how do we combat bullying and negative body image?
One simple way to start is to stop critical self-talk. Undo the damages of bullying by dealing with your inner saboteur, challenging the negative beliefs you still hold on to. Write them down, burn them and turn your back on them.
We need to model positive self-acceptance for ourselves and the younger generations of women around us. If we don't let go of our memories of childhood bullying, what kind of example will we set for the next generation of women?
Dr. Carol Langlois
Dr. Carol Langlois is a former University Associate Provost and Dean, trained therapist, researcher and writer. Her book, Girl Talk: Boys, Bullies and Body Image is a compilation of interviews with teens girls on the topic of self-esteem which also offers an effective and practical system designed to RAISE (Resilience, Attitude, Independence, Self-Respect and Empowerment) teen self-esteem. Check out the book trailer for Girl Talk: Boys, Bullies and Body Image. In addition, an adaptation of her book has been put on stage by Suze Allen and 3Girls Theatre Company of San Francisco. You can find Dr. Langlois on Facebook and Twitter.