mbg's Editors Choose Their All-Time Favorite Wellness Books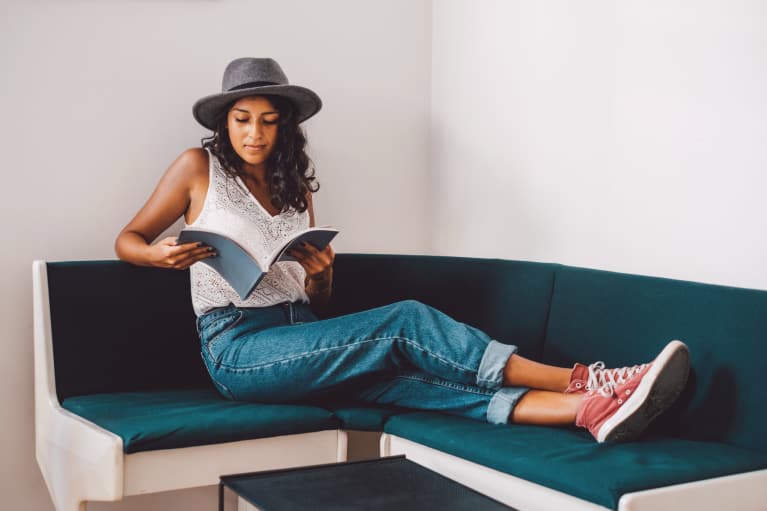 Our editors have independently chosen the products listed on this page. If you purchase something mentioned in this article, we may
earn a small commission
.
Every so often, new books set the wellness world ablaze with their thought-provoking angles, insights, and personal stories. And while we love covering these newbies on mbg, it's important to celebrate the classics every once in a while too.
Here are a few of the texts our editors keep turning to for inspiration again and again, picking up something different each time. Touching on everything from spirituality to sustainability, they've earned permanent spots on our bookshelves, and we bet they'll galvanize you wherever you may be on your wellness journey.
1. "Women Who Run With the Wolves" by Clarissa Pinkola Estes, Ph.D.
This book was written in the '70s, but it feels like essential reading if you're a woman in 2017. Dr. Estes intricately weaves her Jungian studies with stories of the wild woman archetype. Before you write it off as too witchy based on the title (or too long) to read, it's broken into manageable fables and smart analysis by Dr. Estes that strike a chord, unraveling our modern identities into common threads that explain the inherent healing and creative magic in each and every woman.
—Lindsay, Senior Wellness & Beauty Editor
2. "The Happiness Project" by Gretchen Rubin.
I first picked this book up when I was going through a really hard time. It was winter, I had just broken up with my boyfriend, and I was in one of the biggest funks ever. Gretchen Rubin's monthly happiness experiments breathed new life into me, and soon I found myself embarking on my own mini happiness project. I've since been an avid reader of every single one of her books, and I swear by her advice!
—Leigh, Senior Yoga & Fitness Editor
3. "Into Thin Air" by Jon Krakauer.
While not the most obvious wellness read, this true story chronicling Krakauer's ascent to the top of Everest is a deeply moving testament to the power of perseverance. It's at once heartbreaking and inspiring, and it will make you want to get outside just to revel in the grandeur of it all.
—Emma, Associate Green & Home Editor
4. "10% Happier" by Dan Harris.
This is the book that finally got me to meditate. It's about Harris' personal journey as a super successful (and somewhat skeptical) person who suffered from anxiety before finding meditation. It made me feel way better about my own anxiety, but it also gave that science-backed push I needed to actually make meditation a part of my daily life.
—Liz, Senior Food Editor
5. "Buddha's Brain: The Practical Neuroscience of Happiness, Love & Wisdom" by Rick Hanson, Ph.D.
My mom gave me this book when I was in high school and it was a total game-changer. I'm the kind of person who likes to understand how something works before I can become a true believer; this book convinced me that you can change your brain to one that favors joy, empathy, and peace over negative thoughts and emotions. To this day it's the best explanation of why mindfulness and meditation are so powerful.
—Gretchen, Associate Health Editor
6. "The Artist's Way" by Julia Cameron.
Julia Cameron's work is a gift to creatives of all kinds. In The Artist's Way, she describes how and why we should all set aside 30 minutes every single morning to write. She calls this practice "morning pages," and it's one of the first texts to map a consistent creative endeavor to a spirituality. If you're feeling stuck or stagnant, Cameron's classic does not disappoint.
—Lindsay, Senior Wellness & Beauty Editor
7. "Option B" by Sheryl Sandberg.
While Sheryl Sandberg's book isn't exactly a light read, I found her approach to resilience with psychologist Adam Grant to be endlessly fascinating. I now feel like I have the tools to deal with a tragic situation when it strikes—although I hope it doesn't happen anytime soon!
—Leigh, Senior Yoga & Fitness Editor
8. "Unprocessed" by Megan Kimble.
This was one of the first books that really got me excited about "green living" and all that those words entail. The diary-esque report of how Megan Kimble totally gave up processed food for a year in a quest for a healthier, more sustainable life is actually a page-turner (rare with an environmentally themed story, in my opinion), dotted with humor about the trials and tribulations of being a more self-aware consumer. Every time I read it, I underline the important tidbits in pen—and by now the book is almost entirely black and blue.
—Emma, Associate Green & Home Editor
9. "Body Love" by Kelly LeVeque.
While it's a new release, to me, this is a nutrition book for the modern time. Rather than focusing on calories and macronutrients, Kelly focuses on hormone balance and elongating your blood sugar curve to keep cortisol levels balanced. Her advice is practical and not at all dogmatic, and (more excitingly) it's deeply rooted in science—while still being a super fun read.
—Liz, Senior Food Editor
10. "Mind Over Meds: Know When Drugs Are Necessary, When Alternatives Are Better—and When to Let Your Body Heal on Its Own" by Andrew Weil, M.D.
This book was published only recently, but it has such a powerful message that I had to include. Dr. Weil discusses prescription and over-the-counter drug problem in America and advocates for mindfulness and education when it comes to what we're putting in our bodies. Natural medicine and pharmaceutics both have their place, but sometimes we should just give our bodies space and time to heal on their own. This is a concept that seems so simple, but I think we really struggle with in both conventional healthcare and alternative medicine.
—Gretchen, Associate Health Editor