Astrologers Say This Week's Rare Cosmic Events Will Set Off Sexy Sparks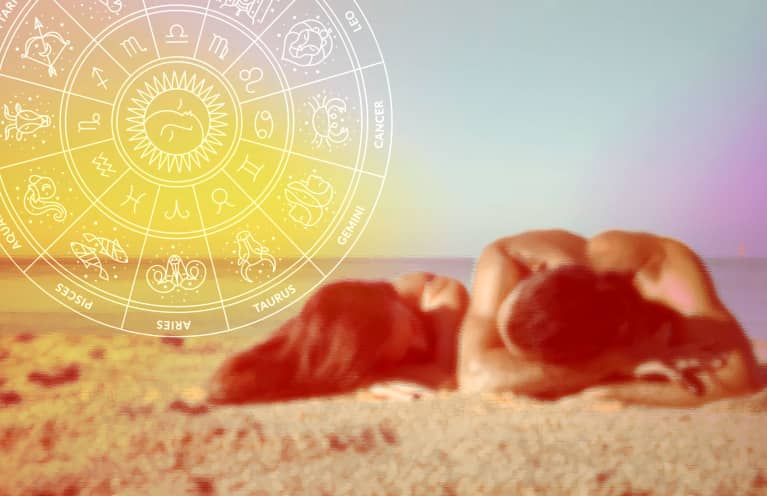 This article was produced to support the mindbodygreen supplements+ line. Our supplements adhere to the highest standards of ingredients and quality. We hope you enjoy these products, for more information
click here
.
This week will lift the curtain on those loving feelings. Here's your complete horoscope, from the AstroTwins.
For the first time in two years, cosmic companions Venus and Mars make an exact conjunction in the sky, meeting at the same degree of Leo on Tuesday, July 13.
There hasn't been a day like this since August 2019—and even then, the cosmic canoodlers were diddling on the DL in Virgo. But in the sign of the fierce Lion, put your passion on public display. While Venus is a subtle seducer, Mars rewards direct action. Find a middle ground between oozing love from every pore and getting a citation for making a scene. While Leos' love languages tend to be "giving gifts" and "physical touch," no need to relegate these impulses to the romantic realm. Send a care package to a close friend; give your sister an extra-long squeeze. Any joyful energy you emanate will not soon be forgotten.
But this live-out-loud energy won't linger for long. The Sun is still in private, nurturing Cancer, and near the weekend, it connects to two low-key planets.
On Thursday, el Sol dances into a flowing trine with Neptune in Pisces, luring you into behind-the-scenes encounters that are too delicious to resist.
You may want to log out of all devices to ensure total privacy. Whether you're hosting an intense conversation or communicating in unspoken ways, the strongest signals could be the ones coming from your own intuition. No, they might not make sense on paper, but if your gut says there's something there, follow the thread.
On Saturday, investigative Pluto in Capricorn gets in the hot seat, parking directly opposite the Cancer Sun.
If you want answers, you're going to have to slip on the sleuthing hat and maybe throw down some tarot spreads. There will be so much going on below the surface that it will be impossible to interpret anything at face value. We're not saying you should walk around treating perfect strangers like prime suspects. But if someone's motives seem questionable, take a deeper look.
Keep your stormier feelings, like anger and jealousy, under wraps...and off of social media. With the Sun in emo Cancer, people are prone to taking things personally. Just don't be so secretive that your cloak-and-dagger act arouses suspicion or makes you look like you are hiding something. Such a tricky line to walk!
The Sun-Pluto opposition can set off some seriously sexy sparks, as well. Nothing like a little mystery and dynamic tension to ratchet up the chemistry, right? There's a thin line between love and hate—and near Saturday, it could snap—leading to one of the hottest hookups of summer 2021.
Sure, this might be complex, but exchanges this passionate don't come along every day. The question is, will that sexy cat-and-mouse game actually lead anywhere? If you've been chasing obsessively without any reward, redirect your efforts toward someone who has space for you, like, now.