Tracy G. On Mental Health, Movement & Making Wellness Accessible

mbg Editor-At-Large
By Olessa Pindak
mbg Editor-At-Large
Olessa Pindak is the editor-at-large at mindbodygreen. Formerly the executive editor at Prevention, she's worked at Condé Nast, Rodale, Martha Stewart Living Omnimedia, and more.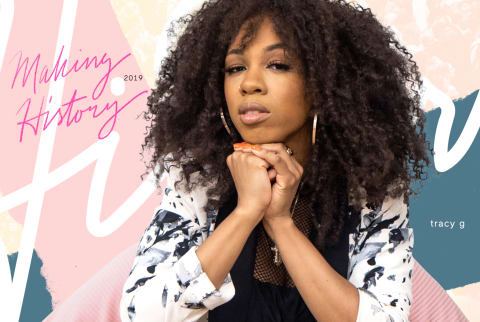 Image by Megan Doty x Alex R. Johnson / mbg Creative x contributer
February 27, 2019
In our series, Making History, we're talking to people who are leading the charge to bring much-needed diversity to wellness. They're sharing with us the work that they do, highlighting the voices that need to be heard, and telling us what we as a wellness community aren't talking about—but should be. This week, we spoke with
Tracy G.
, SiriusXM co-host of
Sway in the Morning
. She's also a "wellness artist" who creates
audio vision boards
, inspires her community to emotional empowerment, and says wellness shouldn't be available to only one tax bracket.
What was the first thing that got you into wellness?
Movement was my first form of medicine—I was raised to be a disciple of Billy Blanks, whose videos we did at sleepovers in seventh grade. But that happened because my mother was always about fitness to lower her cholesterol, get back to her body before she had children, and have more energy. My earliest memory of my mom and me bonding is at 4 p.m. every day when she did my hair and we watched Oprah together before she left for work at 6. Because Oprah was always so open about documenting her fitness journey, she was our first intro to wellness 101.
My mom was constantly working, and it was so important to her to feel more present as a mother, as a wife. She thought to herself, if I get my eating right, if I get my exercise right, that's not only going to benefit me aesthetically; it will benefit me energetically. So I was always her cheerleader. My youth was spent inside day care gyms—I would be in there peeking through at my mom at spin class and thinking, I want to do that!
How did that affect you as a kid?
It was so important for me to see my mom take time for herself. And it wasn't just the physical effects; her mood would be heightened. Within the black community, it's been difficult for generations to have conversations about mental health. So it wasn't until later that I realized my personal connection between fitness and mental health and that working out was really helping to ground me and clear up a foggy forecast in my brain, getting me feeling calm and centered.
How did you decide that you want to spread wellness?
I think the road to wellness is always really zigzaggy. After my career in magazines, before I started at Sway, was when I really started meditating, did my natal chart for the first time, and started to understand who I was as a global citizen. I also got in the best shape of my life. And I journaled a lot: Sometimes when you're waiting on something (like your next job), you look at each day as a series of days, so it was important for me to ask, What did you see today, what did you hear today, how do you feel today?
But it wasn't until I got my job on Sway in the Morning that it really began. Because I just had impostor syndrome raining down on me, and I thought: I need to rewrite my inner dialogue. I started taking affirmations really seriously and then as a lover of psychology, I noticed how if you listen to a song you remember the lyrics so easily. So I thought maybe it would be easier if I recorded myself and then can listen to it and go into a state of hypnosis. That was working for me, and one day a friend of mine heard them and told me, "This is excellent. I can tell why it's working for you." And I realized it was time to share it, but if I was going to do this, I had to give it a cool factor. So I asked a friend to score and soundtrack them. I knew if they could sound like a Rihanna track, they would feel familiar.
If there's anything I feel that I'm an expert in, it's sharing shit that works. And the prerequisite for me is, "Does it resonate with me?" Because there's nothing that just one person is into—that's impossible. We're all connected to this one outlet; we're all plugged into the same extension cord. It was so cool to see how once I put the affirmations out there, they resonated with people. I started calling them audio vision boards, and it became important work for myself and for my community.
What conversations are we not having in the wellness world that we should be having?
How you can eat for your health but on a budget. I think that the wellness world can glorify a very sexy, sleek-looking version of health. But for someone who lives in a place like Canarsie and there's not a Whole Foods Market that's near or you have to get on a train and a bus to get to fresh food, we need to be talking about how can I swap that fancy food for something that's accessible.
How about fitness?
I'm seeing a lot of fitness brands that are based in hip-hop, but I don't see a lot of people of color who are there and a part of it is because there's an economic divide, so the hip-hop aspect you think would be alluring to a person of color, but then the $45 per class part isn't. If you have your fitness joint on the Upper East Side, I get that you have to put your class at a certain price just to pay your rent, but maybe once a week or once a month there should also be a giving-back part. I know a lot of places will give back to the big global organizations, which is great, but what about giving back to the community right next to you?
I love fitness because my blackness is not going to help me in my burpees. Fitness is the great equalizer. Sports for a lot of people is the first time that they interacted with someone of a different background—and we all have a common theme. You push past endurance and grunting, and it brings you together. Especially during this time when there's such a divide and so many sensitive subjects, it can be a great exhale for us collectively.
What voices aren't we hearing in wellness that we should be?
We should hear more from people who aren't even in wellness–like those in the entertainment industries—who practice wellness to keep their sanity, because we're constantly hearing about our artists grappling with anxiety. If you only want to have conversations about wellness with people who look like wellness gurus, then it's kind of like the rich just getting richer.
What should be done about getting more people of color into wellness spaces?
As an influencer, I put wellness spaces up on my Instagram stories, to show people, go there! There are only going to be more black people there if we show ourselves there. There are so many people of color who are influencers. It would be great if the owners of spaces would have these influencers in their space and just ask, "What do you think would be best?" Or if they would work with wellness influencers of color to come to the studio, and if they like it they can promote it. If you do that, your followers will think, "This is a safe space, I see Tracy's here"—that's happened for different studios I've worked out at. I have people dm me on Instagram and say, "Oh shoot, you went there? How did you like that space?" and they're like "OK, I'll go too."

Olessa Pindak
mbg Editor-At-Large
Olessa Pindak is the editor-at-large at mindbodygreen. She's worked at Condé Nast, Rodale, Martha Stewart Living Omnimedia, and more. She's held executive and senior staff positions at many health & wellness publications including Prevention, Whole Living (Body & Soul), Natural Health, and Fit Pregnancy. Pindak has appeared frequently in the media talking about health & wellness, including appearances on the Today show, Good Morning America, and The Doctors. She has hosted a radio show on Sirius XM and many episodes of the mindbodygreen podcast. She lives in Brooklyn with her husband and two children. Follow her on twitter at @opindak.