TikTok, Listen Up: An Expert Explains How To Actually Find Your Aura
mbg Spirituality & Relationships Writer
By Sarah Regan
mbg Spirituality & Relationships Writer
Sarah Regan is a Spirituality & Relationships Writer, and a registered yoga instructor. She received her bachelor's in broadcasting and mass communication from SUNY Oswego, and lives in Buffalo, New York.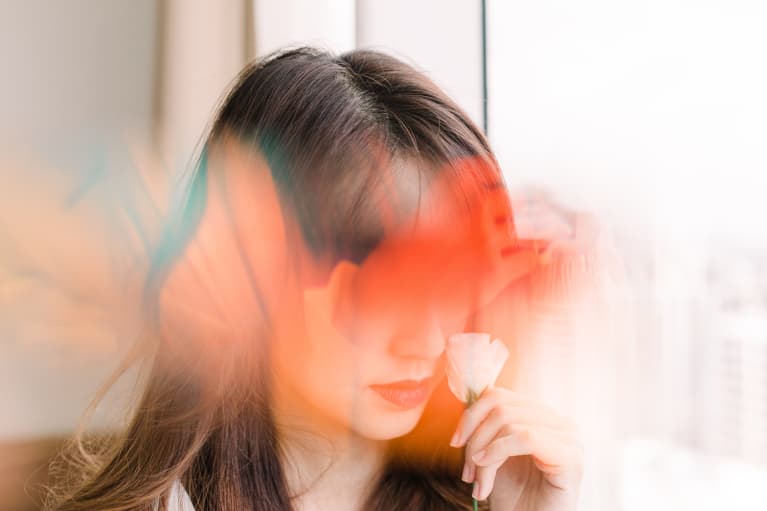 Our editors have independently chosen the products listed on this page. If you purchase something mentioned in this article, we may
earn a small commission
.
There's a colorful new trend in town: The hashtag "aurachallenge" is having a viral moment, garnering over six million views on none other than TikTok.
The challenge is simple: It involves zooming your phone's camera into a mirror until your phone screen shows one color. That color, believers say, is your aura. The only question left is—does it really work?
An aura expert weighs in on the #aurachallenge.
To find out whether this trend has any viability, we got in touch with conceptual artist and author of Radiant Human Christina Lonsdale, whose wide breadth of work explores the connection between humans and their auras.
"I think anyone looking in a mirror to genuinely see themselves in a new way is a good idea," Lonsdale tells mbg. "Are there other ways that I prefer? Sure—but in my opinion, whatever gets you on the path is the best place to start."
She adds that through her own aura photography project, Radiant Human, she's found there to be "so much validation and healing that can happen when people can have a safe place to explore what their energy means."
Regardless of how you're reading your aura, the important thing, she says, "is that we give ourselves the freedom to explore the many layers of self without judgment or ridicule... If zooming your phone camera into a mirror is what takes you to a new level of awareness," she adds, "I think that's great."
How to read your own aura.
While the mirror trend might not be so off-base, it's certainly not the only way you can explore your aura.
Lonsdale's favorite reading method is aura photography because it offers a tangible picture to reference. The camera used to take an aura photograph is different from your phone camera, she explains, "because it uses a pair of hand sensors to read the wavelength of your energy and then matches that wavelength to a color." That color, she adds, comes out as a second exposure on top of the photograph of you.
"So essentially, this is a really groovy interactive filter that uses real film," Lonsdale says. "As an artist, I was particularly attracted to this process because the colors are so vivid, and I felt this was such a powerful way to conceptualize energy and identity in the current new media landscape."
If you're looking for an aura reading method that's easier to try at home, Lonsdale recommends reading Barbara Brennan, Ph.D.'s book Hands of Light. Part of Brennan's book details how to see the human energy field with your own eyes. "She's a physicist," Lonsdale says, "so she has a really grounded approach that isn't too out there."
How to interpret the results.
Once you can see your aura, be it through a photograph, on a phone screen, or with your own eyes, you can dig into what its particular color might say about you.
Keep in mind that auras are always changing, and what you see today may not be what you see tomorrow. Furthermore, it's not uncommon for people to have two or three colors in their aura.
Generally speaking, these are the traits associated with the core aura colors:
Consider this one trend worth trying: No matter how you're taking the time to get in touch with yourself and your aura, Lonsdale says, doing so can only be a good thing.