​5 Things Healthy People Do Before Starting Their Day

Nutrition Specialist & New York Times best seller
By JJ Virgin, CNS, BCHN
Nutrition Specialist & New York Times best seller
JJ Virgin is a certified nutrition specialist, board certified holistic nutritionist, certified exercise physiologist, and New York Times best-selling author.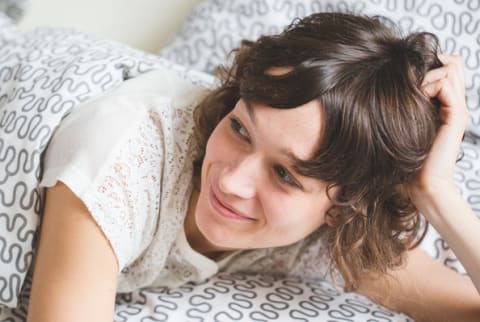 December 29, 2014
"This morning couldn't get any worse, and I'm hangry!" my friend texted on the plane. She sat on an already-delayed flight to see her in-laws, the plane had been taxiing for takeoff over an hour, a baby was screaming in the row behind her, and a traffic delay to the airport meant she had missed breakfast.
"Somebody needs to whip out her gratitude journal ASAP," I texted back playfully, but I understood her frustration.
Advertisement
This ad is displayed using third party content and we do not control its accessibility features.
Thankfully, most mornings aren't quite so hectic, but everyone knows that sinking "there goes my day" mentality.
You can't control the weather, traffic, or your irate boss, but you can develop a morning ritual that keeps you resilient to whatever life throws your way.
One thing I've discovered about fitness and nutrition professionals: We almost all keep a specific morning routine that focuses, motivates, and connects us with our higher purpose. I took an informal poll among my healthcare friends. These five things make our mornings — really, our entire days — more sane and productive.
1. We drink a glass of lemon water.
After hitting that snooze button four times and finally forcing yourself to get out of bed, you're probably dehydrated. Before you reach for organic dark roast or green tea, squeeze some lemon into a tall glass of filtered water. Ashley Pitman says among lemon water's numerous benefits include alkalinizing your body, boosting immunity, aiding digestion, and working as a gentle diuretic.
2. We eat breakfast within an hour of waking up.
Breakfast sets your day's metabolic tone. Many mindless mistakes are made first thing in the morning, and sugar comes rushing in through cereals, muffins, and juices. Skipping breakfast creates a similar hormonal havoc. Skippers spike their blood sugar and tend to be overweight and less healthy than people who regularly eat breakfast. Who has time to fix a substantial breakfast, much less the appetite, within an hour of waking? That's why I recommend a protein shake. In about five minutes, you can get fast, filling, fat-burning fuel that sustains you even when your coworkers are jonesing for hot cinnamon buns.
3. We observe a sacred ritual.
Every morning, I practice "intentioning," where I write what I feel grateful for as well as my short- and long-term goals. Then I share these with others to gather support and stay positive as intentions become reality. A friend does three sun salutations every morning, which she claims is more powerful than a java jolt. Another does Transcendental Meditation for 20 minutes. The point is to find something that works for you and positively impacts your morning. Keeping a mindfulness ritual grounds you, cultivates self-awareness, and provides you with a higher purpose to spend your morning.
4. We prioritize our highest goals.
Once upon a time, the first thing I did when I woke up was go straight to my laptop to check my email. Then my mentor Brendon Burchard said something that changed my morning routine: When we check our email first thing, we allow others to dictate our priorities and responsibilities. Before you rush to your laptop (trust me, that email will still be there!), spend a few moments to write down the five most important things you want to accomplish today and then prioritize them.
5. We offer gratitude.
You spill coffee all over your new white cashmere sweater, the toilet becomes backed up, your boss sent you a nasty text, and your significant other is being a sarcastic jerk. Some mornings just plain suck, right? Keeping a gratitude journal becomes a powerful way to shift your perspective and find that silver lining. "We can so easily forget all the things we have to be grateful for," says Lauren Stahl. "Sometimes we need a constant reminder of these things to shift our perception to one of love rather than fear. Writing a gratitude list keeps us focused on the solution and the positives in our lives."
What's one practice you would include on this list for more productive, positive mornings?
Advertisement
This ad is displayed using third party content and we do not control its accessibility features.

JJ Virgin, CNS, BCHN
JJ Virgin, CNS, BCHN, is a celebrity nutrition and fitness expert who helps clients lose weight fast by breaking free from food intolerance. A certified nutrition specialist, board certified Holistic Nutritionist, and Certified Exercise Physiologist, she is the author of the New York Times best-sellers The Virgin Diet: Drop 7 Foods, Lose 7 Pounds, Just 7 Days and The Virgin Diet Cookbook: 150 Easy and Delicious Recipes to Lose Weight and Feel Better Fast.
Read More