The Morning Routine Tara Stiles Swears By — Even During COVID-19
mbg Editor-At-Large
By Olessa Pindak
mbg Editor-At-Large
Olessa Pindak is the editor-at-large at mindbodygreen. Formerly the executive editor at Prevention, she's worked at Condé Nast, Rodale, Martha Stewart Living Omnimedia, and more.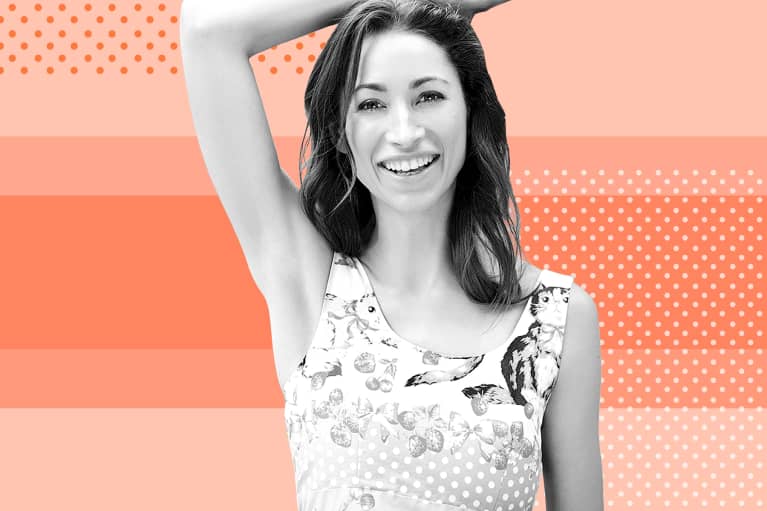 This article was produced to support the mindbodygreen supplements+ line. Our supplements adhere to the highest standards of ingredients and quality. We hope you enjoy these products, for more information
click here
.
While yogi Tara Stiles has been staying inside a lot more during COVID-19, her morning routine hasn't changed that much—it just includes even more yoga. But the basics of family time with her husband Mike and toddler Daisy, nature time, breakfast, and of course, coffee, are what keep her grounded and moving into each day. Here, she gave us a peek into what a typical morning looks like.
When Tara wakes up, her husband (and mbg class instructor and Strala co-founder) Mike brings her coffee in bed. It's regular drip coffee from a local Brooklyn shop like Partners Coffee from One Girl Cookies. "We've experimented with a lot of different styles of coffee, but ultimately, we like having a big old pot of coffee sitting around on the counter," says Tara.
"I wear whatever yoga outfit is clean," says Tara. During COVID-19, she's made getting dressed super simple by putting two buckets in the bathroom, one with shirts and one with leggings. But lately, she's been wearing a new T-shirt that's really special to her. "This T-shirt, with the words 'The Feel Good Gang' on it, supports the incredible organization the Global Antibiotic Research and Development Partnership (GARDP)," she says.
GARDP is a nonprofit dedicated to developing new treatments for drug-resistant infections. One in 10 hospital patients will contract some form of infection during their stay and infections that are drug-resistant are the cause of more than 700,000 deaths a year. GARDP works toward creating sustainable access to treatments, promoting responsible use of treatments and making them affordable to all who are in need.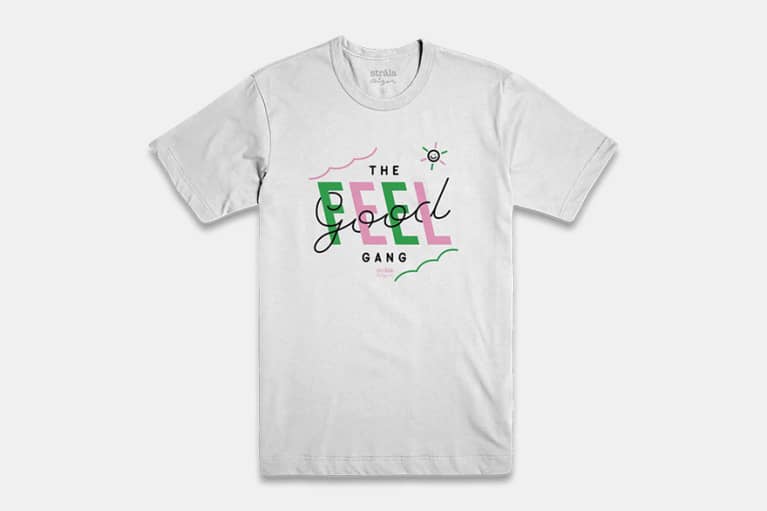 "We're selling these tees on the Strala website, and 100% of the proceeds go directly to GARDP. It's an amazing organization that is doing some pretty incredible things to change the world," says Tara. The tee is designed by typographical artist and designer Pieter Ceizer. "I've always wanted to work with him on something, and this seemed like the right project," says Tara. They got together and started talking about what to put on the tee, and she told him about how her class nicknamed themselves resident yogis and the feel-good gang. "We all feel like we're a part of it together," says Tara.
Beauty routine: Keep it simple.
Tara showers at night, so in the morning, she keeps it simple: brushing her teeth, putting on some lip gloss, clear mascara, and using Lux Naturals shea butter. "I got this at Whole Foods; it's made by a couple in New Jersey," says Tara. She slathers it on her face, neck, and arms. "It's really simple, smells nice, and has a good consistency. It's good for my dry skin," she says.
"Once I'm up and moving, I make Mike and Daisy breakfast, usually oatmeal or scrambled eggs and toast, then they retreat into the bedroom to play games and read books, and it's yoga time for me," says Tara. While even pre-COVID-19, she would start off the day with yoga, now she's been doing a daily class on her Instagram a little bit before 8 a.m. But before the camera starts rolling, she takes a few minutes to breathe.
"I have 10 to 15 minutes before it's time to start the class, and I use that time to sit down and breathe, roll around a little bit to get out the weird quirks and kinks, really gentle movements. For me, it's so important to take some time for quiet meditation so I don't start ranting about something in the middle of a live session. I allow myself to move even during meditation. If I have a thought, I just try to dismiss it and focus on my breath," Tara says.
If she's having trouble focusing, she comes back to these three questions: Who am I? What do I want? How can I serve? "It sounds a little hokey, but my friend Mallika Chopra taught that to me, and she learned it from her dad Deepak Chopra. Those questions ground me, get me out of my BS, and just help me breathe," she says.
"After yoga, I'll blend up mindbodygreen's organic veggies+ with some oat milk or in a smoothie," says Tara. She keeps her smoothies super simple with bananas, spinach, and oat milk, sometimes adding frozen fruits if they have them around, like strawberries. "I don't do more than three ingredients usually; I'm just not that fancy," she explains. "And then I'll eat pretty much whatever is around—sometimes that means last night's dinner like veggies and potatoes or breakfast leftovers from Mike and Daisy."
"When Daisy is ready to play and enjoy the day, she'll come and find me, and then we're into the day," says Tara. Some days that means a bike ride down to Red Hook (Brooklyn) to a tiny beach there, but no matter what, they get outside to play. "Now that the weather is warmer, we go on the patio in the mornings," she says. They even put a camping tent out there for Daisy and will sit outside and play the harmonica or just relax. "If I don't go outside, I start to go a little crazy," says Tara.
After the first two weeks of quarantine, Mike and Tara sat down and asked each other, Are we behaving better now? Are we acting less crazy because we're forced to slow down? "We were more manic before," says Tara. "Checking emails all the time, answering everyone right away. But now I realize that people feel supported if I just answer them within the day," she says. "We've found a better balance to reemerge on a stronger note."