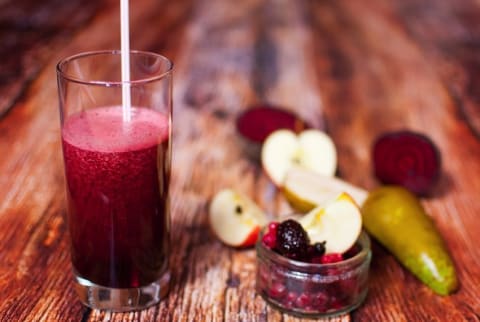 April 25, 2013
When you feel ready to rev up your system, it doesn't have to be expensive or extremely complicated. Simply removing all other food sources of fats, carbs, and proteins and replacing them with pure, easily-assimilated, nutritious, raw, green foods is the least expensive, simplest way to add a daily effective cleanse to your busy life.
While juicing is great, you lose the fiber of the plants, and it requires a lot of clean up. Because everything that goes into the blender goes into your glass, smoothies take about five minutes to make, after you've cleaned your veggies and fruit and retain all the fiber of the raw foods you blend, giving your body both the soluble fiber needed to flush the cells, and the insoluble fiber required for deeply cleaning out the intestines. Smoothies taste great, contain only fresh raw foods, and fill up your belly. You don't feel hungry because you are eating so much fiber.
Advertisement
This ad is displayed using third party content and we do not control its accessibility features.
Smoothies are the real fast food, taking a mere 10 minutes from prep to belly depending on what you choose to incorporate and they have the ability to sustain you for a few hours. These powerhouse meals in a jar save a pretty penny and leave your gut singing a glorious hurrah!
My favorite mid-morning smoothie recipe would have to my pink beet smoothie. It's easy on the eye and tastes surprisingly delish. I consider it to be the perfect beginner's smoothie for those not (yet) up to whirling greens in their blender.
Pink Beet Smoothie
Makes 16 ounces
1 small beetroot (washed, peeled and diced)
5 strawberries
2 frozen bananas
3 soaked dates (soak dates in filtered water overnight)
1 scoop raw meal powder (i use the Garden of Life brand)
2 soaked prunes (soak prunes in filtered water overnight)
1 cup almond milk
Blend the chopped beets with 3 tbsp. of almond milk for 1 minute, then slowly add the rest of the ingredients one at a time and process until smooth.
Serve immediately.
Enjoy!
Interested in learning about the mystical power that smoothies can bring to your life? Then be sure to sign up for my FREE 30 Day Smoothie Challenge!
Advertisement
This ad is displayed using third party content and we do not control its accessibility features.

Kobi Kenzo
Wellness Advocate
Kobi is as passionate about healthy living as her son is about his green truck. She is a concerned wife and mother who has discovered the beauty of living in harmony with nature. Kobi's Kitchen is a health and wellness site focused on empowering people to make the right food choices and learn tips on how to thrive on a plant based diet and adopt more sustainable lifestyle practices. You can download their freebie "Ultimate Wellness Guide" or grab yourself a copy of our newly launched plant based Holiday E-book which features meal planning, table decor and delicious vegan friendly recipes. Her passion for whole living foods was invoked upon her own family's tremendous health benefits upon adapting the raw vegan lifestyle. Yoga, meditation and EFT are a big part of her daily practice.