The Affirmation You Need To Say Every Morning Of 2018

Founder of Thyroid Yoga®
By Fern Olivia
Founder of Thyroid Yoga®
Fern Olivia is a speaker and influencer on the power of integrative medicine, yoga, and holistic lifestyle practices. She graduated Cum Laude from Syracuse University with a degree in Biomedical Engineering and Entrepreneurship & Emerging Enterprises.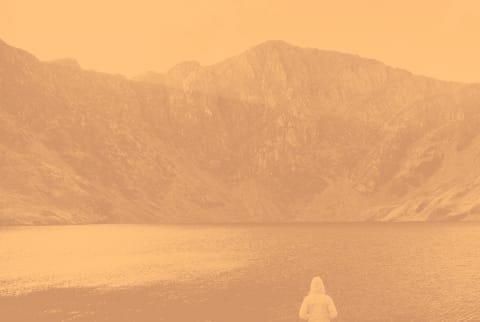 January 8, 2018
I used to think being successful meant being busy. I was raised in a culture that said, "You have to work hard—you have to earn it," and picked one of the hardest paths of study, Biomedical Engineering, graduating with honors, to prove I could do it. Halfway through my studies, I realized I did not want to be a doctor or work in a lab—I wanted to be a healer, though I didn't quite know the term at the time. But I had this innate knowledge that I was meant to help others feel inner contentment and health.
Upon graduation in 2008, I scurried off to Wall Street to prove I could earn a comfortable living. I earned a six-figure salary in exchange for 60-hour work weeks. I was far from happy, but I thought I was making my parents proud by having a job title they could brag about. But in trying to prove I was worthy of receiving abundance, I became terribly sick with adrenal fatigue and my Hashimoto Hypothyroid symptoms became so debilitating that I could barely get out of bed and would have severe vertigo, joint pain, migraines, and allergic reactions at work.
During that time, I began deepening my practice in yoga, spirituality, and Reiki energy healing, and was attending the Institute for Integrative Nutrition, where I began learning that what I was eating and the energy I was surrounding myself with was affecting my health and, ultimately, my thyroid symptoms. I began putting the pieces together, but didn't have the courage to leave my career yet.
While working full-time in finance, I had started my yoga and wellness company and would spend mornings, nights, and weekends teaching personal yoga clients and group classes around Manhattan and Brooklyn. I'd use every vacation day to travel to gorgeous exotic destinations to bring groups of students to heal their own bodies.
I was doing what I loved while suffering through a miserable job and burning the candle at both ends. I was hustling, and I was exhausted. Finally, my soul had enough. I fainted on the subway, one of the dirtiest places to hit rock bottom, and had to be taken to the hospital.
A wakeup call from my body.
My body was screaming at me to wake up. This was not my dream. I don't know whose it was, but clearly, it was not the life I was incarnated to live. One Tuesday morning in October 2014, I took a personal day and attended a health summit in New York City. At precisely 1:11 in the afternoon, I stepped away to call my boss at the bank. My heart pounded out of my chest as I bravely gave my two weeks notice. I was free. Immediately I felt my belly soften and my body felt a sigh of relief. This was the beginning of slowing the hustle.
Patterns are tough to release completely when they are wired in our brain chemistry and energetic body for years, even lifetimes. Alas, the hustle continued in my entrepreneurial pursuits, especially in those moments when rent was due. I felt I always had to be busy and dabble in multiple pursuits in order to be recognized, remembered, and validated as a mover and shaker in the wellness world.
The truth is, I was drained from doing what I loved. My thyroid, though much better off than working under fluorescent lights, was still screaming at me to slow down—which I began to do. I moved to California where I started surfing, hiking, and soaking up the sunshine in between Thyroid Yoga clients and meeting with brands and wellness leaders in the thriving entrepreneurial community in Los Angeles.
As I made more space for nurturing me, I noticed that I was able to have more space to call in what I truly wanted. At the same time, my health was the best it had been in years. I felt light in my body and slowly weaned myself off thyroid medication. I began manifesting magic and miracles, almost effortlessly.
My clairvoyance heightened. I noticed that I would begin seeing my clients' trauma and energetic manifestations behind their conditions while giving Reiki energy work, and felt called to explore this in greater depth. I embarked on a journey in intuitive healing, becoming a certified psychic healer.
I began manifesting travel, love, and blessings beyond my wildest dreams. Then, my soul called me to Nosara, Costa Rica, where I am currently. The hustle is a far distant, unrecognizable land that I barely remember. My cells have been cleansed completely from the reputation I once had for being overly busy.
An affirmation to repeat every day of 2018.
Life doesn't have to be a struggle, and we have to remember this with every fiber of our being, especially when most of the world is trying to tell us otherwise. When we feel like we are constantly pushing against the grain, we must ask ourselves why we are working so hard, burning ourselves out. At the core of our essence, what is creating the most joy? How can we find more ease in our lives? How can we return to simplicity and our natural state of play?
I begin each day with a daily affirmation, and this one has radically changed my life, and will be your game-changer declaration for 2018:
"I am willing for this to be easier and much more magical than I can imagine."
So, here I am in the heart of the jungle, excited for all the divine surprises that are already on their way to me. I wish the same for you, wherever you are.
Today, I invite you to find a comfortable, quiet space and download my complimentary Living Dream Workbook to embark on an explorative journey into your inner wisdom. Light candles, incense, and sage. Invite your intuition to lead. I can't wait to hear about all the magnificence you naturally attract once you get clear on your vision and watch in awe as miracles find you this year.

Fern Olivia
Founder of Thyroid Yoga®
Fern Olivia is a speaker and influencer on the power of integrative medicine, yoga, and holistic lifestyle practices. She graduated Cum Laude from Syracuse University with a degree in Biomedical Engineering and Entrepreneurship & Emerging Enterprises. She is also a Board-Certified Holistic Health Practitioner (AADP) from the Institute for Integrative Nutrition. Fern is the founder and CEO of Thyroid Yoga® and now trains wellness leaders and practitioners, integrating Reiki, Sound Healing and Intuitive Healing into the practice. Today, she works with clients through Personal Retreats in Nosara, Costa Rica and virtual Thyroid Yoga® sessions and mentorships, available globally.
Fern has partnered with Dr. Gabrielle Lyon at The Ash Center for Comprehensive Medicine, Dr. Robin Berzin and Dr. Jeffrey Egler at Parsley Health, among leading health practitioners, expert yoga instructors, and brilliant entrepreneurs. Together with these exceptional doctors and renowned practitioners, she offers Thyroid Yoga® in tandem with integrative medical practices, yoga studios, and wellness centers. Fern is a certified Reiki practitioner and registered yoga teacher.