What I Learned From 100 Days Of Creativity
By Allie Lehman
mbg Contributor
Allie Lehman is a designer, photographer and painter living in Columbus, Ohio.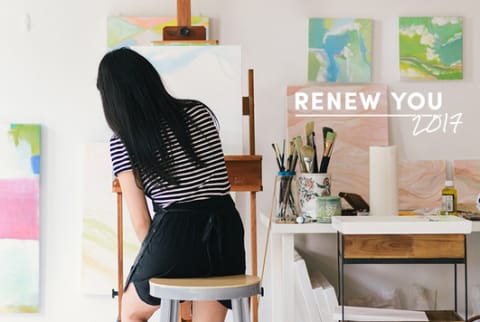 Photo by Allie Lehman / mbg creative
January 4, 2017
Manifest the year of your dreams by going inward. Renew You 2017 is a month of mindfulness during which we'll share content that guides you to create a deeply rooted intention for the new year. We'll help you navigate inevitable obstacles with the latest science on habits, motivation, ritual, and more and equip you with tried-and-true techniques to outsmart even the toughest inner critic. If you're interested in deepening your creativity, check out this class.
I took on a pretty huge project last year. A few days before it officially started, I committed to The 100-Day Project and decided to paint 100 paintings in 100 days. For those who haven't heard of the project, the concept is pretty simple. You commit to doing something consistently for 100 days straight while sharing it daily on Instagram. The project, while difficult at times, changed my life. One hundred days later, I found myself surrounded by a supportive community, my creativity was strengthened through daily practice, and I sold 71 of the 100 completed pieces in three days for just under $10,000 (I know!). Perhaps you're up for the challenge? If you do decide to test out your creativity, here are a few tips I'd recommend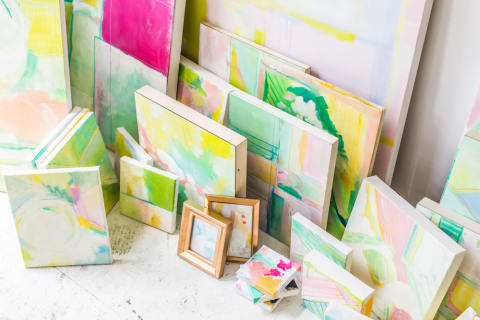 1. Make your own rules.
Don't feel like you have to commit to a certain medium, topic, or schedule. Before I started, I gave myself the freedom to paint with oils, watercolor, or acrylic. (If you're interested in painting, here's a guide on supplies you'll need.) I also realized, after a week, that I had to pick a subject matter or I knew I would continue to spend hours agonizing over what to paint.
Choose to take on this challenge at the perfect time for you. It doesn't have to be 100 days. It doesn't have to be at the official start date. When choosing the boundaries, be free and be yourself. And then...stick to them!
2. Engage in the community.
Be open! Whether you're creating art or something entirely different, there's a community waiting for you. The 100-Day Project has its own hashtag (#the100dayproject) and allows you to connect with like-minded people. Throughout my challenge, I cheered on Elise and Sarah from the sidelines while they shared their own projects every day. After it was over, I was able to reflect with them both on the struggles and the triumphs.
3. Be prepared.
I know I shared that I committed to this project just days before it officially began. That may work for you or it might be a bit too rushed. If you're picking up a completely new hobby or skill set, after my experience, I'd suggest planning it a bit more. I spent over half of my life painting. I had only recently stopped and so picking it back up wasn't too difficult. I already owned many of the supplies and could navigate my way through the art store. If it's all very new to you, take some time to estimate the cost of this challenge while taking into account your own time and money. If you want a list of questions to help you decide what to do, here are four.
Flip through your calendar and check your travel, work, and personal schedule. Thankfully The 100-Day Project fell over a period when I wasn't traveling much. It made the consistent practice that much easier.
4. Get comfortable with a bit of selfishness.
They say that when you say "yes" to something, you're saying "no" to something else. I learned that I had to get a little selfish throughout those 100 days. I had to say yes myself and no to other commitments. I remember telling my husband on my birthday that it took saying yes to painting for me to say no to shopping for new clothes (and I really like buying new jeans).
5. Tell the people in your life.
I've challenged myself in a lot of ways over the past year. I cut caffeine for a few months. I completely eliminated alcohol, and I cook most of my meals at home. I was successful in those personal challenges because I shared my priorities with those closest to me. Sharing something like this on Instagram with a bunch of strangers isn't the same as true accountability. When I took on this painting challenge, I knew that sharing it with my friends and family was key. Open up and let them love you!
If you want to see more of what my 100 days of creativity looked like, check it out. And if you're even thinking this would be a good idea, I encourage you to give yourself and your inner artist a chance.
Allie Lehman
Allie Lehman is a designer, a photographer and a painter living in Columbus, Ohio. She is the co-owner Wonder Jam, a creative agency providing an array of multimedia services for small businesses. She also wrote an e-book on how introverts can build a business and manage their energy.