By Leanne Jacobs, MBA
mbg Contributor
Leanne Jacobs, MBA, is a clinical nutritionist, pilates and yoga instructor, holistic wealth expert, and author of Beautiful Money.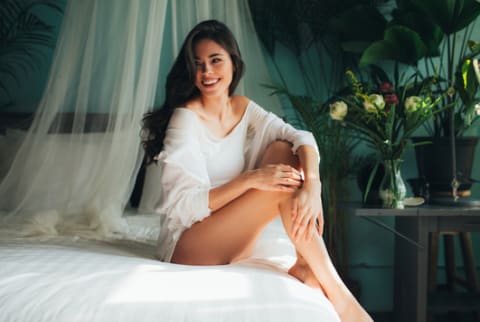 June 19, 2016
Over the past three and a half years, I've had three kids, become a stepmom, traveled across the world, rebuilt a home, and moved three times. It may not be the lifestyle of choice for all new moms, but I embrace the highs and the lows of my experience.
One of the best strategies I've used to keep myself in a positive spin, and to lift me out of a negative one, has been to create "soulful space" every Sunday. This very simple process created a massive transformation in my life. And as a holistic wealth coach, I often recommend it to my own clients. With as little as an hour each Sunday, you can absolutely create magical momentum!
Here's how you can join me in using sacred space each Sunday to create your very own holistic wealth plan:
1. Create a Soulful Sunday Sanctuary.
Find a corner or a room in your home that you can dedicate to holistic living. This area of your home should make you feel alive, healthy, abundant, and vibrant. Infuse this area with art, natural fibers and flooring, natural light, natural scents (like essential oils), and anything that is meaningful to your well-being. Crystals, yoga mats, and fitness props are also great ideas.
Keep this area bright and filled with positive energy. Be mindful of keeping this space free from chemicals and toxins. This is the perfect space to hang out in on Soulful Sundays and throughout the week.
2. Treat your home as sacred space.
The more spacious, clean, and alive your overall home is, the more inspired you will be to keep up your healthy habits. Keep clutter to a minimum (or remove it altogether) and create extra breathing room.
Remember that every inch of clutter in your home sucks your life force. The more space you have, the more you can breathe in life force. I also like to use vinegar and essential oils to clean my home. Take a few moments during your soulful Sunday time to lighten your load.
3. Schedule in holistic time for the week ahead.
Instead of letting meetings and trivial matters take over your life, start managing your life holistically. A simple strategy for doing this is to review your week ahead and start scheduling your wealth, health, and happy activities first. Don't let the trivial and the busy things eat up your entire life. You only live once—lead as if you're in charge!
For the week ahead, schedule your personal time, yoga, wealth planning, creative sessions, and even sleep before you schedule meetings and calls. Try that on for size! It feels uncomfortable in the beginning, but with time and practice, it will become your new normal.
4. Make your Soulful Sunday Space your truth time.
For this sacred time, be extremely mindful of your language, your food, your thoughts, and your behaviors. We all aspire to live in alignment, but actually committing to this practice is too lofty a practice for many.
Living in truth means that every word out of your mouth is aligned with love and light. Living in truth means that every thought is one of faith and not fear. Living in truth means that we fuel our bodies with aliveness. Even if we're not ready to commit to such a big gulp 24/7, practicing living in truth during our soulful Sunday time is a great place to practice.
5. Set three holistic wealth intentions for the week ahead (on paper).
Use your Soulful Sunday Space to write down your juicy intentions for the week. Remember that these intentions are not meant to toss us beyond our comfort zone with force. These intentions should be written with love, creativity, and inspiration. Set three intentions that will lovingly challenge you to think bigger, to live greater, and to serve more.
6. Have a prosperity conversation with yourself.
Talk to yourself about how abundantly you have been thinking and feeling during the past week and any subtle shifts that you intend to make for the upcoming week.
Have a conversation with yourself about how much ownership you are taking over your life. Are you owning all of your experiences or blaming others? Are you letting excuses run your life, or are you fully unleashing the divine creative power that you hold inside to create anything you wish?
7. Do a holistic wealth review.
During your Soulful Sunday time, review how automated your wealth creation is. Review your net worth, your savings, your cash flow, your liabilities, and your legacy. Taking a few moments each week to review your numbers and your legacy will keep you in the driver's seat of your wealth and your life. By doing this weekly, you will greatly reduce your chances of falling into a money pit, a debt disaster, or of gaining too much negative momentum. A weekly wealth check-in will keep you sleeping healthy and wealthy.
8. Tell yourself you love yourself.
Kiss yourself. Thank yourself. Admire yourself. You are divine.
My sacred time each Sunday gives me a moment to connect with myself and the world around me. It gives me a moment to slow down, to take my life in, and to fully experience myself. It is my practice for lovingly saying goodbye to the week that has passed and enthusiastically creating abundance in the week that lies ahead.

Leanne Jacobs, MBA
Leanne Jacobs, MBA, is a clinical nutritionist, pilates and yoga instructor, holistic wealth expert, and author of Beautiful Money. She lives in Toronto, Canada and received her master's in business administration from Wilfrid Laurier University. Jacobs is a regular contributor at Forbes, Entrepreneur, Glamour, Women's Health, Women's Day, and more.