6 Easy Ways To Simplify Your Life — For The Sake Of Your Budget
mbg Financial Contributor
By Brianna Firestone
mbg Financial Contributor
Brianna Firestone is a Financial Education Instructor certified by the National Financial Educators Council. Her expert advice has been featured in Money.com, Real Simple, and Business Insider. Firestone received her bachelor's in theatre from Stephens College and lives in Denver, Colorado.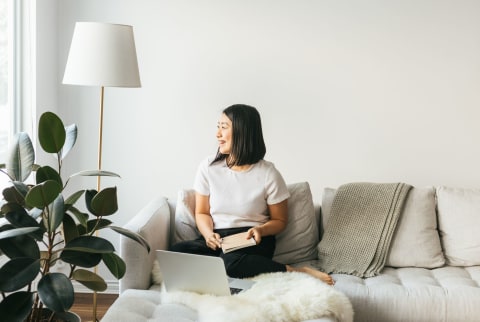 Image by Sophia Hsin / Stocksy
April 11, 2019
Confession: I'm that person who says, "I'm so busy!" pretty much every time anyone asks me how I am.
In a time when authenticity reigns, I'm hyper-aware that this response is uber-generic, but...it's totally true. This past year I've really been putting my intentional foot forward and have discovered (although this isn't groundbreaking), that I'm flat out overwhelmed by all of the choices that surround.
Advertisement
This ad is displayed using third party content and we do not control its accessibility features.
With my personal finance expert hat on, I started to wonder if limiting my choices would help my budget and give me more time. And it totally did.
Here are six ways you can eliminate choice to save money and work your way out of that canned "busy" response:
1. Simplify your self-care options.
Self-care doesn't have to be an insanely expensive spa day. In fact, it should be something you can integrate into your daily life. When you know how to provide yourself care at $0, $25, $50, etc., you can easily select what you need based on your wallet at that time. Here are a few budget-friendly ideas to try.
2. Set boundaries around your social time.
I had to come to terms with the fact that saying yes to too many things during the week was leading to exhaustion and spending more money than I'd planned. What you allow persists. I was definitely not setting clear boundaries, and that YOLO attitude was taking its toll.
Identify a number of times you are willing to go out for drinks, eat out for lunch or dinner, etc., during the week, and set a corresponding budget for these activities. Once you hit your limit on either one, it's time to offer up new dates in another week. This hard line will make it much simpler to fill your social calendar, and your bank account will thank you.
Advertisement
This ad is displayed using third party content and we do not control its accessibility features.
3. Get on the Taco Tuesday train.
I'm not gonna lie—I used to pride myself on creating really amazing meals five days a week even though my husband would have been happy with grilled cheese every night. But trying to get too creative each week led to me spending way too much time in the kitchen and excessive money on ingredients I probably wouldn't use again. There is a reason parents across the world have certain days they cook certain foods: It's easy to plan and easier on the budget. I'm now a proud taco night advocate.
4. Choose one media channel.
Have you ever sat in bed after a long day of work and flipped through Netflix, then Hulu, then Amazon, feeling like you can't decide what to watch? I remember when I did this with cable, and now it feels like triple the overwhelm. And you know what? That channel surfing is wasting precious time.
So, now I choose one entertainment channel to focus on each month. This saved me time and in the end made me read more. Considering canceling some of your channels. It's not going to flood your bank, but it will give you $15 you can put toward a different form of self-care.
Advertisement
This ad is displayed using third party content and we do not control its accessibility features.
5. Capsule your closet...and I don't mean go buy a new wardrobe.
I remember reading that women only wear about 20 percent of what is in our closets. You'd think it'd be easy to choose our outfits in the morning, but if you're like me, those other clothes just cloud your vision and give you grand ideas that don't work out.
I was tired of leaving my closet in a heaping mess each morning, so I set out to simplify my choices. I started by creating a mini capsule wardrobe for work. I used it for one month, got rid of the things that I didn't enjoy wearing at the end of the month, and then created the next module. Steve Jobs was on to something wearing the same wardrobe every day; it really does save time.
6. Set a time and intention for social media.
I'm not gonna lie, I love social media but it can seriously take you down a two-hour rabbit hole if you aren't careful. Not to mention, if you like to shop, social media is a spender's dream complete with urgent deals that you must take advantage of. Yikes.
I started to clean up my digital life by setting an intention for my social media visits. Perhaps it was to catch up with friends or soak up a dose of inspirational memes. Regardless of what it was, I set my timer on my phone and stuck to it. Not only did I avoid purchasing unnecessary things, but I actually started enjoying my time on each platform more.
You'll be shocked by how much time and money you can save by simplifying your life. Think of limiting your choices as a gateway to incredible freedom.
Advertisement
This ad is displayed using third party content and we do not control its accessibility features.