How To Decide What You Really Want Out Of Life, According To A Shaman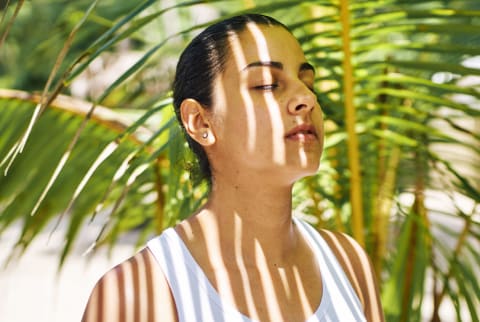 May 19, 2018
Shaman Durek is part of the
mbg Collective
, a curated group of our most trusted wellness advisers. Since 2009, we've had the brightest, most passionate mission-driven leaders in wellness share their intimate stories and world-class advice. Now, we're giving you unparalleled access to the people who, alongside mbg, are putting the "WE" back in wellness. Consider them your personal guides, there to support you and sustain you on your journey.
Advertisement
This ad is displayed using third party content and we do not control its accessibility features.
As human beings, we are constantly told that something is missing in our lives. That buying a certain product, reaching a particular weight, or going on a special vacation will make us whole. I guarantee that there are many things in your life right now that are only there because you've been programmed to think you need them. Because society has told you who you are and what you're supposed to want.
We think we know people, and we think we know ourselves—but who are we kidding? The only way you will ever be able to know yourself is if you let your heart be your only influencer. If you can do this, you won't need to do things because they're "on trend" or because people around you are doing them. Maybe all of your friends are starting to have kids, and you don't want any. Totally OK! Maybe you don't want to go to Burning Man this year after all. Also OK! You don't have to follow the herd. Leaders are born when they achieve this kind of social independence and become willing to step outside of the fold, outside the boundaries of the system.
One of my roles as a shaman is to help people awaken to their innate inner power and individuality. I am here to remind you that just because everybody does it one way doesn't mean you have to. There are no trees in nature that are the same, no two animals the same. You are not the same as anyone else. You are born independent, and you will die independent.
Can you feel that energy? That energy inside of you that says, "I'm done playing small. I'm done playing someone else's game." Hold tight to this statement. You are not what you've learned, what you own, or what you've achieved. See the truth in yourself that tells you who you really are.
There are a lot of people on the planet who have not checked in with their hearts for quite some time. Today, I challenge you to go face yourself—your true self—so that it can lift you into the light of your heart. Let your heart show you the unlimited possibilities and the things that are right for you, even if they aren't right for another. Seek your spiritual independence, and rise to be the kings and queens you were born to be. Here are a few ways to get started on this inner journey:
Conduct a "spiritual inventory" by keeping track of where you are spending your energy. When do you feel like you're operating from a place of positivity? What negative forces are keeping you down? Once you identify the source of drainage, take steps to eliminate them. A good mantra for this is, "I clear all record and memory associated with _____ (fill in with your negative habit) and will clear it from me until it's removed from my spirit and I'm operating in a way that is authentic and loving."
Before buying any material items, ask yourself, "Does having this assist me in my evolution to becoming a more powerful being who is living in truth on Earth?"
Write down where you expend most of your mental focus daily. Do you spend most of your time thinking about love, money, health, success? Where does your mind stay the longest? Because that's what you are telling yourself you need in your life.
Spend more time outside, lying on the grass or leaning your back against a tree. Work up to a 20-minute meditation and think, "I access nature's networking system to clear and recharge my energy."
Advertisement
This ad is displayed using third party content and we do not control its accessibility features.
Sex life in retrograde?
Your FREE Astrology Sex, Love and Attraction Guide.

Shaman Durek
6th Generation Shaman & Spiritual Guide
Shaman Durek is a sixth-generation shaman who has devoted decades of study and practice to become a thought leader and spiritual enthusiast for people all over the world. His focus is educating people on how to make shamanism a lifestyle choice for evolutionary adaptation. He is an author, activist, and women's empowerment leader.
Durek acts as mediator or "bridge" between the spiritual and physical planes and applies ancient spiritual wisdom, coupled with decades of devoted study and practice, to help bring success, happiness, and healing into clients' lives. Shaman Durek comes from a long lineage of spiritual practitioners including ministers, oracles, and healers.
He works with clients on a one-on-one basis as well as in group sessions. A gifted guest speaker and inspirational teacher, Durek has worked with many diverse public figures and leading organizations in conflict areas around the world. Shaman Durek's dedication comes from seeing people consciously living their lives more authentically and realizing happiness is attainable in this life.