By Shannon Kaiser
mbg Contributor
Shannon Kaiser is the best-selling author of 5 books on the psychology of happiness and fulfillment including The Self-Love Experiment, Adventures for Your Soul, and Joy Seeker. She has a B.A. in Journalism and Communications from the University of Oregon.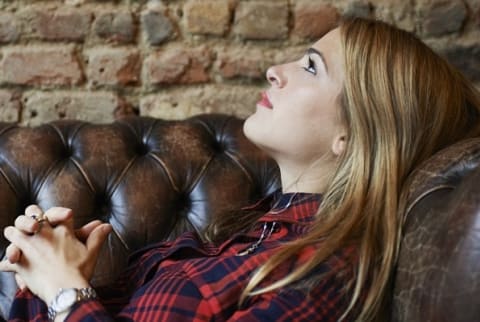 December 29, 2014
We all experience moments of insecurity, frustration, stress and depression. If you feel down and out it could be from your habits or beliefs. Here are five potential causes that might help you decode your mood.
1. You're attracted to the honeymoon stage.
It's fun jumping into new relationships, jobs, projects or places, but be honest with yourself and see that everything always has a honeymoon stage. If you're unhappy with an area of your life, and are planning on making a change, recognize the change will be beneficial. But until you address the core problem, the excitement of the new change will wear off.
If you're unhappy in your career and change jobs, you may be happier temporarily. As the excitement of the new wears off, you'll be left with the same internal struggle. It's time to be honest with yourself: until you look at the real problem, the honeymoon phase will just mask the pain, and you could be running from one honeymoon to the next.
2. You focus on reasons instead of results.
There's always a reason why something can't happen, or won't. And there are just as many ways your desire can manifest itself. Where you focus your attention will create your outcome. If you stop and focus on why it won't work, it will never work. Choose a positive attitude and focus on the results you want to receive. Do not waver in your attention to the outcome. When you focus on what you want, you will always get what you want.
3. You aren't in touch with your why.
Why you do what you do is the most important identifier for your success. Whether you want to lose weight, quit an addiction, change jobs or relationships, find a new group of friends or start your own business, your why matters. Whatever you desire, get clear about your why. Why you do it will help you focus clearly on your reasons to create the results you desire. When you do things from love, you are alignment with your highest truth and success will be achieved.
4. You think you should be happy all the time.
Pay attention to your thoughts and see if you're mad at yourself for not being happier. You may feel guilty because you aren't where you think you should be. Turn your negative thoughts into more loving ones by consciously focusing on your energy. When you're aware of your thoughts, you can control them.
5. You might be waiting in vain.
If you're waiting for an answer or you want more clarity, focus all your attention on what you want. Don't give any energy to what you don't want. Your thoughts create your outcome. Hold faith. If you let your fears take over your thoughts, you will feel emotional pain. You don't have to wait in vain for an answer.
Instead of being at the mercy of what others can give you, send love to the situation and ask the universe, your guides or higher power for support. Trust the situation will work out in your favor.
Shannon Kaiser
Shannon Kaiser is the best-selling author of 5 books on the psychology of happiness and fulfillment including The Self-Love Experiment and Adventures for Your Soul, Joy Seeker, and Unshakable Inner Peace Oracle card deck, and the forthcoming book Return to You. She has a B.A. in journalism and communications from the University of Oregon. As an international life coach, speaker, and retreat leader, she helps people awaken and align with their true selves so they can live their highest potential.
She's been named top 100 Women to Watch in wellness by mindbodygreen, alongside Cameron Diaz, Gwyneth Paltrow, Kris Carr and Gabriel Bernstein, and was listed as of the freshest voices in mental health and wellness by Chicken Soup for The Women's Soul. She's been named one of Entrepreneurs Must-Follow Instagram Accounts for Inspiration and Top Facebook Accounts for Daily Motivation by Mind Body Green.
Her website Playwiththeworld.com has been names top 75 Personal development websites and top 100 self-help websites by the institute for the Psychology of Eating. She's an international life coach and author mentor, and a full time world traveler with a home base in Portland, Oregon with her best friend, her Golden Retriever Chance, who she flew to China to Rescue.