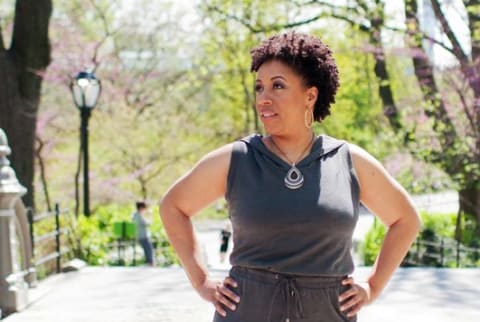 Photo by @christinedyanrd
August 9, 2017
"When are you leaving? I can't wait for you to leave."
Whenever I look at him—especially at night when he's sleeping in my bed and I'm still awake—I say these things to him, mentally, with a look of disgust on my face. I go back and forth between anger and hurt, turned on both him and myself. I lie awake, night after night, anticipating the day he finally moves out and asking for help to forgive, to move on, and to see what I am meant to learn from this.
Eventually, three key realizations float to the surface that allow me to forgive him, forgive myself, and begin to let go of this marriage and embrace an unclear future:
1. Our paths are diverging, but he helped me grow into the strong woman I am today.
When I said yes to this man's proposal, I was fresh out of an abusive marriage. I needed him to help me. He showed me true, unconditional love. He offered me everything he could and asked for nothing in return. He showed me that a man can love with all of his heart. I needed that. It was like grabbing a life raft in a storm. He helped me put myself back together again.
2. I am fortunate to have been loved unconditionally. He deserves to be loved unconditionally, too.
My husband's love for me has always been unconditional. He has always done his best. He has been upfront about who he is—his strengths and his weaknesses. He has always been the best version of himself that he knows how to be. It is my love that has never been unconditional. It is my love that created terms and conditions. It was a survival instinct. I needed to put up walls to survive. I put them up right from the beginning.
I put out the energy that said, "I'm in this, but don't ask me to be too vulnerable. I'm in this, but I need you to validate me by loving me more than I love you. I'm in this, but I need you to develop a deeper relationship with my three sons." I set up walls and boundaries and deal-breakers. So, while it would be convenient for me to blame my partner for this separation, it is not really his fault. I have to take responsibility for the role I played in bringing us to this point. And I can acknowledge that he deserves to be loved the way he is capable of loving another.
3. This relationship has allowed me to become someone who does not need a relationship to be happy.
His love for me over these past 10 years has given me the space to heal and grow. My capacity for self-love has transformed. When we met, I felt so fortunate to find a man who loved me with all of his heart and didn't abuse me in any way. Now I no longer need a man's love to define me or to make me feel worthy.
I know that I am enough—on my own, I am complete. I am worthy. I know now that if I seek out a relationship, I will hold out for a man who challenges and excites me—mind, body, and soul. I am strong enough to seek out a man who loves my three boys as much as I love them. I am strong enough to love my partner as much as he loves me instead of withholding love and trying to shield that most vulnerable part of myself.
But I may not find that man. I may not even look. I know that I am strong enough to be happy alone. Realizing these truths has helped me begin to forgive my husband and myself. I believe that God is calling me to take ownership of my part of this, to see my growth and not judge my past self. I now believe that the end of this decade marks the end of my journey. I'm coming home to myself.