Put Your Excuses in a Pile of Sh*t
By Jennifer Pastiloff
mbg Contributor
Jen Pastiloff is known for her unique style of teaching, which she has taught to thousands of women in sold-out workshops all over the world. She has been featured on Good Morning America, New York Magazine, Health Magazine, CBS News and more.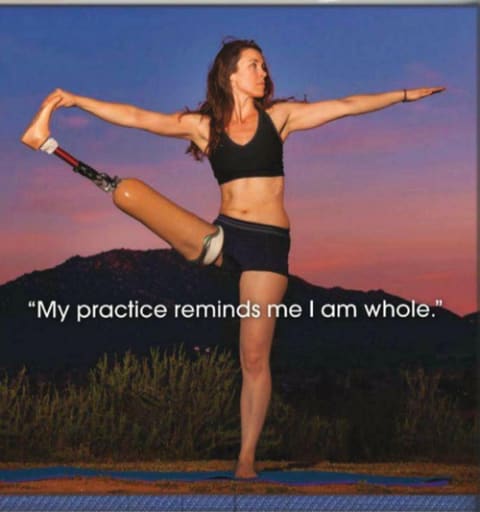 One of the things I do in my Manifestation Workshops and Retreats is have people write down all their excuses on a piece of paper and then rip it up and put it in a pile at the front of the room. The little pieces of paper mix in with other little pieces of paper and look like a pile of trash. Which is, essentially, what they are.
So what do the papers say? What excuses am I talking about?
Advertisement
This ad is displayed using third party content and we do not control its accessibility features.
Any and all excuses.
Any excuses that we have collected over the years that stop us from going after what we want or saying Yes.
Mine have ranged from:
I don't have enough money,
It will be hard,
I don't have enough experience,
People won't like me,
I am too old,
I am too fat
I am too tired
 I am not good enough,
… and on and on depending on the year, the day, the mood.
So, I have them put the excuses into this pile at the front of the room, and then I ask them what the pile is. We all agree it is a pile of trash, of garbage, of sh*t. I then take a picture of it and tell anyone that if they ever forget that they have put their excuse into this pile, they can email me or call me and I will send them the photo as a sweet reminder.
Some people struggle when I ask them to rip up the excuses. You can see a slight subtle pull of resistance. Like they are afraid of who they might be, of what they might do, without their beloved excuse that they have clung to for so long.
At my last retreat in Italy, just a week ago, a girl from Philadelphia shared something really profound with me.
She had attended my workshop in Philadelphia at Dhyana Yoga in March. After the workshop, she emailed me to inquire about my Tuscany retreat. We exchanged a few emails, and then she decided she couldn't make it happen.
A few days later she emailed me back and said she had changed her mind and was going to join me.
In Tuscany, she told me that she had been standing in her kitchen making tea after our initial emails where she told me she couldn't make the retreat happen when it hit her like a pot of boiling water!
She had realized that all the excuses she had given me as to why she could not attend the retreat in Italy where no longer usable because she had ripped them up and put them into a pile of sh*t on the floor of Dhyana Yoga back in March. The excuses ran the gamut from she didn't have enough money, she didn't have anyone to go with, she wasn't "good" at yoga, etc. She told me all of this with tears in her eyes in Italy, where she made lifelong friends and had a life-changing experience.
Yes, it was just words on a paper and a metaphor of throwing excuses into a pile of garbage. But, did it matter? She remembered that metaphor, and that action of ripping up her excuses, and chose to no longer use them.
We always have the choice.
We have the choice to add them to that pile of garbage or keep adding them to our lives.
She sent me an email last night, after we had both settled back into our lives in the States:
Dear Jen, After your first workshop in Philly I made a vision board. I have many things on it. The one thing I put on it was the pamphlet of your Tuscany retreat. And guess what? It came true!
Another thing I have on my vision board is a pamphlet for yoga teacher training. And guess what? That is coming true! I am so excited that I have signed up for yoga teacher training with my home yoga studio! Yay! I went there yesterday and told my instructor I was thinking about signing up. She said, "What's holding you back?" I thought about the excuses I tore up (again!) in your workshop and said, "Nothing! I'm doing it!"
What excuse do you want to add to the ever-growing pile of garbage? Add it below.
Manifest = Making Sh*t Happen.
Advertisement
This ad is displayed using third party content and we do not control its accessibility features.
Jennifer Pastiloff
Jen is a self-described Rule-Breaker, Shame-Buster, BeautyHunter, LipReader, WayMaker, TruthTeller, and Bullshit-Eliminator. She travels the world with her unique workshop "The Manifestation Workshop: On Being Human," a hybrid of yoga, writing, sharing out loud, and the occasional dance party. She has been featured on Good Morning America, New York Magazine, and CBS News among others. She leads annual retreats to Italy and California as well as many other places which combine writing and yoga, sharing out loud and fierce listening. When she is not traveling she is based in Los Angeles where she lives with her husband and soon, her new baby boy. When she is not pregnant you can find her sipping a nice pinot noir. She is deaf as a post and she enjoys laughing at herself, most of the time. You're most likely to find her these days eating a brownie or on Instagram at @jenpastiloff. She is also the founder of the empowerment project for young women called Girl Power: You Are Enough. Upcoming workshops and retreats in NYC, Dallas, Seattle, Kripalu in Massachusetts, Atlanta, Portland and of course, Italy September of 2016. Email info@jenniferpastiloff.com or visit http://themanifeststation.net/events/.