7 Ways To Supercharge Your Life With Tonight's New Moon In Aquarius
mbg Contributors
By The AstroTwins
mbg Contributors
Ophira and Tali Edut, known as the AstroTwins, are professional astrologers based out of New York and Seattle. Their work has been featured in The New York Times, Elle Magazine, Vogue and Good Morning America and they are the authors AstroStyle, Love Zodiac, Shoestrology, and Momstrology.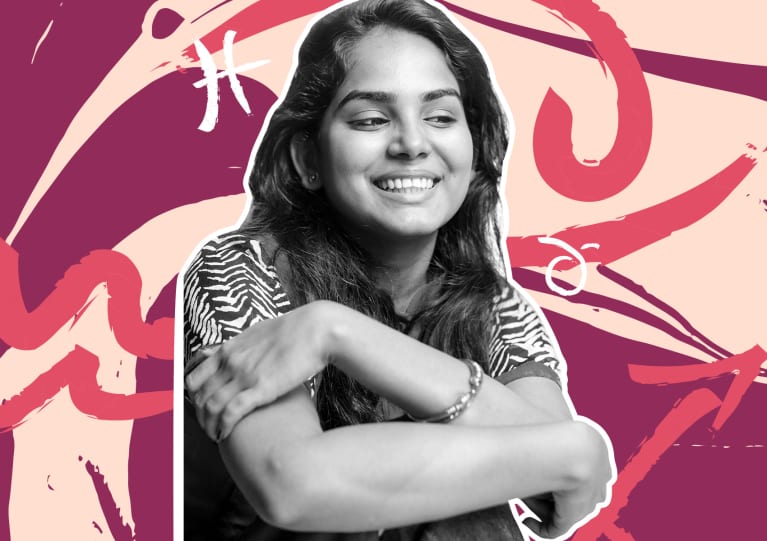 Our editors have independently chosen the products listed on this page. If you purchase something mentioned in this article, we may
earn a small commission
.
Come together now! February 4 ushers in a new moon in Aquarius, the sign of community, activism, and tech. This is a powerful opening to find your soul squad whether you connect virtually or IRL. Here are seven ways to tap into the energy of the Aquarius new moon:
No person is an island, and the Aquarius new moon reminds us of our need to share energy beyond checking our phones in the buzz of a local coffee shop. Where in your life could you collaborate or find more fulfillment in the company of others? This lunar lift can point you to groups of people who share your interests. If you're working toward similar goals, how can you better support each other's success? For example, if you're all entrepreneurs, you might set up a weekly mastermind call.
This new moon reminds us that one voice can make a major difference for many.
Has your world become a bit too isolated for your liking? The hippie vibes of the Aquarius new moon could point you toward some modern-day remedies. In San Francisco, the Starcity buildings offer an adult version of dorm living. Sharing a bathroom with a few "quadmates" might not be everyone's cup of tea, but the benefits of sharing group dinners and a built-in social life have been enough to sway many. Even if that's too edgy for you, this new moon may inspire other co-sharing ideas, such as renting an office with fellow freelancer friends or setting up a baby-sitting or dog-walking pool with neighboring (pet) parents.
2. Hang out with the thought leaders.
Have you fallen into a social slump? Aquarius is the sign of group activity, making this new moon one of the best days of the year to get out and circulate. Don't just gravitate to the usual spaces. Under this lunar lift, any activity that stimulates the intellect and your "higher mind" is the place to be. Get metaphysical! Is there a provocative lecture you could attend...or maybe a meditative sound bath? Or, since Aquarius is an air sign represented by waves of electricity, how about a kundalini yoga class that is designed to move the energy through your body using your own breath? If that's too "woo" for your tastes, attend a lecture or town hall. If you're inspired to play social organizer, host a salon! You could "screen" a TED talk by a modern-day thought leader—or a documentary about their work. Then, discuss with your stimulating company, like a bunch of ultracool 17th-century French philosophers.
Speaking of communal creatures, this new moon also kicks off the Chinese Year of the Earth Pig. Gathering with people—both like-minded ones and those who have different POVs—keeps things lively.
3. Activate your activism.
Aquarius governs social justice (along with companion air sign Libra), so let this new moon shift your activism into gear. There's no shortage of important causes to get involved in, perhaps as a regular volunteer. Or, if you're short on time, lend support with a monthly donation. Politics also fall under Aquarius' domain, and as we've learned, having a say in the world has a lot to do with who is representing us in office—and who has fair access to the polls. This new moon reminds us that one voice can make a major difference for many.
Take for instance, 18-year-old Alejandro Rangel-Lopez, a high school student from Dodge City, Kansas, whose commitment to voters rights drew the support of the ACLU and brought about the reopening of an unjustly closed polling site in a heavily populated area that is 60 percent Hispanic. On that note, this new moon might be the perfect moment to make sure you are properly set up to cast your ballot in elections. Do you feel the call to help others do the same? Check out organizations like HeadCount that set you up at music venues to register voters—with the reward of seeing a show after your civic service!
Aquarius is ruled by Uranus, the planet of sudden events, breakthroughs, and radical change. Yeah, we've all heard sayings like "one step at a time" or "progress, not perfection." But sometimes, a bold leap IS the way to go, even if it leaves other people's jaws on the ground. At the Aquarius new moon, a swift shift could be in order. Step out of the safety zone and try a radically different approach. A little shock value can snap people back to attention. Have a read of (or listen to) branding guru Seth Godin's Purple Cow, which makes a strong case for standing out in the crowd.
Use this new moon to break out of a sedentary slump.
There's an app for everything now, but how well are you REALLY utilizing them? There's a good chance your life could be a whole lot easier if you had everything synced or set up with automations and alerts. But what about your privacy settings? Many apps have built-in location trackers that you might not even be aware of, tracking your every move and stamping your photos with metadata. Here's a guide for stopping your phone from turning into Big Brother against your will.
On the bright side, there's never been a better time to make a living as a media maven or online entrepreneur. This Aquarius new moon is your call to sharpen up those digital skills—for fame or fortune (or both). Being an Instagram Influencer, Etsy crafter, or YouTuber can be a legit path to prosperity. These days, however, success hinges on far more than taking a duck-lipped selfie or playing some obnoxious prank while the cameras roll. Do you have something to teach, a special skill to share, a unique product to sell? Check out places, like General Assembly, that offer a suite of courses (IRL and online) in everything from data analysis to front-end design. Or literally watch YouTube videos on how to turn your Instagram or YouTube account into something profitable. So meta!
Techie Aquarius might keep us glued to our screens, but it's also a highly active and athletic sign. Use this new moon to break out of a sedentary slump with team sports. An indoor soccer or volleyball league can make the cold days fly by, or check out studios that fall into the communal camp, like CrossFit. It's a great excuse to socialize while getting the energy flowing from "tip to tail." The humanitarian nature of Aquarius adores a good cause. How about rallying co-workers for a charity 5K and raising money to make a difference?
If you prefer something a little gentler, organize as "asana posse" for biweekly yoga classes, or start a walking group with a few close friends. Since Aquarius governs the internet and social media, you might sign up for health coach's online boot camp—especially if it comes with the supportive community of a private Facebook group, online videos, and recipes. Don't forget those go-go-gadgets either. Program your Fitbit; treat yourself to a pair of high-tech cross-trainers to up your performance level and speed.
All this excitable energy can leave you nervous and scattered. Keep your feet planted on terra firma, even as you stretch into new dimensions. To help with that, here's a healing Aquarius season meditation.