Here's What Happened When I Did Exactly What My Tarot Cards Told Me To

By Elizabeth Bobbitt
mbg Contributor
Elizabeth Bobbitt is a branding, events, and marketing consultant, and the former Social Media Manager at mindbodygreen.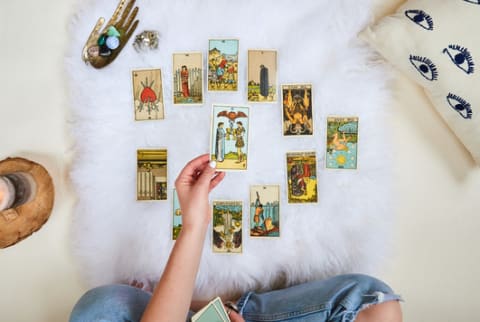 July 11, 2017
This little experiment of mine all started when I decided to break the rules. Since my very first foray into the world of tarot, I lived according to the idea that it was a spiritual sin to purchase your own tarot deck. According to occult lore, your first deck is meant to materialize in the perfect moment, only coming to you when you are truly ready for it.
So I spent months attempting to learn the tarot without any cards of my own, determined to be patient with the universe and honor this rule. I read books; I attended tarot study halls; I even made space for the automated Celtic cross app on my phone's home screen. But in the end, this physical detachment from the deck just wasn't doing it for me.
Eventually, the little voice inside of my head won, and I decided that it was time to finally buy cards of my own. Thankfully, a number of my favorite tarot readers supported my decision, agreeing that if you are called to the tarot in any way, you better well listen. Within a minute of looking at options online, my definition of the perfect deck fell into my lap (or, should I say, my Amazon shopping cart), and with that, my tarot truly journey began.
While blessing and cleansing my new cards, I made a commitment to work with them every day, opening my heart to any and all of their messages. So what does this look like? I've been consulting my deck every morning for the past week, asking it one simple question before pulling a card: What do I need to know today? I've then been infusing my days with the insight learned from this reading, and, spoiler alert: It's been pretty freakin' magical.
Day 1: High Priestess.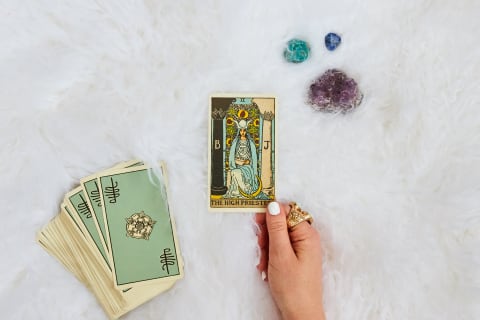 Mad props to the universe for letting a Cancer with the Life Path No. 2 pull such a fitting first card. The High Priestess is card No. 2 of the Major Arcana, ruled by the moon (like watery Cancer), and associated with spiritual enlightenment and creativity. She appears when it is time for you to start tapping into your intuition, reminding you that true knowledge comes from within. This card is also particularly poignant for writers, signaling that creativity is on the way (bless up).
Seeing this card right off the bat reassured me that yes, I am meant to be working with the tarot and connecting to my spiritual side. In order to nurture my inner voice and listen to its wisdom, I carved out 15 minutes of my day to meditate. I'll admit that after falling off the meditation wagon nearly a year ago (I know, I know), sitting silently with my thoughts wasn't easy—but it felt good to honor the High Priestess and experience the clearheadedness that comes from this practice.
Day 2: Six of Cups.
I couldn't help but smile when I flipped over the Six of Cups. In a more literal interpretation, this card can signify that a reunion is about to take place—and as I pulled it, my parents were driving out to visit me on the East Coast. When the Six of Cups shows up, you can expect to be heading into a situation that allows for peace, relaxation, and carefree play, all of which I've been craving lately. I took this as a sign to really soak up the time I'd have with my family over the next few days, making a point to let go of some of my day-to-day stressors and experience summer in New York City through their eyes.
Day 3: Three of Swords (Reversed).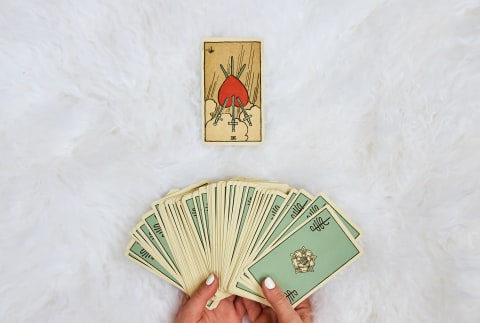 "This tarot stuff is so real it's almost scary" is a text I sent immediately after pulling this card. The Three of Swords reverses to let you know that the challenging times you've been going through—the pain and disappointment you've been feeling—it's all coming to a close. When it comes to relationships, this card reveals that your heart is finally beginning to heal, and you are getting to a place where you can accept the past for what it was.
Right before consulting the tarot, I had been chatting with a friend about the similarities between our past relationships. We'd been giving each other props for how we'd handled our breakups, expressing mutual surprise at how OK we felt about it all. Since pulling the Three of Swords, I've felt an extra level of peace regarding matters of the heart. I understand that everything I'm feeling is a part of the larger healing process, allowing me to be more gentle with (and proud of) myself.
Day 4: Queen of Pentacles (Reversed).
Let's call this reading a wake-up call. The Queen of Pentacles reversed helps identify when you've lost your sense of work-life balance and might just be choosing your career over your family. During my parents' trip to NYC I had been spending a lot of our time together working, but thankfully this card helped me step back and gain some much-needed perspective.
The reversed Queen of Pentacles suggests using nature as a way to regain equilibrium in your life, so I took my parents on an afternoon adventure through Central Park. Walking through the wooded paths with my two favorite people allowed me to feel incredibly grounded and grateful—more so than this busy city dweller had felt in a long time.
Day 5: Wheel of Fortune.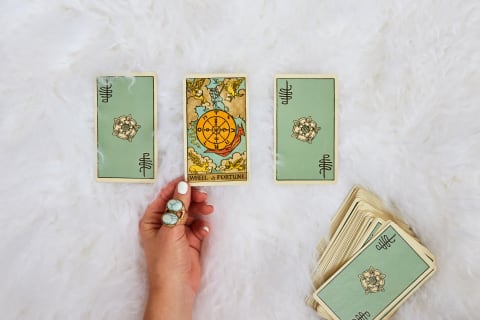 On this day, I chose to switch things up. One of my very close friends has been dealing with some health issues recently, and her situation was weighing on my heart. So, instead of asking the tarot about myself, I asked the cards to reveal what she needed to know today. I had my fingers crossed that this reading would be positive, and the universe did not disappoint.
The Wheel of Fortune is an excellent card to see when you feel like you just can't catch a break. It tells us that even when life is throwing you one challenge after another (and another, and another, and another…) things will be looking up soon. This card embodies that saying, "Without rain, there would be no rainbows," for unless we sit with our darkness, we'll never appreciate the light. It felt amazing to be able to encourage my friend through this reading, reminding her that with a little optimism and adaptability, she'll be able to ride out these rocky waves and make it to shore.
Day 6: Three of Cups.
Has there ever been a more perfect card to pull during Rooftop Season? I would hardly class myself as a summer girl, yet even I get excited about breaking out the rosé during this time of year. Thankfully, the Three of Cups encourages libations, confirming that you'll be able to find a comfortable balance between handling your normal commitments and living it up with friends and family.
This card highlights strong female friendships in particular, indicating that you might be turning to your girl gang for love, empathy, and support more than ever before. Even though I knew I had a busy weekend of adulting ahead, this reading inspired me to carve out some time for my girlfriends and me to get out and enjoy the gorgeous weather together. After all, when the tarot tells you to let loose, you let loose.
Day 7: The Star.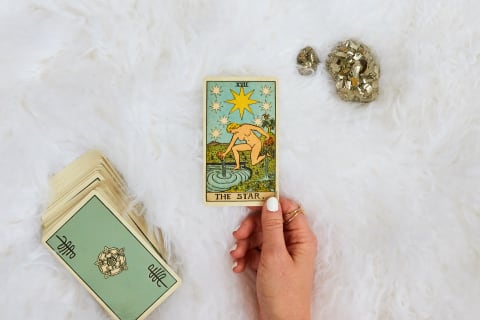 I like to think of this as the cherry on top of my weeklong tarot journey. The Star lets you know that in this moment, you are truly #blessed. It's like you've drawn the lucky straw and the universe has decided to cut you some slack; how rad!
But this isn't the time to kick back, relax, and enjoy the ride. Nope, The Star wants you to feel gratitude for your cushy situation and then express your generous spirit. It's time to actually put all of your beautifully creative talents to good use (think of this as spreading the wealth) and help others reach their full potential, too. For months I'd been talking about becoming a volunteer yet had never taken any steps to make it happen. Thankfully, The Star was the final push I needed to register to work with the elderly—a new adventure that I'm over the moon to be starting soon.
So, after seven days of using the tarot as my guide, I'll absolutely keep this experiment going. In just a week's time, I've fallen in love with this mindful morning ritual. I believe that by starting each day with such a grounding and intuitive practice, I'm letting the universe know that I'm ready (and willing) to participate in all of its magic. Plus, waking up to your alarm is far less painful when you know that a healthy dose of cosmic guidance is waiting for you.

Elizabeth Bobbitt
Elizabeth Bobbitt is a branding, events and marketing consultant, and the former Social Media Manager at mindbodygreen, currently residing in Australia. She received a bachelor's degree from Newcastle University. When she's not exploring her new home, you can find her studying astrology, making bulletproof matcha, working to reduce her carbon footprint, or curating the perfect vinyasa flow playlist.