May 2021 Monthly Horoscope: Retrograde & Eclipse Season Are Here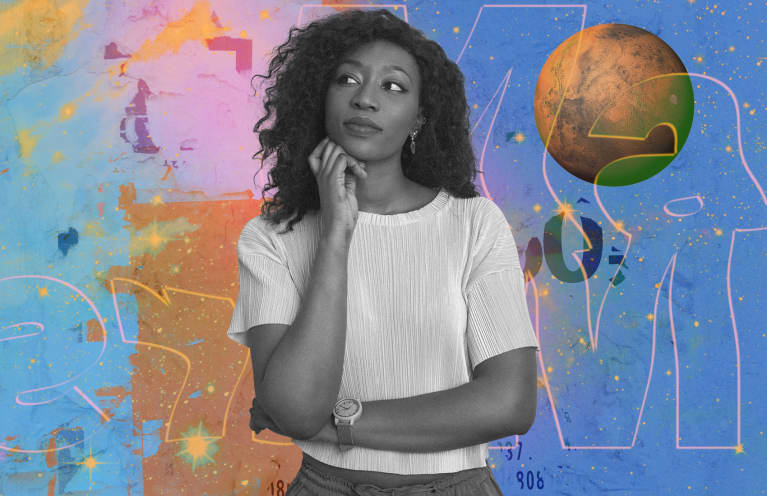 Our editors have independently chosen the products listed on this page. If you purchase something mentioned in this article, we may
earn a small commission
.
Up until now, 2021 has been guided by a key mission: Stabilize. This May, the stars sound the call for caution, particularly in the second half of the month.
Here are the 4 key factors of May's astrological lineup to know:
Mid-May, global Jupiter will move from Aquarius, the sign of groups and society, into Pisces, the ruler of retreats and hidden factors.
Strict, law-and-order Saturn turns retrograde in Aquarius from May 23 to October 10, which could downsize or shut down certain plans.
Mercury, which rules the hands (wash 'em often), communication (mask up for safety), and interactivity (yes, that means spreading) will turn retrograde in its home sign of Gemini (double impact) from May 29 to June 22.
The month ends with a lunar eclipse in Sagittarius, the sign of travel, growth, and global connections, which could bring major news regarding world events and conflicts. It's also a supermoon, heightening the drama.
Here's what we can expect to feel with these tricky transits:
Jupiter in Pisces will bring progress and setbacks.
From May 13 to July 28, Jupiter will move into Pisces, a flowing mutable sign now for its empathy, imagination, and the dissolving of boundaries. It's Jupiter's first visit here since January 2011, and the first of two trips (it will return to Pisces on December 28, staying until May 10, 2022).
Jupiter in Pisces could increase compassion and creativity. Some of the rigidity we've lived with will relax a bit. Pisces rules the oceans, and here in the U.S., we expect to see beaches in full use this summer—likely crowding up as more people are vaccinated and ready to fend off "isolation fatigue."
The Mercury and Saturn retrogrades remind us to reflect on what's working.
As with all things retrograde, there's an opportunity in disguise. Retrogrades send us back to the drawing board, showing us where we've been overly optimistic and cut corners. They're also great times for reunions.
Mercury retrograde in social Gemini can bring happy social reconnections with friends and kindred spirits. But it can also double the odds of spreading through touch and breath (Gemini rules the hands and lungs). If in doubt, mask up and social distance. Go back (retrograde buzzword!) to what's worked so far.
So...when will things actually get reliably better, astrology?
As astrologers, we're regularly asked when we think things will "go back to normal" with traveling. Our cautious eye continues to track the lunar south node's trek through Sagittarius, the sign of global getaways and interchanges, from May 5, 2020, until January 18, 2022.
This transit indicates that the world will continue to deal with separation until at least the first quarter of next year. Set your sights on incremental progress. And meantime, lean into the "hidden magic" of your local area.
With the powerful lunar north node in Gemini, ruler of neighborhoods, during this cycle, we're encouraged to localize and engage with our immediate areas—which has certainly been the case.