Close Banner
Advertisement
This ad is displayed using third party content and we do not control its accessibility features.
I Got Long-Distance Reiki From Someone Across The World — Here's What Happened

Contributing Wellness & Beauty Editor
By Lindsay Kellner
Contributing Wellness & Beauty Editor
Lindsay is a freelance writer and certified yoga instructor based in Brooklyn, NY. She holds a journalism and psychology degree from New York University. Kellner is the co-author of "The Spirit Almanac: A Modern Guide to Ancient Self Care," with mbg Sustainability Editor Emma Loewe.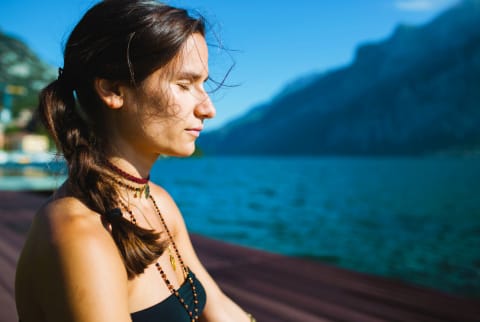 It took about four to five times of receiving Reiki before I actually felt anything. The first time my body responded to its effects was at a group session with mbg class instructor and Reiki master Kelsey Patel. She led a meditation that was very much like a yoga nidra—deeply relaxing for the body and active for the mind. I felt rushes of warm and cool, tingles, and what felt like many hands touching me at the same time even though Kelsey used hers on an isolated spot, and it was brief.
I met Michelle Baker at a yoga teacher training last fall. She's a Reiki master, mentor, self-worth adviser, and breathwork expert from Sweden who travels quite a bit to bring her teachings and trainings to different populations. After experiencing an intense need to rest more and feeling blocked creatively, I booked a Reiki session with her. I assumed we'd be on Skype—me lying in a bed, camera on, and Baker somehow transmitting her magic through her laptop, through space, through the zeroes and ones, through my computer, and somehow onto me. But that was definitely not how it went.
Baker's instructions asked me to lie down on a comfortable surface, put my phone on airplane mode, and be as comfortable as possible in a place where I wouldn't be disturbed. Light music was OK per Baker, but I opted for the sounds of Brooklyn. We did the session at 8:30 a.m. Brooklyn time, which meant it was 2:30 p.m. in Sweden. I set a sweet chime timer for 45 minutes, and she got to work
Bullet for bullet, her description of our session aligned almost exactly with my notes!
When the clock struck 8:30 a.m., I hugged my partner goodbye for the day and assumed a horizontal position on the bed—no covers or snuggles, because I was already tired and didn't want to fall asleep. I felt her working immediately—my hands and wrists were tingly the entire time, images arose both abstract and concrete, and my throat felt completely blocked and inaccessible to receive any of the energy Baker was trying to move. I jotted these and other notes down afterward, like a dream I didn't want to forget, and sent them to Baker.
As soon as I hit the send button, I saw a message appear in my inbox from Baker about what she was experiencing. Bullet for bullet, her description of our session aligned almost exactly with my notes! Part of me was astounded—I'm a believer, but often my skeptical, journalistic, inquisitive tendencies kick in, especially with healing work. But this was too close to call it a cosmic accident. She even recognized a "masculine presence in the very beginning but it didn't linger for long, or at least it didn't make me aware that it was lingering." That was my husband hugging me goodbye.
A single session with Baker was so informative, and moderately intense, I don't feel the need to do remote Reiki all the time. But for people who are looking to unblock, to feel inspired, to better listen to their bodies, to understand what's going on energetically, I highly recommend it.
It's a different experience, but you can learn to give Reiki to yourself; check out our Reiki 101 class.