How My Failed Marriage Became The Best Thing That Ever Happened To Me

By Sandy Weiner
mbg Contributor
Sandy Weiner is the chief love officer at Last First Date, devoted to helping women over 40 achieve healthy, off-the-charts love.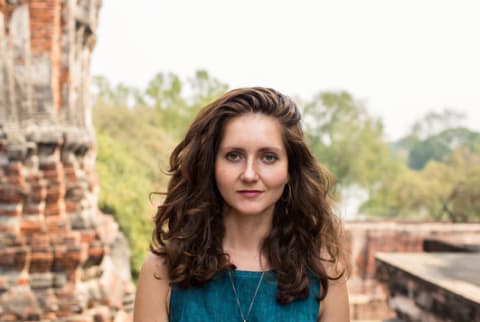 September 13, 2016
At the end of my marriage, I struggled to see the good that was once there. I was drained, exhausted from trying so hard to make our marriage work. In an attempt to fix things and keep the peace (at any cost), I lost important parts of myself. By the end, I just wanted my freedom back. I wanted to reclaim the lost parts.
After the divorce, my friend joined me in my gorgeous kitchen to toast to the future. I stared into the emptiness surrounding me and acknowledged that I had been given a second chance to create the life I wanted. It was scary as hell—so much unknown! But it was thrilling, too. So much possibility.
It's been nine years, and I finally feel sincere gratitude for my husband and for that time in our lives. I appreciate all that our relationship taught me—through the good and the bad.
Here are a few of the most meaningful lessons and why I'm grateful to my husband for helping me learn them.
1. I'm so much more capable than I realized.
During our marriage, I juggled a lot of things. I sometimes felt like a jack-of-all-trades, master of none. I was the primary caretaker of our three kids, I worked as an artist, and I worked side-by-side with my husband in his career. He taught me to believe in my creative talents. He valued my ability to write, direct, and edit film. I never thought of myself as a writer before, and now I write for big publications.
I no longer juggle so many obligations. The kids are grown, and I can focus on doing work that I truly love as a dating coach for women over 40. Plus, I never saw myself as a leader before my divorce. I now lead a movement of women who want to learn how to honor and love themselves, to tune into their authentic identities, and to attract love they've never had before.
I would never have done any of this if I'd stayed married to him. So, I'm grateful to him for releasing me to do important, life-changing work in the world.
2. A mess is just a message in the making.
I wouldn't have become a dating coach had I not known the pain and loneliness of being in the wrong relationship. There is great power in turning your struggles into your message and mission. Since my divorce, I have learned the importance of valuing myself more, of knowing what I need to be in a healthy relationship with friends and lovers. I can easily walk away from those who are toxic to me. And I teach other women how to do the same.
I'm grateful to my husband for the mess that became my message.
3. Your boundaries are not subject to anyone else's opinion.
When we were married, boundaries were blurry, and I often felt like my privacy and dignity were violated. I felt powerless to change that, so I began to create my own life outside the marriage, finding friends and activities that supported me. It was my way of staying sane.
Since our divorce, I've learned to set clear boundaries with my friends, family, and the men I date. If my boundaries hadn't been disrespected in my marriage, I wouldn't have understood the importance of knowing my needs and expressing them so clearly and calmly.
4. I am a better parent alone than I was during my marriage.
My husband and I often disagreed about how to parent. After our divorce, the divide became even greater. This has been one of my biggest challenges—how to be a good parent despite the opposition.
I hired a relationship coach who helped me learn how to be firm about the values that were important to me as a parent and to stay loving no matter how angry the children became.
In a pivotal moment, our 14-year-old daughter was going to my husband's house for her week there. She had piled all her clothes into her arms, and said (for the umpteenth time), "You ruined my life! I hate you!"
I stayed calm (which was not easy), and said, "I understand your frustration, and I want you to know that I did not get divorced to ruin your life. I've done everything in my power to make things as easy for you as possible. You now have two choices. You can be angry with me for the rest of your life. Or you can learn new ways to deal with the divorce. I'm here to help you if you want to learn a better way."
Then I walked away. She stopped complaining and began to adapt to her new way of life. I'm proud that I've become a better parent, more aligned with the values that I feel are important. That was only possible when my husband and I lived in separate homes. In this way, he helped me become the best parent I could be.
5. True love is real, and I know what it looks like.
Before I met my ex, I pretty much dated in the dark, stumbling around, trying to make sense of love. I was attracted to men who didn't want me, men who pushed me away. My heart was broken so many times, I put up thick walls to protect me from getting hurt again.
I didn't understand my part in this unhealthy cycle. I had no idea what I needed to do to break the pattern and have the deep love I desired.
I get it now. Since the divorce, I've become a student of love, reading scores of dating and relationship books and learning from some of the top dating and relationship coaches. I've been honored to interview over 220 love experts on my show, Last First Date Radio.
I learned from my beloved clients, as I guided them toward the best relationships they've ever had. And I grew the most from my own dating and relationship experiences.
Every man has been my teacher, and my ex-husband taught me more than any other man I've known. I'm grateful that he fathered our beautiful children, for the good times we shared, for helping me believe in myself, and for the future I've been blessed to create after we parted ways.
He is now with a woman who is a much better match for him. I'm happy for him and wish him only the best.
If you'd like to release your ex and make space for new love, let's talk. Schedule a time to get acquainted and explore how coaching with me can help you find epic love!

Sandy Weiner
Sandy Weiner is the chief love officer at Last First Date, devoted to helping women over 40 achieve healthy, off-the-charts love. A TEDx speaker, dating coach, retreat leader, and online course creator, she is passionate about helping women communicate effectively, set clear boundaries in relationships, and value themselves.

She's also the host of Last First Date Radio, an acclaimed show about attracting and sustaining healthy relationships in midlife. Grab her free guide to learn the top ten reasons men disappear, and how to attract and keep the love you deserve.