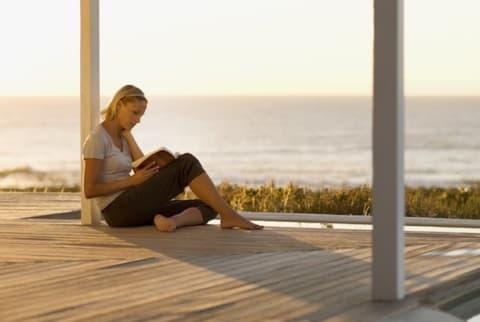 July 29, 2014
I've spent my whole career in the book business, and I wouldn't want it any other way. So many people have a book inside them (at least one) and as a publicist, I help make authors' dreams come true.
I love books, and I'm passionate about how books can change our lives ... sometimes with just one sentence or with an idea, an insight, an adventure or a story. Here are 14 books that have changed my life in positive ways. It is very much a partial list, but I hope it inspires you.
"Something that is loved is never lost."
I read this novel after my father died, and this quote stayed with me and helped me heal. I hope this gem can comfort you too.
"Those we meet can change us, sometimes so profoundly that we are not the same afterward."
This book is a magical journey, and changed the way I see the world. Sometimes people can change us, sometimes a book can.
"It is our choices, Harry, that show what we truly are, far more than our abilities." Albus Dumbledore.
I started reading Harry Potter books to my girls when they were in kindergarten. I'd read ahead the night before so I could edit the content to make it more appropriate for their age. It got me hooked, and started a truly bonding relationship with my girls. Harry Potter series always binds us together. We have private jokes related to the series, and a lifetime of memories.
"It's the possibility of having a dream come true that makes life interesting."
I love this book and the idea of seeking meaning in your own life. It taught me the difference between seeking and finding, and how we should enjoy the pursuit of our dreams. Now my daughter is reading the book and is loving it as well.
"Funny how sometimes you worry a lot about something and it turns out to be nothing."
This author is one of my soul sisters, and seeing her fulfill her dreams and talents inspires me every day. She is my hero, because she made no excuses. While writing Wonder, she was a busy mom and wife, had a demanding full-time career, an elderly parent who needed her support and attention and yet she still found time to write this beautiful novel. She woke up in the middle of the night to write. Inspiring.
"The most beautiful things in the world cannot be seen or touched, they are felt with the heart."
I read this book in high school and it taught me that what is valuable in life is invisible like love. And that a certain level of magical thinking is necessary for living a creative life.
"Pray to catch the bus; then run as fast as you can."
This book opened me up to the flow of creativity and hard work.
"It's a shame to waste [the uniqueness that is you], by doing what someone else has done."
This book started me on my spiritual path. I have lived my life by his philosophy of "follow your bliss" and have encouraged my daughters to live that way too.
"The spiritual journey is individual, highly personal. It can't be organized or regulated. It isn't true that everyone should follow one path. Listen to your own truth."
I love the idea of acceptance of all. It's collective, all-encompassing, nonjudgmental ideas are beautiful. Besides it is designed in such a creative and interactive way.
"When you complain, you make yourself into a victim. When you speak out, you are in your power. So change the situation by taking action or by speaking out if necessary or possible; leave the situation or accept it. All else is madness."
This book — and this quote in particular — truly changed my thinking. When you think about it, complaining is just madness. Leave the situation or accept it, all else is madness.
"What makes you vulnerable, makes you beautiful."
Brene Brown encouraged me to open myself in a way I had never done before and it is liberating. It's a beautiful gift when a book can encourage you to be just who you are — flaws and all.
"Only by carving out think time and reflection can we actually understand, in an entirely different context, the actions we take."
This book changed the way I approach work. I understood that being busy is not the same as being productive or profitable. In business and in life, the best decisions happen when we take the necessary time to step outside of our day-to-day routines and reflect on our decisions.
"A reputation for honesty and integrity is one of those "intangible assets" that pays off in ways we can never fully anticipate."
I have spent 19 years building my business and I hope a reputation for integrity. This book validated my investment. Honesty is like a first impression, you don't get a do over. The book is full of practical tips and inspiration to serve your customers/clients in the best way possible while also being more successful.
"You have brains in your head. You have feet in your shoes. You can steer yourself in any direction you choose. You're on your own. And you know what you know. And YOU are the one who'll decide where to go ..."
I have read this book many times. Once it gave me the courage to quit a great job to start my own company to do online book publicity before I fully understood what that was. Don't we all need a reminder that "You can steer yourself in any direction you choose."
Just one book can change your life. I hope you find your inspiration from my list. I'd love to know your favorite books.

Fauzia Burke
Fauzia Burke is the founder and president of FSB Associates, an online publicity and marketing firm specializing in creating awareness for books and authors. She's the author of Online Marketing for Busy Authors (Berrett-Koehler Publishers, April 2016). Fauzia has promoted the books of authors such as Alan Alda, Arianna Huffington, Deepak Chopra, Melissa Francis, S. C. Gwynne, Mika Brzezinski, Charles Spencer and many more. A nationally recognized speaker and online marketing expert, Fauzia writes for regularly the Huffington Post. For online marketing, book publishing and social media advice, follow Fauzia on Twitter and Facebook. For more information on the book, please visit FauziaBurke.com.