How to Start Over Today In Any Area of Your Life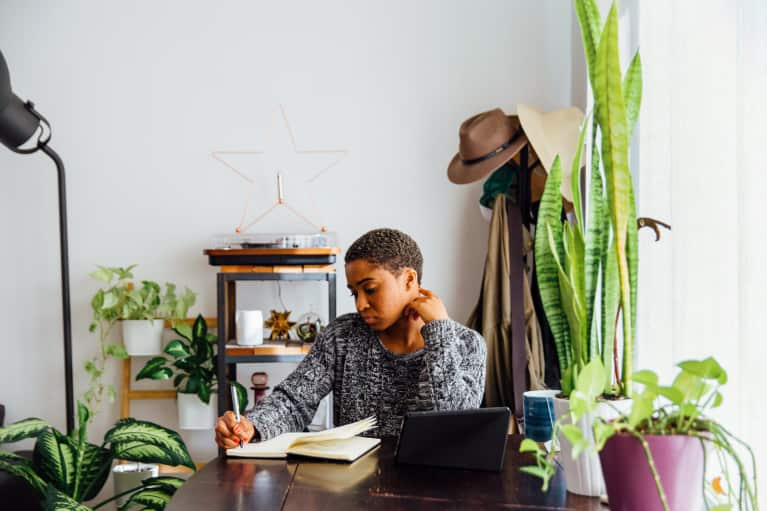 Our editors have independently chosen the products listed on this page. If you purchase something mentioned in this article, we may
earn a small commission
.
Wouldn't it be nice to start fresh? Get a clean slate or a second chance? It's natural to think about fresh starts at the beginning of a new year, but you can actually start over any time you make the conscious choice to do so.
As a psychic intuitive, clients often seek me out when they want to make big changes in their life. The guides I work with in sessions with clients have told me that the universe will give you as many second chances as you are willing to take. If you're wanting to have a different experience with your finances, your love life, or just your attitude (which can change the energy you give off and thus your experiences), use the steps below to start over:
Part of starting fresh is leaving the past behind. You have to reflect on the past, own your mistakes, process your emotions, and learn the lessons. But stop shaming and judging yourself, or it will be very hard to move forward and create a new experience.
2. Think of this fresh start as a "healing."
When you talk to yourself or others about this fresh start, refer to it as a healing—an emotional healing, a relationship healing, a financial healing, etc. If you're an artist who hasn't created anything lately, you recently experienced a big rejection, or you want to change your style, call it a creativity healing. The word healing has an uplifting, nurturing, loving energy that will positively influence your attitude and your experience.
3. Daydream and reflect before taking any action steps.
Instead of kicking into high gear—do, do, do and go, go, go—take a few weeks to slow down and get clear with yourself about where you've been, where you are now (be honest with yourself), and where you would like to go. It's like dropping anchor in the middle of a voyage when you feel lost so you can get your bearings. Quiet alone time, journaling, and meditation will help you tap into your intuition and subconscious mind for answers.
4. Be honest about what you want…and don't be afraid to think big.
Does your fresh start include owning your first home? Pick your ideal neighborhood and fantasize about details like floor plan, garden, and decorating. Later when you meet with a real estate broker, you can come down to earth and see what is in your price range, etc. But for now let your imagination run wild and send that energy out into the universe. This honors your emotions by allowing yourself to express your wants and desires uncensored. It can also positively influence the outcome. If you decide to start saving money for a few years for a down payment, that still counts as a fresh start—big time!
5. Form a practical, well-thought-out strategy—but remain flexible.
Action step time! If your fresh start involves going back to school (maybe a career healing), you might make a detailed strategy that involves working full-time and going to school part-time or moving in with a relative to cut back on costs while you're in school. Detailed plans rock, but being rigid does not. Be flexible to allow for any challenges or unexpected golden opportunities.
6. Get clear about your new boundaries or what you will and won't tolerate from yourself and others.
If you're wanting to start a clean slate with your finances, be clear that you will no longer tolerate friends or your partner guilting you into spending money on expensive meals or vacations. If spending has become an addiction, allow for some backsliding. Be merciful with yourself during your fresh start, just as you would be with a child you were trying to discipline. You'll break bad patterns quicker that way.
7. Find someone to gently, lovingly hold you accountable.
Starting over requires a support system. Pick one or two people to share this starting-over journey with, like a therapist or motivated yet nonjudgmental friend or family member. Share your successes as well as the times when things don't go as planned.
8. Check in with yourself periodically about this fresh start through ritual or journaling.
Make little dates with yourself to stay focused and present about your fresh start. You could do a full moon or new moon ritual every month around your fresh start, take a long walk in nature once a week to contemplate the emotions that are coming up around your fresh start, or journal about the progress you've made when you score a big win.
Sometimes the universe has a better path for us than the one we plot, a path we could never have anticipated. My book Angel Insights helps you connect with Spirit and your intuition to receive more divine guidance about any path you're on. Get used to surrender, as it is probably the most powerful action step you can take on your starting-over journey.
Now that you've made way for change, here's how to make it last.