How To Network With The Best Of Them, Even If You're An Introvert
By Jane Finkle
mbg Contributor
Jane Finkle is the author of The Introvert's Complete Career Guide: From Landing a Job, to Surviving, Thriving, and Moving On Up. Finkle has 25 years of experience as a career coach for universities and has run her own career counseling firm since 2002.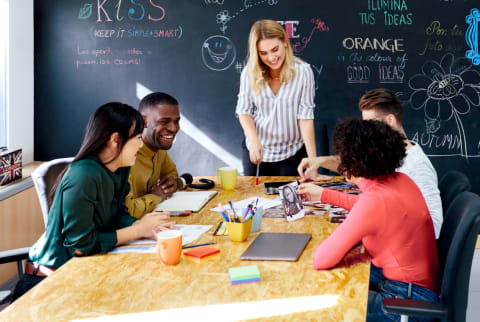 Image by Victor Torres / Stocksy
February 16, 2019
As an editorial team full of introverts, we love how Jane Finkle's new book The Introvert's Complete Career Guide lends actionable advice on how introverts can break out of their shell a bit while remaining true to themselves. Here's her take on how to effectively network like a pro—even if you'd rather be in bed with a good book.
When entering a large, noisy room filled wall-to-wall with people, all personality types can freeze up now and again. This is especially true for introverts. However, even introverts can step into the limelight with confidence if they appreciate their own strengths and rely on what comes naturally. Tap into your reflective thinking skills to plan how to enter the room with a general outline of a script and some key lines prepared. This will ease your fear of starting a conversation and turn some of those strangers in the room into valuable professional connections.
Use your inquisitive nature.
Introverts like to dig deep when they meet new people. Often they tap into this ability by asking insightful questions that draw in the other person. Let your curiosity about professional interests inspire you to jot down the kind of questions that will display your insight, stimulate conversation, and form solid relationships. Writing things down fixes them more securely in your brain, making it less likely that your train of thought will go off track or freeze during a conversation.
Turn the camera's eye on yourself for a moment. Consider what truly matters to you and what you want to say. Think about which topics draw you out of your shell. Others will sense when you are speaking from truth and energy. Not only will you be more likely to offer a vibrant portrait of your experience and talents, but your energy will engage others and make for an animated conversation.
Your introverted self may start out gently, asking more questions than making personally revealing statements. But conversation is a two-way street, so it's important that you jump in at some point to share information about your professional experience. Keep in mind that, in this exchange, you may form a connection that can morph into a career-enhancing relationship. The following is a list of sample questions that will give you a head start.
Opening Network Questions
• Have you been to these events before?
• How long have you worked in this field?
• How did you get started in your career?
• What keeps you excited about the field?
• Which thought leaders do you follow on social media?
• What do you like best about your work?
• What major challenges do you face?
• What trends are you seeing in the field?
• Who can I help you meet? (If you have been to the organization's event before and know several people.)
Practice the "pacing" technique.
A simple way to make a conversation work for you and build rapport is to use a technique called "pacing" based on neurolinguistic programming (NLP), a communication theory that combines neurology, language, and programming. At the crux of pacing is consciously finding similarities that exist between you and your conversation partner. You might start by discussing basic topics like the weather or the environment of the meeting space. Then, as the conversation progresses, you can use pacing to match similar personal or professional interests.
A networking event is not a marathon.
For example, your conversation partner might mention a new trend in the field that you are equally excited about. As you acknowledge your similar interest, you are validating your partner's interest. Or you might ask your conversation partner what they like to do outside of work and find out that you both saw the same movie recently, or that you share a passion for bike riding. Although the exchange of professional experience and knowledge is your main goal at a network event, you can enhance rapport by matching common outside interests, too. Note that this technique is effective for building rapport in both group situations (network events) and one-to-one meetings.
Make the event work for you.
Remember: A networking event is not a marathon—you do not have to stay until the eleventh hour. It can help calm your nerves from the start knowing that you can leave once you feel you accomplished your mission. Also keep in mind that you are not abandoning your goals if you need a short break. Go take a breather and walk outside or sit in a quiet room for a few minutes. Just experiment and find what works for you.
Wave your flag.
Introverts are reluctant to put too many of their cards on the table when meeting someone for the first time. Your tendency is to be more inquisitive than informative. That approach is fine, but to build credibility and develop the depth needed to form a meaningful relationship, you have to reveal your­self just a bit. Perhaps share your genuine excitement about a project in which you are involved. Or without bragging, mention some accomplishments that might intrigue or impress the listener.
As an introvert, you probably find it easier to share ideas and knowledge than turn a bright light on yourself. But in the extroverted work world, it's your proven results that get the most nods. So as part of your preparation for a network event, have two achievements ready to intersperse into a conversation when it's relevant. This will further the conversation and place you in the spotlight. Avoid assuming that you don't measure up or that what you have accomplished so far is mundane.
Worried about boasting? There is a big difference between coming across as an egomaniac, such as "I am the best fundraiser in the universe," and simply promoting yourself, such as "I recently raised $300,000 for a new scholarship program by securing a grant from the William Foundation and from individual donations."
Jane Finkle
Jane Finkle is the author of The Introvert's Complete Career Guide: From Landing a Job, to Surviving, Thriving, and Moving On Up. Finkle has 25 years of experience as a career coach for universities and has run her own career counseling firm since 2002. Prior to founding her practice, Finkle served as Associate Director of Career Services at the University of Pennsylvania, where she designed and administered career programs, developed resources, and provided career counseling and advice on employment trends for students and alumni of the College of Arts and Sciences and the Wharton School.