This Personality Type Struggles With Job Interviews — But Here's How To Nail 'Em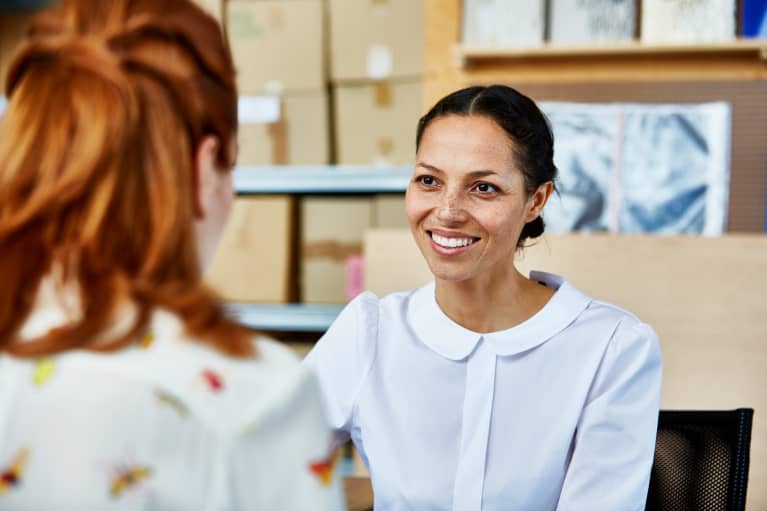 As an introvert, you may not be a glib small talker who enjoys publicizing yourself on a billboard for all to see. You may also struggle to answer interview questions in full and shrink at the idea of promoting your admirable achievements and personal qualities.
Well, I'm here to tell you that these challenges are far from hopeless! You can easily turn your uncertainty into a winning interview with some advance planning and confidence-building techniques. Here are some strategies that can help:
First off, remember that being an introvert is a good thing.
As an introvert, you are not inept at talking about yourself, but your tendency is to keep your cards close to the vest. But before going into the conversation, remind yourself that you can use your sharp listening skills to generate thoughtful answers to questions.
Really lay the groundwork before the interview.
Sometimes the tendency can be to let a potential employer fill in your puzzle with mismatched pieces. Instead, come armed with accomplishments and examples of quality work that reflect your skills and talents.
The key is balancing your introverted strengths with a touch of borrowed, extroverted energy.
Think of examples of personal qualities like creative, positive attitude, flexible, or motivated. Capturing your personal essence beforehand will help you avoid any stuttering and stammering when asked to "describe yourself."
Then, take the time to review your qualifications—the highlights of your experience and skills that make you shine. No matter what industry you're in, the following questions will help you home in on them:
What are your major tasks and responsibilities in your current position and most recent past jobs?
What are your signature work accomplishments?
What are some obstacles you have faced in the workplace, and how did you resolve them?
What skills and abilities have you developed or strengthened?
How do you work in groups or teams?
Use your skills to dig deep into the employer.
Enlist your introverted style of intense concentration and focus to uncover the culture and goals of the organization. This will help you generate questions to ask your interviewer, as well as strategize answers to interview questions that demonstrate how you can contribute to the organization. Dig deep into the company's products or services, size and growth, competition, culture, and financial health. Inserting some fact that you learned during your research will impress the interviewer with your knowledge and initiative.
And while you're at it, research your interviewers. Check LinkedIn to read profiles, Google to see if any of these employees have been quoted in the media or recognized for outstanding performance, and Twitter to find out if they've posted articles or interesting tweets.
Remember the "STAR" method when answering questions.
Like it or not, applying for a job is a type of competition. You need to warm up, practice, and prepare yourself, mentally and physically, to ensure you have the best chance to make it to the finish line and win the gold. The STAR Method helps you compose thoughtful answers to turn yourself into a competitive candidate:
S - Situation: Background information that sets the scene
T - Task: Your responsibility
A - Action: What you actually did
R - Results: The outcome—did you solve a problem or create something new?
Consider practicing with someone whose opinion you trust.
Along with practicing questions on your own, you might benefit from asking a trusted friend or colleague to be your role-play supporter and conduct a mock interview with you. Getting objective feedback ahead of time can be invaluable when you're sitting on the other side of that desk.
Reviewing video can also give you an honest reflection of your interviewing skills, as long as you view yourself with a critical (but not overly critical!) eye. Be honest about your flaws but not to the point of tearing down self-confidence. Give equal time to appreciating the ways you excel at answering questions.
Right before the interview, lean on your wellness arsenal.
To ease into a relaxed state, consider exercising before the interview to release tension and keep your mind and spirit focused in the right direction. Deep breathing and meditation can also help you remain calm and alert, as can creative visualization. Doing this simple but effective technique invites success by conjuring up positive, reinforcing images. The unconscious is a powerful force, and what you imagine can unfold in surprising ways.
When you are finally in the spotlight of the interview, let yourself go with the flow, and tell your professional story in a way that feels natural. Embrace your achievements and give the employer a glimpse into what makes you tick. The key is balancing your introverted strengths with a touch of borrowed, extroverted energy. Good luck!