How To Start The Astrological New Year, Depending On Your Sign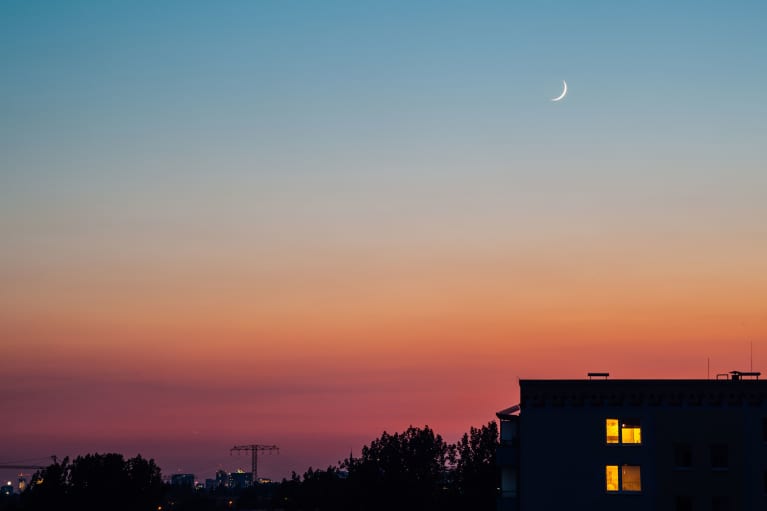 If you follow the tropical zodiac calendar, which is used by most Western astrologers, the astrological new year began on the spring equinox—the start of Aries season—on March 20.
But according to mbg's resident astrologists, the AstroTwins, the Aries new moon on April 11 is like another kickoff point. As the first new moon of this astrological year, it gives us all an opportunity to start fresh. Here's how the twins say you should approach the week leading up to it, depending on your sign.
Aries is the first sign of the astrological year, and for this new moon, the twins say Aries will be best served by embracing the new year's energy by trying something new and rebooting their image. This energy comes from the first house, which is all about how you present yourself, how others might see you, and first impressions.
For Taurus, this is a good time to let go of the old and make way for the new. "Their astrological new year really starts April 19," the twins say, "when the sun moves into Taurus." So, they have a bit of a buffer month to "take inventory of what they want to bring into the next year of their life." The twins recommend getting into a bit of a meditative head space to reflect.
Geminis are nothing short of social butterflies, and the past year may have been difficult, for obvious reasons. Now that folks are getting vaccinated and things are beginning to open up, the twins say it's an excellent time for Gemini to (safely) reconnect with groups and friends they haven't seen in a while and even find new groups to get involved with.
For Cancer, consider this a time to take a look at your career and public image, the twins say. It's a time for "recalibration of their goals, particularly professional ones, and a polishing up of their public image," they add. Ask yourself if you're happy with where you're at careerwise and, if not, what could be improved or changed.
This is a visionary period for Leo, according to the twins, making it a great time to think about what new things they want to learn, or even businesses or other ventures they want to start. It's all about big-picture thinking for Leo right now, and the twins add they may also want to think about reconnecting with the wider world, or even planning a trip for when they can safely do so.
"What part of your life is really due for a bigger transformation? What needs to end to make way for something new?" the twins recommend Virgos ask themselves. This is very much a time to go deep, they say, encouraging Virgo to look below the surface. "Also, it's about where can you join forces with someone else for mutual gain and empowerment," they add.
Sociable Libra, similar to Gemini, may also want to use this time to think about their relationships and connections with others. "Take inventory of your partnerships," the twins say. Seek out the kindred spirits in your world, who really support and balance you, and ask yourself, "Where do your relationships need some more mutuality in them?" they suggest.
For Scorpio, this time is all about health and wellness, with concentrated energy in the sixth house, the twins say. The sixth house deals with service and health, as well as organization, daily routines, fitness, and self-care. Any health and/or organizational reboot for Scorpio would make sense during this period, as well as finding ways to be of service to others.
Fun-loving Sagittarius is always looking for adventure, so it likely comes as no surprise that the twins (who are Sags themselves) suggest adding more fun, play, and pleasure to your life. "Where have things gotten too insular over the winter?" they recommend asking. For Sag, this time is all about "moving your body and your energy and bringing it up to a higher level of excitement and enthusiasm."
According to the twins, this is an excellent time for Capricorn to think and reflect on their home and family life. Take inventory of your space, and ask yourself where you really want to live and who you want to live with. "How are your relationships with family or roommates or anyone you consider family?" they add. During this time, make peace at home a priority.
For Aquarius, the twins recommend focusing on friendships, as well as your communication style, and how you're expressing yourself and interacting with people. On a basic level, you can always give your social profiles a refresh. Really, it's about "thinking about the message you want to share with your world," they say. It's also a good time to think about the hobbies and interests you want to engage with in your social and free time.
And last but never least, Pisces can use this time for "a more serious and practical start to the year," the twins explain. It's a good time for Pisces to think about where they want to make their money, what their personal budget looks like, and how they want to spend their time. "What are your values and priorities? Get clear on that," they add.