3 Ways To Reconnect With Your Body After Trauma (From Women Who've Been There)
mbg Contributing Writer
By Georgina Berbari
mbg Contributing Writer
Georgina Berbari is a multidisciplinary artist, Yoga Alliance RYT-200 yoga and meditation instructor, and a Master's graduate of the creative writing program at Columbia University. Her work has been featured at the Hecksher Museum of Art on Long Island, Women's Health, SHAPE, Bustle, and elsewhere.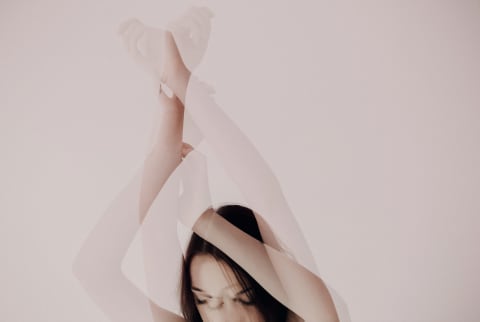 Image by DANNY OWENS / Death to the stock photo
April 1, 2019
April is Sexual Assault Awareness Month. This year, we're bringing attention to stories of hope: how people who've experienced trauma are finding healing, empowerment, and a deeper kind of intimacy today. In this feature, health reporter Georgina Berbari speaks to three women about their journeys and shares three unconventional, powerful roads to reconnecting with the body.



Please be advised: The following story mentions instances of sexual abuse and assault (without extended description). Some content may be unsettling for some readers.
Becoming comfortable within your own body can be a difficult journey for many people, but for those who've experienced sexual trauma of any kind, reconnecting with the body and learning to enjoy it again can be uniquely complex. Some survivors can feel conflicted during self-touch, when they begin to find pleasure in something previously associated with so much pain.
Still, healing and embodiment are possible. With time, a strong support system, and conscious energy, you can soon once again enter a space in which you can begin to befriend your body and begin to experience unalloyed pleasure.
I spoke to three women about the cathartic, salubrious ways they became aware of, liberated, and healed their relationships with their bodies after trauma:
1. Bodywork
After her experiences of sexual abuse as a child and later becoming a victim of rape, Angelina Lombardo spent many years in therapy. But she says true healing for her began through a deep focus on the body.
"The biggest impact I received was when I turned off my mind chatter and began to listen to my body," Lombardo tells me in an interview. "There was a conversation happening, a wisdom deeper than anything my mind could comprehend at the time."
Lombardo says she had quite a lot of flashbacks brought on by the intensity of orgasm, which for her were often re-traumatizing. The turning point for her came after doing clinical psychologist Peter Levine's Somatic Experiencing program, a body-oriented therapeutic approach that targets physical symptoms of trauma and involves releasing negative or unhelpful energy stored in the body. Lombardo says after learning more about dialoguing with her body, rediscovering pleasure was "only a matter of practice and time."
"It was only within the internal conversation of my own body and through turning inwards that I [found freedom]," she explains. "It was not easy...but I could tell the difference between the pace of using psychological modalities to heal and [listening to] my body's conversation… [With the latter] I was able to feel more pleasure."
Bodywork—the broader term for various types of therapeutic touch—can be invaluable to trauma survivors as it involves in-depth somatic, erotic education and helps people deepen their experience of embodiment. The Association of Certified Sexological Bodyworkers offers a wide array of learning opportunities to seek healing through getting in touch with the body: "Our teaching involves a variety of instructive modalities, including breathwork, touch, erotic massage, pelvic release bodywork, scar tissue remediation, and orgasmic yoga coaching."
These physical approaches to healing can help people who've experienced trauma develop a deep, steadfast connection with the body, whether that be solely with the self or involving a partner. For Lombardo (who now is a life coach helping others tap into their inner wisdom), she says, "I am with a man that I love immensely, and our sex life is amazing. The pleasure is some of the most intimate, liberating, and enjoyable of my life."
2. Free-form movement
For Julie Arora, healing began in therapy. The emotional security she was able to cultivate through cognitive behavioral therapy and other therapeutic modalities took sex from being performance-based to being a freeing and pleasurable act, she tells me.
But therapy wasn't an unaccompanied operandi in her healing peregrination, and it wasn't the most powerful way of reconnecting with her body either. What instilled an even deeper sense of embodiment than brain-based healing did was free-form movement—particularly ecstatic dance, which is a kind of moving meditation that allows the body to intuitively liquefy in any way it's yearning for.
"I had done yoga and gymnastics and soccer since I was 11, but none of that truly connected me with my body," she explains in our interview. Eventually, at around 30 years old, Arora discovered free-form movement—and things began to shift.
"Free-form movement is meant to move you through your emotions," she explains. "You're listening to your body, and you just go to move."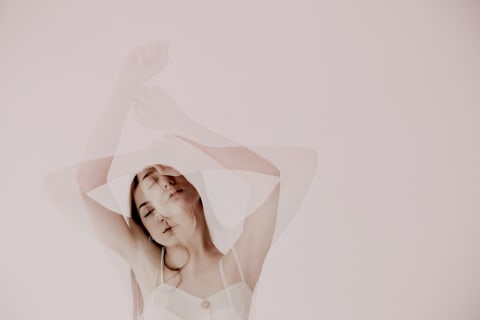 Image by DANNY OWENS / Death to the stock photo
Arora, who today is a business and meditation coach, specifically cites Soul Motion and 5Rhythms as her free-form studios of choice. "Movement is the medicine, the meditation and the metaphor," the 5Rhythms website reads. "Together we peel back layers, lay our masks down, and dance till we disappear, [reconnecting] to the wisdom of our bodies and unleashing movement's dynamic healing power."
Because other movement practices like gymnastics and barre involve restricting the body and listening to instructions, Arora says those experiences actually reminded her of the sexual abuse she'd endured as a child, where she completely lacked control of her body. Free-form movement, on the other hand, is a wholly autonomous experience. After her first class, she says, "I wept for five days—every tear stored in my body was released. That was the beginning of making friends with my body, and that's when I began dating my [now] husband."
Arora concludes: "I suddenly became aware of my body: It was terrifying and liberating at the same time. That's where the real healing began."
3. Meditation
If not through bodywork or movement, the simplest way to get back in touch with the body is simply through unornamented presence.
"As a person who has experienced sexual trauma as well as guided others in healing, [I've found] that [both] getting back into bodily awareness and bringing attention to the [present] moment are useful," Krista Jarvis, an AASECT-certified sex therapist, tells me in an interview. Research concurs: A 2017 report from Georgetown Law's Center on Poverty and Inequality details how survivors of sexual trauma can use meditation proactively in the healing process after an assault.
The meditative experience of bringing awareness to breath and noticing how you're feeling inside and out—especially during the act of intercourse—can be an ongoing healing practice. That doesn't mean doing so will yield an invariably placid and pleasant sexual experience; mindfulness meditations can often bring attention to unpleasant feelings in the body. But Jarvis says noticing these feelings is salient to the healing process. This is about learning, slowly, how to sit with discomfort, recognize its impermanence, and remind yourself that "If something feels uncomfortable or bad, to pause long enough to consider what you need," Jarvis explains. "If you're not enjoying whatever is happening, proceed [only] when you are ready or move on to something else."
It also allows you to take action to protect your body if needed. "If you are scared, stop," says Christine Scott-Hudson, a psychotherapist, licensed marriage and family therapist, and certified somatic therapist, in an interview. "Your body needs to know that you will protect it, if need be. That's how you build self-trust, by continually keeping yourself safe and making your own sense of safety a priority."
Scott-Hudson stresses the importance of observing, rather than dismissing your somatic symptoms, such as shaking or having trouble breathing. "Your body is always giving you clues into what you need [and working to] keep the machine of your body alive," she says. "After a life threat or a perceived life threat, it is as if the alarm system is wired to go off at even a hint of danger, in order to keep you safe." The body keeps score and is the wisest teacher in any room, and when you are able to pause and listen to the alarm bells, very often that wired-for-safety part of your brain feels heard, and you can actually keep moving forward.
In addition to maintaining a meditative presence during sex, Jarvis also uses mantras during meditation sessions outside of sex as well. One of her favorites is: "You are safe to embody your eroticism. You are safe to feel the deep pleasure it can gift to you anytime you'd like."
Rediscovering pleasure.
"We have this profound desire as human beings to heal," Arora speculates. "[Now that] I'm totally embodied and present with these feelings that I have, I feel present and able to work with the [difficult] feelings and sensations that come my way."
Today, all three of these women tell me they have amazing sex lives along with profound, intricate connections with their own bodies. They feel seen by, sexually satisfied, and above all, safe with their partners.
When triggers arise during intercourse with their partners, this doesn't hinder their healing process. In fact, these women exemplify that in a spacious, communicative relationship, a spouse or partner will help liberate you, bringing awareness and attentiveness to your boundaries.
"They'll tell you you're OK," Arora says. "And you will be."
Georgina Berbari
mbg Contributing Writer
Georgina Berbari is a multidisciplinary artist focusing on photography and writing. Through these mediums, she creates works exploring the human body, sexuality, nature and psychology. Her work has been featured in the Hecksher Museum of Art on Long Island, ZEUM Magazine, Women's Health, Bustle, SHAPE, BuzzFeed, and elsewhere. She is a Master's graduate of the creative writing program at Columbia University and a Yoga Alliance RYT-200 yoga and meditation instructor.