Clear Negative Energy After A Stressful Day With This Quick Routine
By Marci Baron
mbg Contributor
Marci Baron is a Homeward Bound Guide specializing in energy clearing and the author of Clear Your Way Home: Stories, Reflections and Tools to Guide You Back to the Life You've Always Wanted.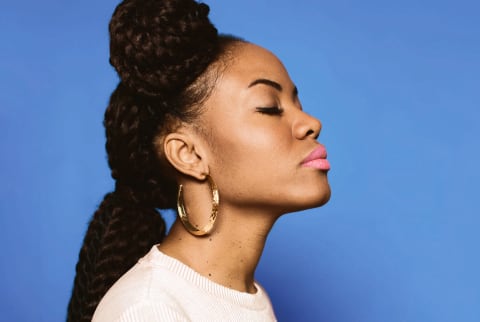 Image by BONNINSTUDIO / Stocksy
November 20, 2019
For many of us, workplace stress can linger long after we return home for the day. While we long to be relaxed and comfortable in our own space, more often than not, we still have one foot standing in our jobs or daily responsibilities.
I've found that the following exercise is a beautiful way to reset and intentionally transition into your home so you're not left feeling depleted and out of sorts. As an energy healer, I've found it helpful for anchoring into the present moment and leaving any negative energy you picked up during the day at the door.
Advertisement
This ad is displayed using third party content and we do not control its accessibility features.
Here is a quick exercise for clearing your energy at the end of the workday and consciously transitioning into a more relaxed state of being.
An exercise for clearing negative energy at the end of a long day:
First, stand up from your personal workspace—wherever it may be—and take a deep breath. Set the intention to leave the energy of your day there.
Select an object, such as a coffee cup, a file, or a computer, where you can store the energy of the day. Imagine all of the events of the day flowing out of your body and into the object where it will stay safe for you until tomorrow.
As you leave your workplace, see the door as a physical marker of transition. Imagine you are going through a portal into a new segment of time. See a beautiful, cleansing waterfall of white light pouring down over your body as you walk through cutting energetic cords and freeing yourself of the day's stressors.
Use your commuting time (on foot, car, or train) to reset and plan your evening. When you pre-pave, you are creatively imagining the energetic experience you want to have during the rest of that day. That might include connection, laughter, pleasure, creativity, and relaxation. If you work from home, do this inner work before you leave your home office space. You may also wish to add a physical practice of stretching or taking five deep breaths to reset your nervous system.
As you prepare to enter your home, see yourself walking through a new portal. As you step over the threshold, take a deep breath and allow the feelings you created when you pre-paved to enter every cell of your body.
Give gratitude for your ability to co-create your preferred experience in every moment.
Advertisement
This ad is displayed using third party content and we do not control its accessibility features.