Ring In The Upcoming Solar Eclipse With This 7-Card Tarot Spread
mbg Spirituality & Relationships Writer
By Sarah Regan
mbg Spirituality & Relationships Writer
Sarah Regan is a Spirituality & Relationships Writer, and a registered yoga instructor. She received her bachelor's in broadcasting and mass communication from SUNY Oswego, and lives in Buffalo, New York.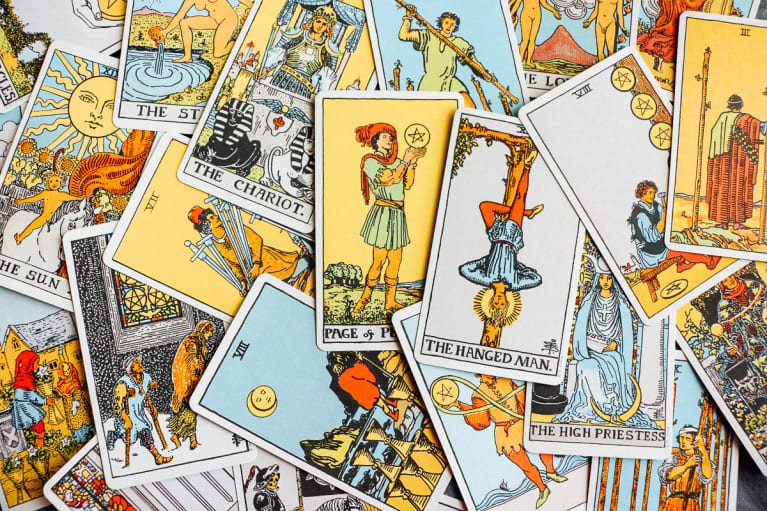 We're in for a big week, astrologically speaking. Not only will we have the last new moon of 2020 on Monday, December 14, but that same day, we'll also have a total solar eclipse. It's the perfect time to start thinking about your New Year's resolutions and what you'd like to call in for 2021.
One way to get clear on those intentions is through a tarot reading, so we asked professional tarot reader and energy practitioner Daya Parvati for the perfect spread for this weekend.
The significance of the new moon & solar eclipse.
The new moon is a time to set intentions and goals, as it marks the beginning of the lunar cycle, with the moon's energy building until it's full. And as Parvati explains, the total solar eclipse will "amplify the new moon's significance and bring greater potential for swift changes—both endings and beginnings."
The moon in Sagittarius brings with it a "fiery, free-spirited, and open-minded" energy, she adds, and the placements of Mercury, Mars, and Neptune highlight themes around communication, confidence, and even conflict.
How to do a lucky number 7 spread:
This seven-card spread can help us "find clarity on how to harness the powers available to us," Parvati notes. Choose your tarot deck and give your cards a shuffle, then begin pulling your seven cards. You can pull them in any order if you like to follow your intuition; otherwise, Parvati offers this order to get you started:
Card 1: What is beginning?
Card 2: What is changing?
Card 3: What is ending?
Card 4: How can I get out of my comfort zone?
Card 5: What do I need to communicate?
Card 6: How can I be more free-spirited?
Card 7: What do I need to protect myself from?
As far as the spread itself, place your first card as if it was at 12 o'clock, and begin making a circle with the first six cards. The seventh and final card goes in the center of the circle.
Each of these questions works with the energy of this particular moon and eclipse, offering us inner insight as we close out this wild year. In the end, you'll have a greater sense of where you're at presently, what you want in 2021, and how you can get there.